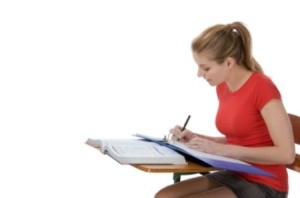 As a teacher, I'm surprised by how many kids don't know these easy tips. It requires staying a bit organized, but it pays off two ways: 1. Saving your back and 2. Preventing you from looking like a dork with a 50 lb. backpack!
Number One (which seems so obvious): Carry only the books you'll need for the day. If an instructor never uses the book in class, (and many college profs. never do) why lug it around?
Number Two: Carry one manila pocket folder stocked with 3-ring loose leaf paper. Take notes for each class on a separate piece(s) of paper. Label, date, and keep the notes in the folder until the end of the day. When you get home, read over and then transfer each day's notes to the appropriate thin, flexible plastic 3-ring binder you keep for each subject. These can be cleaned out and used each semester for new subjects!
No more carrying separate spiral notebooks for each class or carrying large, awkward binders with dividers. If you do happen to need all of your notes for a class on a particular day, just grab the one lightweight binder you need.
By Mary
Comments
Read More

Comments