Organizing a Home Office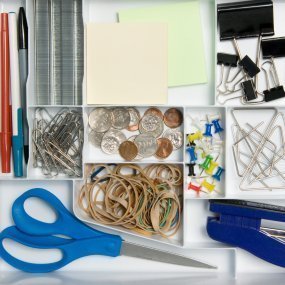 Home offices can attract clutter, especially mail. Having a well organized home office will make it easier to find your office supplies when you need them and create an conducive work environment. This is a guide about
organizing a home office
.
Solutions
Share on ThriftyFunThis guide contains the following solutions. Have something to add? Please share your solution!
Kelly Ann Butterbaugh
4

found this helpful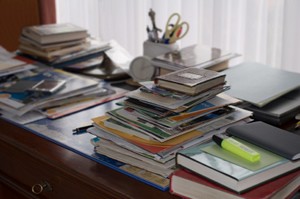 I'm sitting on a jackpot, and I didn't realize it until a rainy week inspired me to clean my office closet. Over the course of this year I had easily purchased fifteen boxes of thank you cards for $3 a piece. Yet, there in my closet sat a neatly organized box of blank cards, more than a hundred of them. Further organizing found varying leftover craft supplies and art supplies, easily enough to have made all the posters and projects that my son created this year for school.
If we take stock of what we have, we spend less on what we really don't need. It's the principle of "use it or lose it." Organizing and putting your things to good use allows you to actually use them to make the best use of your money.
Take Stock
Something is worth very little if it is left sitting on a shelf. It becomes completely worthless if you don't realize that you have it. How many times has someone uttered, "I didn't even know I had it." What about, "Now, where did I put that?" These are statements that indicate that value is being lost.
Take stock of what you have. Organize your items in storage boxes and label the contents on each box. Cards should be organized by type, season, or holiday. Paper craft supplies should be kept together and separate from other craft supplies. Creating a tote that holds leftover supplies that can be used for kids' crafts isn't a bad idea, either. Hardware should be separated in compartmentalized storage boxes, and freezer contents should be listed on a sheet of paper. Likewise, read your manuals for electronic products and know their capabilities so that you don't purchase more items than needed.
Look at Things a Different Way
Adopt the environmental model of reusing items in more creative ways. Rather than buying those thank you cards, I can use the dozens and dozens of blank cards for the same purpose. With a simple rubber stamp, I can add "thanks" to the front picture. We also have two or three leftover invitations after each party; why should I buy new invitations for new parties? No one will notice that different styles of invitations were sent, and no one is going to care that the invitation didn't match the party.
Using some items for projects other than the ones they were intended for might be painful initially, but they're actually costing you money if you don't. Expensive leftover scrapbooking supplies seem inappropriate for decorating a child's Valentine box, but the alternative is leaving them to sit on the shelf while purchasing new supplies. Rather than horde them, use them.
What Are You Saving It For?
Ask yourself this question often. With the proliferation of stores, there's nothing stopping you from buying more supplies if they're needed. For instance, you purchased yards of yarn intended to learn to crochet, yet three years later your daughter needs it for a school mobile; let her have it. If you ever pursue your plan to learn the art of crochet, you can easily buy more yarn. Odds are, unfortunately, that if you haven't picked up that needle yet, you never will. Now the yarn is a loss. If your daughter uses it, it's a gain.
If your home is feeling crowded and unorganized, using rather than saving will help alleviate that problem. By putting everything to good use, you'll have less clutter and more responsible use of your money.
October 19, 2007
3

found this helpful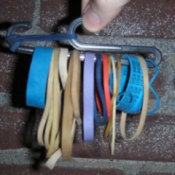 Use a mini hanger for socks as a rubberband keeper. The rubber bands will all be kept on the area where the socks hung. Take a rubber band, slip knot around the end that kept the socks from sliding off (this will be the hinge area) and then hook the other end on the end that hung on the display (this end you remove to get to rubber bands). It also works with hair bands. Just toss in the drawer or hang. Recycling and organizing in one!
By Trish from Memphis TN
I was constantly receiving free return address labels in the mail. I hated throwing them out and the supply kept increasing. The sheets would slip and slide in my desk drawer. I found a good way to keep them organized and easy to see when I need them.
I purchased a see through hard plastic envelope with the zip slide closure at the office supply store. It measures 10.5 inches x 6.5 inches. I place the seasonal pictured labels paper-clipped together in the front and all the others in the back. I then place sheets of postage stamps right in the very front so the supply can be quickly viewed and I can tell when I am running low on postage. This handy packet stores in a shallow desk drawer and stays neat and orderly.
By Connie from Houston, TX
November 11, 2011
2

found this helpful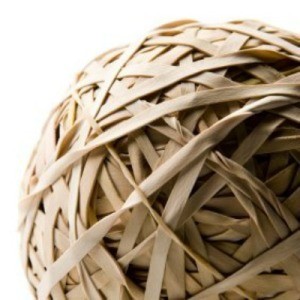 It's fun to organize your office and enjoy crafting at the same time. These crafty ideas will not only organize your desk but also keep children busy while you finish some of your paperwork.
Rubber Band Balls
There's really no better way to organize rubber bands than to make a fun rubber band ball. They're easy to make, and your children will have fun making and playing with the balls.
Start with a small bouncy ball the size of a gumball, a marble, a wadded piece of aluminum foil, or a knot made out of broken rubber bands. Then, separate your bands by size. Wrap the smallest band around the ball, twisting and doubling it if necessary. Wrap the bands opposite one another; one around the diameter and then another around the diameter that intersects it at 180 degrees. The third band should sit to the side of the first, and the fourth should sit to the side of the second.
It doesn't have to be that organized, but the bands should be randomly wrapped around the ball to give it balance and strength. Make sure they each hug the ball tightly. Finally, continue the wrapping until all of your rubber bands are organized into one large ball.
Paper Clip Chains
If your paper clips are left in a pile or in a messy knot in the magnetic container that they came in, try to create a more decorative craft from them. The colored clips make interesting paper clip chains. Your children can attach the clips one end to another by linking them end to end. This long chain can decorate your office until you need a clip; hang it from a nail, or drape it over a lampshade or picture frame. Making several five foot strands, you could hang them from your doorway to create a retro door curtain or use them as wall art to disguise cracked plaster.
Bottle Cap Clips
To keep your bills and other papers organized in a fun fashion, have your children create large paper clamps. First, wash and dry bottle caps. Next, have your children paint the caps and let them dry. Then, cut out small pictures from magazines that will fit inside the bottle caps, or have the children draw small pictures. Stickers are often the perfect size, and anything from wrapping paper to photos will make interesting sets of clips. Glue the pictures to the inside of the painted caps. Using a strong glue, glue the caps to the top of a spring-loaded clothespin. The clothespin works as a paper clamp with style.
Try creating sets of these clips that can be given as gifts; they can feature pictures of your family or initials. Wooden clothespins can be painted or decorated with markers. For presentation of your gift, cut out a rectangular piece of cardboard and clip the clothespins around the edge. On the cardboard write "Happy Birthday" or "to:/from:".
Magazine Holders
Magazines, folders, or other paper organizers can be made from cereal boxes. Cut the larger two sides of the box at an angle from two inches above the bottom to the opposite top corner of the box. Then either paint the box with tempera paint, cover it with colored paper or children's drawings, or create a photo collage. Fabric coverings add some upscale appeal to your desk, but it requires hot glue or spray adhesive and children should be supervised. The storage boxes can stand upward or lay flat.
A Muellers' Spaghetti box works great for holding the supply of note paper I have cut from paper received in the mail. It is attached to the side of the refrigerator by flat magnets glued to the back of the box making the paper so accessible for making my grocery list, etc.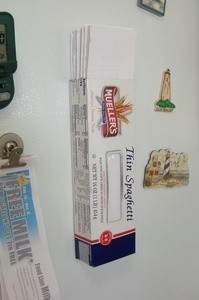 Read More...
My desk is against one wall. I have a computer and printer on it. I have velcro strips holding all the cords together with the name of each cord written on it with black felt marker.
Read More...
December 15, 2011
0

found this helpful
Whether you have an entire room in your house devoted to your home office, or even just a desk in the corner of your kitchen or bedroom, organizing it is essential to finding the things that you need when you need them.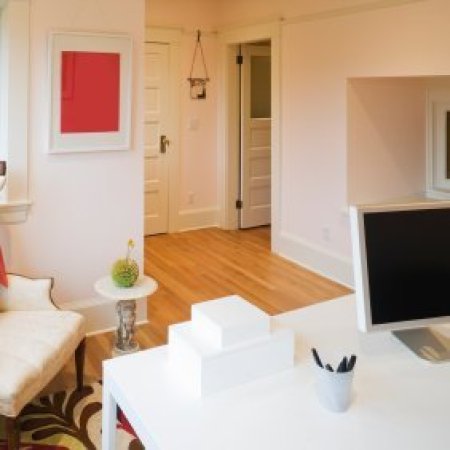 Read More...
A great and inexpensive way to organize your office supplies are with these $1 tin pails! You can find these tin pails at your local Dollar Spot at Target, Dollar Tree, Party City or Arts and Craft stores.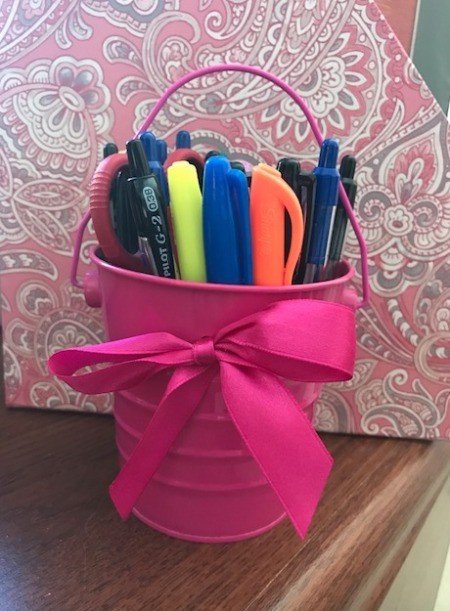 December 8, 2004
0

found this helpful
You can make attractive office storage containers. Trim sturdy boxes to size and cover with a wallpaper border of library books. Makes your office area look neat and tidy and is great storage! By Syd
Read More...
This weeks tips include: Using old film negatives, reusing old champagne bucket, and office desk storage boxes.
Read More...
Related Content