My husband built me a pantry, which now I get to use all my cupboards in the kitchen for kitchen stuff. I like organization. My can goods are in alphabetical order (as are my spice goods, but they are not pictured here). I only purchase something if its on sale and I have a coupon.
By Tracey from Michigan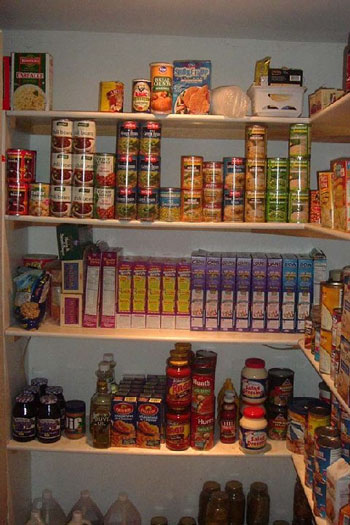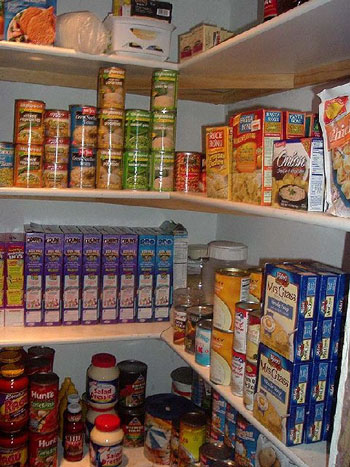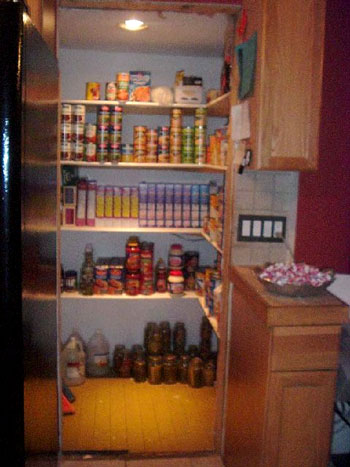 Answers:
Bins
I always had a hard time getting to things in the back of my pantry. My husband finally decided to just put everything into plastic bins, the shallow kind made for under the bed storage. They can be pulled out to be looked into and slid back into the pantry with minimal rearranging! (02/15/2005)

By Jacqui
An Old Dresser
I have an old dresser in my pantry that I keep various items in. One drawer has all my wax paper, tin foil, and Tupperware lids. Another drawer has multiples of boxed rices & pastas, as well as dry dressing mixes and gravy packets, and the rest have can goods. It keeps my pantry looking nice as well as my kitchen cabinets. (02/15/2005)

By By Terri H.
Door Shelves
I bought one of those cheap "over the door" plastic shoes sorters that hangs on two hooks and you can still close the door with it up. I use the pockets to sort smaller items. Each plastic pocket is labeled with the labels from my vcr tapes, such as "Koolaid", Seasoning mixes, Tuna, etc. It saves alot of shelf space and keep those puches and stray items organized. (02/15/2005)
By Suzanne S.
Glass Containers
After going through the whole mess of buggy flour, pasta, etc. that was stored in old fashioned metal canisters, I switched, and now use clear glass or clear plastic gallon jars as canisters. These can be obtained from restaurants, and actually you can buy some things like salad dressing in the large jars in the grocery stores these days. They are "see through", so you don't have to even have labels. I pour all cereal from the original boxes into these "canisters" as soon as I get it home. Have not had a bug infestation since using this method. Also, since I have a walk in pantry just off my cooking area, I have a huge pegboard on one wall and it holds anything that will hang from spatulas and funnels to skillets and griddles. Everything at my fingertips....no digging in drawers. I also have a shelf that holds my toaster oven, my breadmaker and my Kitchenaid mixer so that I have them handy at all times. I use them right where they are stored. Needless to say, my walk in pantry is my pride and joy. (02/16/2005)
By Harlean from Arkansas
Tupperware
Tupperware has organized my pantry. I know Tupperware can be pricey but it was worth my investment years ago. I built my collection over many years and have found many bargains on Ebay in recent years. I keep flour, sugar, brown sugar, rice, pasta, nuts, all the basic needs for cooking and baking stored in Tupperware. I also have some Rubbermaid containers that work very well also. The Tupperware just stacks so nicely and organizes well in the lazy susan cabinet. All my spices are Tupperware stored as well. I know what I have, the food item stays fresh and I am able to fit more in my cabinets. (02/16/2005)

Good Job
You did yourself proud. I'm impressed. That's a good job, I assume you have cooperation from other family members? (11/22/2005)
By Syd
Jealous
I am so jealous--you are so lucky. This is one thing I want in my "dream home." It must make mealtime a breeze. You can now stockpile and rotate foods with ease. This is one of those things that makes life much easier--congratulations. (11/23/2005)

By susan