October 14, 2009
0

found this helpful
Top Comment
CindyM56 :: the link is directly below the text at the top of the page - (it's blue)
Bette :: I'm not sure but I probably right clicked on the page & copied the link from the pop-up window where it says "properties".
keeper60 :: I bought a wooden tool used to make smaller plant start holders- BUT if you wrap paper around a soup can & then tape the bottom you have a pretty good paper pot without buying the tool!
I would use duct tape on the bottom or sides.
Shosha :: Exactly! That was one of the uses shown on the box my store bought version! For little snack holders you could use recycled cereal box liner! Or for non greasy items pretty scrapbook or wrapping paper to match your theme! Foil too for some items!
The box also showed 2 placed together one topped over the other & secured to make a capsule of sorts of them!
This was such a fun post with such wonderful reader response ! Thanks and hugs back at all!
I am uploading a pic of mine that I made of newspaper before I moved here about a yr ago that I decorated with a small piece of pretty scrapbook paper. I then used a hole punch so I could hang it on my pegboard! The next reply will be a pic of the actual item I bought so you can see it - it's sort of crazy looking!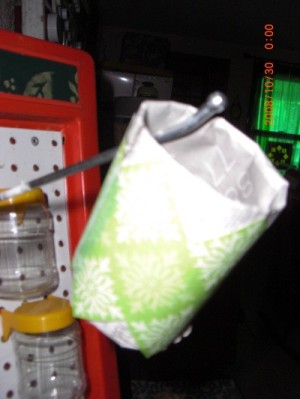 October 14, 2009
0

found this helpful
Top Comment
It's the cold/flu season & the origami trash can is ideal for dirty tissues that none has to touch to dispose of! Just fold it down & toss it in the garbage!
March 13, 2008
0

found this helpful
Oh Melody!!!! This is just soooooo cool!!!
I just made one and love it!!! Thank you so much for sharing this neat idea and site. Big hugs to you!!!
By Lori (Guest Post)
March 13, 2008
0

found this helpful
How cool! Great for my countertop compost bin! I like to line mine w/newspapers so it doesn't get all icky inside. Thanks! lorlemm at yahoo dot com
By Katie (Guest Post)
March 13, 2008
0

found this helpful
I made one with regular paper and they make great bead, or pen, or anything really small holders. Cute! Thanks for the ideas!I use them to hang earings on the sides, or inside!
March 14, 2008
0

found this helpful
First thing I imagined when I saw this was to make it a little smaller and used for place settings with little treats. My mind is swimming!
By Gloria (Guest Post)
March 19, 2008
0

found this helpful
Great Idea.
Just made one but used a smaller sheet of paper.. Going to try a few more sizes and use them for transplanting. Fit nicely into my trays.
Thanks for the idea.
By (Guest Post)
March 20, 2008
0

found this helpful
I had no newspaper so I used ordinary sheet of paper just to try it. It worked well. I loved it but mine did not look as nice as yours. Probably the paper was a little too stiff.
March 23, 2008
0

found this helpful
utterly amazing...thanks.I had so much fun.Ya can teach an old Nana new tricks.
Keeper
March 23, 2008
0

found this helpful
ps..these can be made w/newspaper.put seeds to grow.When the time is right to plant outside.Plant the whole container.
You've re-cycled,and it's earth friendly..oh! keeps the weeds down also..Thanks again,Melody
Keeper
By Bette (Guest Post)
April 5, 2008
0

found this helpful
Hi Melody, I LOVE IT! I was wondering how you got the direct link to the Garbage Bag. I looked at some other things on their web site and tried to bookmark the directions but all the pages I looked at had the same web address, their Home Page. Can you share your secret for getting the direct web address to instruction pages?
Thank you in advance. bette
May 4, 2008
0

found this helpful
OK SO WHERE'S THE INSTRUCTIONS OR THE LINK TO THE INSTRUCTIONS?? I WANNA MAKE ONE TOO!! DON'T BOGART, GUYS!! LOL!! GIVE IT UP!!
By Nor Aisha (Guest Post)
June 11, 2008
0

found this helpful
Hi Melody,
This is really perfect for me to use old newspaper as garbage box. Thanks and keep putting new origami craft to save our environment.
By CK (Guest Post)
October 5, 2008
0

found this helpful
How clever! And thanks for the animated diagram. I followed the animation to make my first petit box from a 4 x 5.5" piece of scrap paper and then moved up to a page from a junk mail catalog (how pretty!). FYI the animation is more helpful the first time because you get a visual of how the paper is supposed to look. When I used the diagram to help me recall the steps, I was glad to have see the process via the animation.
April 8, 2010
0

found this helpful
Oh man this is great. I use it under my desk for papers etc. that can be recycled and I just recycle it all! Great job!