Question:
I have been feeding about four Baltimore Orioles since spring and now my feeder has sat untouched for days. I was re-filling it every other day as they were literally waiting in line to feed, now it looks like they've moved on. I'm kind of disappointed as they really brightened up my backyard. Is this typical?
Mary M. from Wilmington, IL
Answer:
Mary,
Yes. It's quite common for Baltimore Orioles to perform a disappearing act during the late spring and summer. When the birds first arrive in the spring, they seem eager to refuel on fruits. Then after a month or so they suddenly seem to disappear. The birds are probably still in the area, but as soon as they start breeding and raising their young, their nutritional needs switch from high sugar foods like jelly, to high protein foods like insects and worms. Once baby bird season begins, Baltimore Orioles spend more of their time high in the canopies of trees or low in thickets where they are busy "feeding and breeding".
One suggestion you might try is to set out a tray of mealworms at your feeder once you see their numbers starting to dwindle. If it doesn't keep the orioles around, you're sure to make plenty of other backyard birds very happy.
Ellen
Answers

Judi
Bronze Feedback Medal for All Time! 239 Feedbacks
July 19, 2008
0

found this helpful
Best Answer
Don't know about your birds or your area but it is typical here in Oregon with our birds. I watched a nest of Bluebirds for weeks and wouldn't turn the sprinkler on there so they wouldn't get wet and kept the dog away and last Sunday while I wasn't watching they left!
The hummers I've fed all spring (about 40 fo them) have mostly gone for no reason I can see. The Swallows have raised thier babies and all have left the area. Seems to be the way they do things.

July 25, 2008
2

found this helpful
Best Answer
With the orioles in my area I've noticed they don't feed for awhile, I've come to the conclusion it is because the berries are getting ripe and they prefer the fresh fruit.
I put out grape jelly and they always find their way back.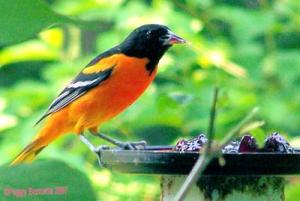 May 15, 2019
0

found this helpful
Best Answer
As the birds migrate north in the spring they use up a lot of stored energy and need to replenish so people will see many hummers, some will even chase others away to guard "their" easy source of food. When flowers and plants begin blooming, hummers will feed off them and you'll see their trips to the feeder much less often, if at all because they prefer nature's food.
Later they'll be back to fatten up for the migration back to southern Mexico and Panama.

June 27, 2019
2

found this helpful
Best Answer
We have been feeding orioles for 4-5 years and this is the first year they seem to have suddenly disappeared in late June. Have to wait and see if they return in a few weeks.

July 29, 2022
0

found this helpful
I haven't seen any Orioles at my feeders in a month or so, as they were coming regularly and my brother lives a couple blocks away, and they have them. So, I am curious that maybe cats or other predators might be the problem. I have been feeding them for years and it's the 1st time this has ever happened!
Answer

this Question