As I told you last Friday, I was going to my grandson's birthday party. I live in Washington State, near Seattle. Two of my grandsons live in Hillsboro, Oregon. Part of the festivities were held at Plumper Pumpkin Patch: http://www.plumperpumpkins.com/
We spent several hours petting animals at the petting zoo, sending rubber duckies down some water shutes, playing in the playground, going on a hayride, riding ponies, watching pumpkin hurling and hurling a few, and going through all the mazes and of course, picking out some gourds and pumpkins. For only $3 dollars per person we got to participate in numerous activities. It was a fun and frugal birthday party.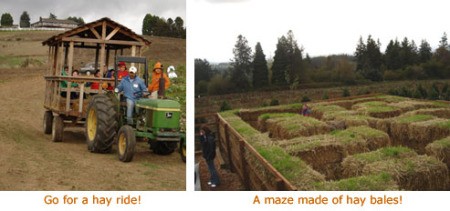 It was a fun place to go on a cloudy autumn day. They have a pumpkin throwing Trebuchet (catapult) and a pumpkin air cannon which sends small pumpkins hurling towards some targets many hundreds of feet away. They also had fixed slingshots which the kids used to hurl pumpkins.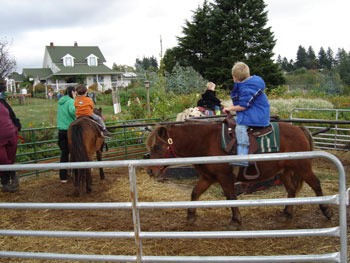 The patch is 62 acres in all and includes a corn maze and two hay mazes. One hay maze is short for little ones and the other is larger for adults and big children. Luckily when going through the hay maze I had a little tour guide nearby. She was just one of the visitors to the patch who took me under her wing. She kept me on track by telling me "no not that way, it's a dead end" and "go right", so there was no chance of getting lost.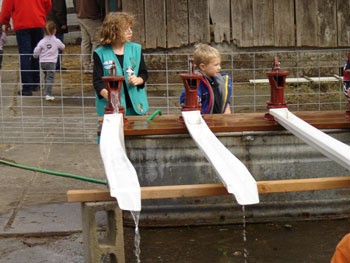 There are plenty of pumpkins of the regular and more exotic varieties to buy, plus gourds, dried ears of corn for decorating and small bales of hay.
My 3 grandsons (Beck in blue coat, age 5; Quinn, age 3 in orange coat and Ethan, the birthday boy in the navy blue coat, age 3) and the rest of the family had a great time.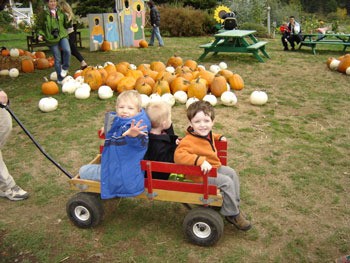 If you are near Hillsboro, it is a fun day trip. If not, many places have pumpkin patches at this time of year.

The Birthday Boy
Here's a link with a list of Pumpkin Patches (scroll down on the page to Pumpkin Farms and Festivals):
http://www.darklinks.com/dhauntpumpkins.html
If you have a good pumpkin patch in your area, post its location in the feedback section so others in your area can know about it.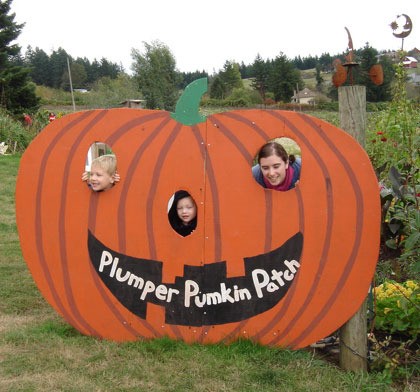 For dessert we made the Googly Eyed Cake that we recently published on ThriftyFun.
Feedback:
RE: Our Trip to the Pumpkin Patch
This is great! I wish we lived close enough to visit! What fun! (10/21/2005)
By EnTedebear
RE: Our Trip to the Pumpkin Patch
Enjoyed your pictures! Wish we lived near enough to go to The Pumpkin Patch there, will check out places in GA for my family. Looked like a very fun family day trip. You have beautiful grandchildren, enjoy them. (10/21/2005)
By Jean in GA
RE: Our Trip to the Pumpkin Patch
Lucky kids! Wish there was something around here when mine were growing up just like that. (10/24/2005)
By Holly