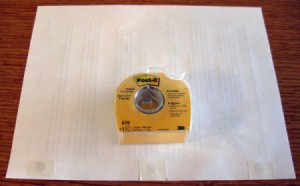 To save paper, for drafts or working pages, I print on the backs of previously-printed-on pages. Many of those pages have been 3-hole punched because they were in binders. With my old printers, this worked fine. However, my 15-year-old printers are dying.
A sensor of some sort inside my newer Epson printers doesn't allow printing on 3-hole-punched pages. The page feeds in, the printer pauses, then spits out the page, with an error message ordering me to clear the paper jam.
I hate being outwitted by inanimate objects, and every fiber of my frugal person objects to wasting paper. So, after some thinking, I came up with a work-around.
Using 3M's repositionable Post-it Labeling & Cover-up Tape (covers 6 lines), I cut pieces just large enough to cover each hole. Now those punched pages feed normally through my Epson printers. The pieces must be firmly pressed down to the page (not sure my photo shows this properly).
Of course, it's a bit tedious to remove those small pieces and put them over the holes on the "new" pages. But for occasional and draft printing, it's worth it to me.