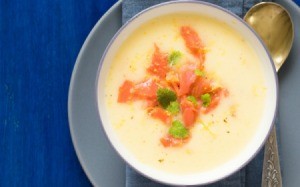 This soup is a favourite of mine because it is tomato based rather than cream based. It is fresh tasting and fairly easy to make.
Ingredients:
1(15-1/2 oz) can of red salmon or 2 small cans (or the equivalent in cooked fresh salmon, flaked)
2 cups water, chicken or fish stock
2 cups potatoes, peeled and cubed small or shredded
1 cup finely chopped onion or shred it as well
1 cup thinly sliced celery (I have substituted an equal amount of frozen mixed vegetables for this ingredient)
1 (19 oz) can stewed tomatoes, coarsely chopped or same amount of diced or crushed canned tomatoes
1/2 tsp. celery seed (optional if not using the sliced celery. It adds the celery flavour when using the frozen veggies)
3 Tbsp. butter, marg or butter flavour shortening
3 Tbsp. flour (I find instant blending works best for this)
2 cup low fat milk
1 tsp. salt (optional)
1/4 tsp. pepper (white pepper is best here for looks)
Chopped fresh parsley or chives for garnish on the bowls
Directions:
Remove skin and bones from salmon, reserving liquid. In large soup kettle or saucepan, bring water/stock to a boil. When boiling add all vegetables and celery seed if using. Cover and reduce heat to med/low; simmer until the vegetables are tender-crisp, about 20 minutes.
Add salmon and reserved liquid(I have poached fresh salmon for this soup and used the poaching liquid or use can liquid when using canned salmon) simmer mixture for another 5-10 minutes.
Meanwhile, in another saucepan, melt fat; add flour and blend until combined; then slowly add milk, stirring well to blend. Cook this white sauce until smooth and thickened to medium thickness, stirring constantly.
Add this sauce to kettle of salmon mixture, slowly stirring all the while. Heat gently on Low. DO NOT let it boil, as it may curdle. Season with salt and pepper and serve sprinkled with the chopped parsley or chives.
NOTE: If this soup happens to curdle, it still tastes good.
Servings:
about 6-8
Time:
20 Minutes Preparation Time
less than 60 Minutes Cooking Time
Source: Canadian Living Magazine ages ago
By Mary Lou
Comments

July 7, 2009
0

found this helpful
Hi! This sounds delicious! Is there something I could use instead of flour in the recipe? I have Celiac disease and can't have any wheat or gluten. Do you think cornstarch would work? If so, would I use the same amount? Thanks!