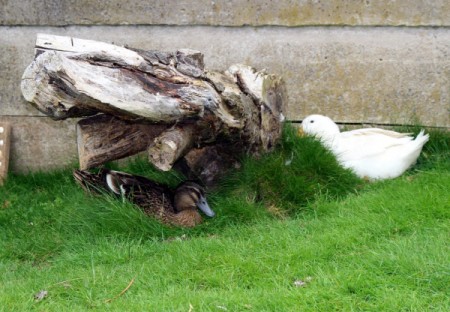 Your Pet's Age
Paddlesocks is getting on for middle age now and Rosie is a lot older and a bit wobbly on her legs.
Your Pet's Breed
Rosie is an Aylesbury duck and Paddlesocks is a cross between an Aylesbury and a Khaki Campbell.
How and when did you get your pet?
We bought Rosie from a local farm and bred Paddlesocks ourselves by putting one of our eggs (which we would normally eat) in an incubator.
What does your pet like to do for fun?
They love to chase and eat flies or hunt for slugs and snails, but best of all they love to splash around in their old tin bath.
Do you have anything else to share about your pet?
The photograph shows them having a rest under an old willow stump. Rosie is the white duck.
Add your voice! Click below to comment. ThriftyFun is powered by your wisdom!