Our 100 year old B&B has a massive island kitchen with dark green bead board cabinets, a center island and glass upper doors with stained glass accents. I stripped all the nasty old wallpaper and am looking for paint ideas. Should I paint the cabinets? What color should I paint the walls? Our budget is limited and the Inn is for sale, so I need something that will appeal to the broadest range of buyers, residential or business. Thanks!
By Wendy from Bellaire, MI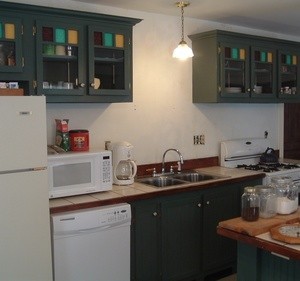 Answers:
Paint Color Ideas
Since you are trying to sell the inn, you will appeal to the most people if you go neutral. Not everyone will like green cabinets, but white would appeal to almost all.
As for painting the walls, whether you paint them blue, yellow or whatever, some people might like the color, but lots of people won't. The best color to paint when you are selling is beige. It is a neutral color and even if the buyer plans to paint the room a different color, they will feel that they can live with beige for a while, whereas they might not be able to live with yellow or green, etc.
My husband and I have fixed up and sold 3 houses in the past few years. We always paint all of the walls beige. The houses all sold fast, we sold one just 3 months ago, even with the bad economy situation. The best advice is go neutral. (04/07/2009)
By Joy
Paint Color Ideas
I would leave the cabinets the color they are. That color is perfect for the period of the house. I would pick a warm, creamy, buttery beige or a very pale version of the yellow in the glass cabinet inserts for the walls. To help you with your budget you should buy your paint (and anything else you may need) at Restore. These are run by Habitat for Humanity. They have paint, furniture, fixtures, hardware, carpet, tile, etc. left over from home improvement projects or remodels. I bought five cans of paint for my apartment for $25! I decided not to use one can, so I gave it back to Restore. But $6.25 a can is cheaper than any store and all the money goes to a good cause. I'm not sure where Bellaire is, but here is a list of Michigan Restore locations:
http://www.habitat.org/cd/env/restore_detail.aspx?place=59 (04/07/2009)

By samaree
Paint Color Ideas
See, I wouldn't do white. I would do black or silver knobs and then something that picks up the color in the counter tops. I would also put a focal point in between those cabinets, and then all the appliances need to be changed to Black or Stainless. You can find used appliance stores in the yellow pages or craigslist. I say black because of the stain glass in the doors. (04/07/2009)

By jenna