I saw posts about painting laminate. As you can see by the picture I am working on remodeling this kitchen. The cabinets are very dark/outdated, but are in "like new" condition. Very solid/sturdy.
I was thinking of adding tiles to the backsplash and maybe painting this laminate countertop. Any ideas on these cabinets? or the green laminate? The wallpaper has already been removed.

By Jen from Cleveland, OH
Answers:
Paint Color Ideas for Kitchen Cabinets
I saw this idea on one of those DIY shows. Remove the hardware from your cabinets and cut a piece of thin plywood to cover the decorative grooves, leaving about 2 inches or so of the cabinet door showing. Then you can paint the cabinets and add new hardware (that's not in the middle of the door), to give them an updated look.

I actually like the dark color, maybe paint them a dark brown that's not quite as dark as they are now. I also like your green counters. Add a crisp white tile back splash. I found white "subway" type tiles at Lowe's for 22 cents each. Here's a picture of my back splash. (11/09/2009)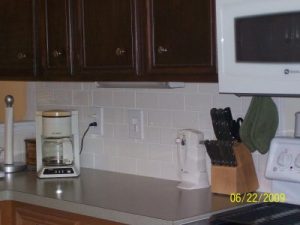 Paint Color Ideas for Kitchen Cabinets
Oh my goodness you have some big decisions to make. Just my personal opinion, but the cabinets definitely need to be lightened up because there's just too much of a contrast with the rest of the much lighter rest of the kitchen.

Okay, you wanted an opinion on the green countertop: Paint it. Do your cabinets first and then decide what color for the countertop and back splash. Someone here recently shared their granite look painted laminate countertops and a light color granite look would be lovely in your kitchen. Best of luck and please share a photo with us of your finished product. (11/11/2009)
By Deeli
Paint Color Ideas for Kitchen Cabinets
Boy, that green has got to go. I applaud your efforts. I would go with a cream or white for the cabinets and try painting a granite like look on the countertop, maybe in a brown tone. Paint or tile for the backsplash. Maybe a darker cream or something that is a shade of two different from either the cabinets or countertop. Good luck.

oldhouseweb.com (11/13/2009)

By Allison5