I would like to paint the back splash of my kitchen counter. It is in good condition but there are tiles that have a slight elevated flower design on them. Can I still paint the tiles? Thank You.
Pam
Answers:
Painting Back Splash Tiles
Sure you can. And if you want those "embossed" flowers to show with the new color, use a brush that is "dry" and gently brush over the flowers that are slightly elevated. You'll get an effect that is really nice, at least to me. I have frieze in several rooms. My cousin decided the bathroom needed to be painted, and that's what she did; painted the frieze white to contrast with the blue walls, and dry painted the frieze with blue on the white. Good luck. (03/19/2008)

By 2oma
Painting Back Splash Tiles
Just make sure you prep the surface properly. Tiles are usually shiny and will need to be properly prepared so paint will adhere to it. The folks at the paint dept. of any hardware or big box store can recommend the best surface prep and primer. (03/25/2008)
By painterjayne
Painting Back Splash Tiles
Pam, I just did this very thing!

My original back-splash was white ceramic tiles which had a colorful and raised flower design on several of them. All the tiles were in good condition so I figured I would just paint them. First, I cleaned the tiles with warm water and a household cleaner, then I roughed up the tiles with 220 grit sandpaper. After sanding, I wiped down the back-splash with a tack cloth to remove all dust and fine particles. Next, I primed the tiles and grout with an oil-based primer (Kilz) and let dry. Then I purchased a base color from a big box store (enamel paint) and painted the tiles and grout (didn't feel like taping the grout). The color I decided on for the base was called pebble walk. Then, to add dimension, I lightly sponged a camel color acrylic craft paint onto the tiles. This second color added with a sea sponge really hid the raised flower design on the tiles.
Now the tiles look like a faux stone. It was really easy and my husband was thrilled with the results! No more dated back-splash! I have posted a before pic below. I will post the after pic in a second post. Good luck!! (07/24/2008)

By Beth in NJ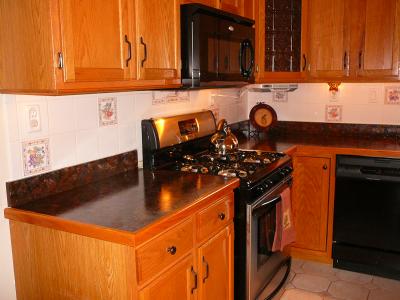 Painting Back Splash Tiles
Here is the after pic! I also just finished painting my laminate countertops. They were a green color as you can see in the before shot. (07/24/2008)

By Beth in NJ