How do I paint laminate countertops?
Mimi from Chattanooga, TN
Answers:
Painting Laminate Countertops
SL: Yes, I painted over the metal strips on mine. Just paint them over completely with a Kilz primer eant for bonding to glossy surfaces (it will say this on the label), and all the other coats of paint and sealant will stck just fine.
(quote)(/quote)RE: Painting Laminate Countertops
Post By SL from Georgia (Guest Post) (08/05/2008)
Has anybody painted a counter top that has the metal strips running around the edges? and If so, what did you do, paint them, etc.? What did you use that would stick to the counter top and also the metal edges? (08/11/2008)

By Christina
Painting Laminate Countertops
Hey, I tried it myself on my bathroom countertop. I started with "Gripper" primer. Then I did sponge painting with acrylic paints from a craft store that I had. I used tan, black, brown, gold, and a tiny hint of blue. I topped it off with epoxy a day later after the paint was dry. It's been 2 months and everyone LOVES it, esp. my husband who had been very nervous about the whole thing. (08/15/2008)
By Patrice in Minnesota
Painting Laminate Countertops
I read several of your posts and attempted it over the weekend. Here is my before... (08/18/2008)

By Jessy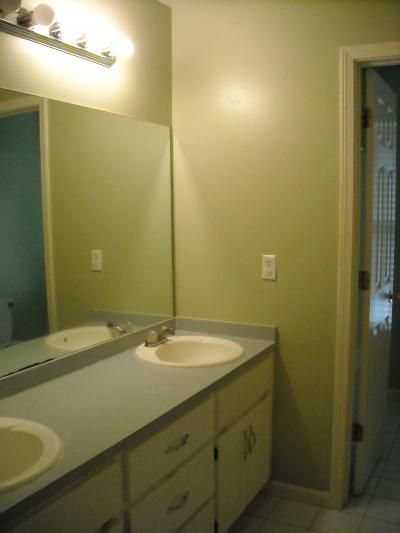 Painting Laminate Countertops
And my after... (08/18/2008)

By Jessy
Painting Laminate Countertops
Wow jessy looks great. Almost exactly the same color I did my kitchen in. (08/19/2008)

By mslisa202
Painting Laminate Countertops
I would use more than one color at a time, seems to give it depth. I used like 6 at one time of craft paint. I went to Lowe's and picked out a granite color chip that I liked, took it to Hobby Lobby and pretty much picked colors that were in the chip. I did however do as Bea said and added some glitter paint at the end. That totally gave it a true stone look. See pic below (08/25/2008)

By mslisa202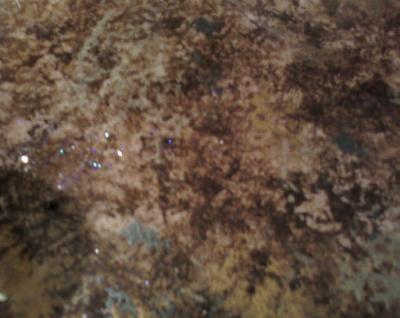 Painting Laminate Countertops
I just wanted to share that I myself, because of this website, braved up enough courage to try this! IT TURNED OUT WONDERFUL. Not only did I do my bathroom, I also tackled my kitchen as well. Here are some before and after pics. (08/28/2008)

By KE2008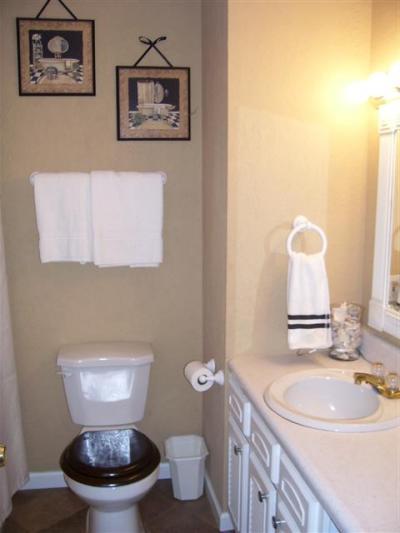 Painting Laminate Countertops
(08/28/2008)

By KE2008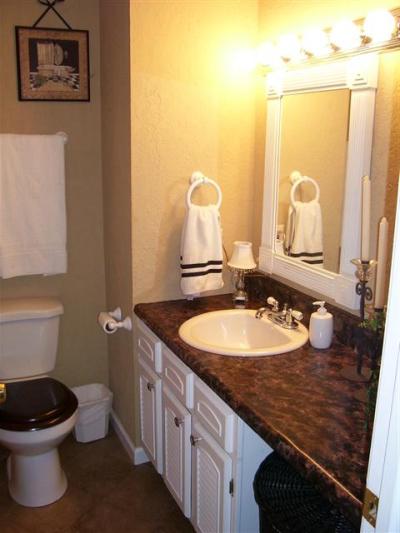 Painting Laminate Countertops
(08/28/2008)

By KE2008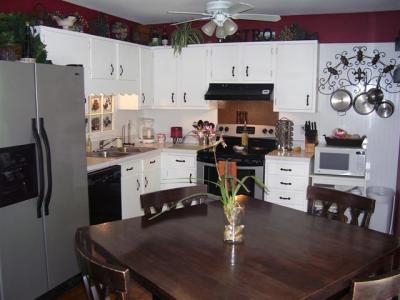 Painting Laminate Countertops
(08/28/2008)

By KE2008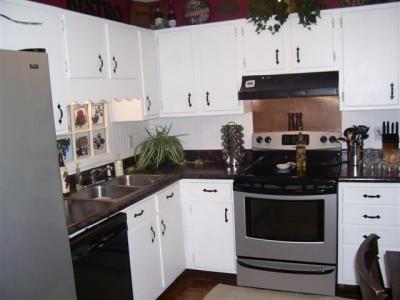 Painting Laminate Countertops
(08/28/2008)

By KE2008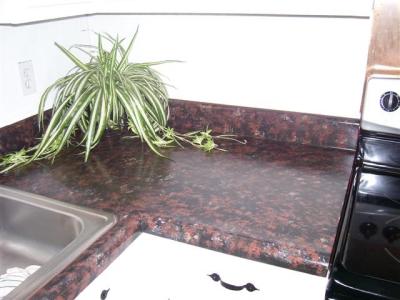 Painting Laminate Countertops
I found taking a plastic grocery bag and crumbling up much better than the sponging. I sponged all over, did more research, re primed and then used the plastic bag technique and love the results. Just another option. Good Luck (09/01/2008)
By beth
Painting Laminate Countertops
I'm almost done and let me tell you, it was a little more work than I thought. I was originally going for the marble look so I had painted a tan background and was sponging brown, gray and white onto it. The more I sponged, the more the colors bled together and I ended up just getting mad and re-painting the whole thing black. Then I bought Rust-o-leum Stone Creations, it's a black spray paint that has white stone speckles in it, although it comes in other colors. I sprayed that over the black, it is so much better now. It looks more like granite instead of home-made mush. Once that dried I proceeded with my Envirotex lite, that stuff is a major mess but the end product looks like gorgeous glass. Although I ran out 1/2 way through my counters and had to stop while I'm waiting on my next shipment. So I still don't know whether I love it or not...I will let you know. (09/02/2008)
By gatorgirl89
Painting Laminate Countertops
Hi Everyone,
My husband and I took the plunge this weekend. We did a test piece first, but weren't happy with the colors. So we played around a little, and went ahead with the counters themselves. After painting the counters we put Envirotex on our test piece. Man, it looks so much better with that stuff on it!! We had some trouble with the Envirotex on the counters, we have some divots, I think from where we didn't have enough Envirotex on that section. The backsplashes and sides were really hard and didn't come out very well, but you don't notice the problems unless you know to look for them.
Overall we are extremely happy we did this. $170 for new countertops!
This is the after picture. (09/02/2008)

By boesie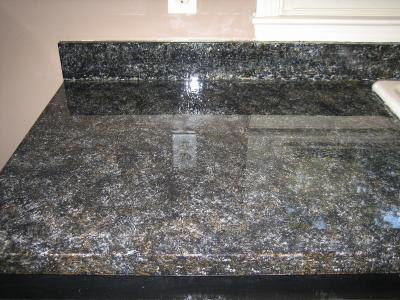 Painting Laminate Countertops
We did ours with pieces of sea sponges, one color at a time, but one right after the other. I discovered that there is a fine line between getting too much paint on the sponge and too little. My arms are definitely sore after sponging for hours. :) I don't know if you used polyurethane or Envirotext, but from the photos, the expense and hassle of Envirotex is totally worth it for the final appearance. There is some finesse in using it, but it looks AWESOME.
Also, I wasn't as happy with my paint job until I put the Envirotex on it, it changes the whole look. Some of the colors pop out more, some are more subdued, and even some of my "oops" spots that I got tired of fixing look like they are meant to be there now that the Envirotex is over top of it all. If you haven't done that on your bathroom, I'd recommend doing that first. This picture is of the same section as the below pic, but this is w/out the Envirotex on it.
Good Luck! (09/02/2008)

By boesie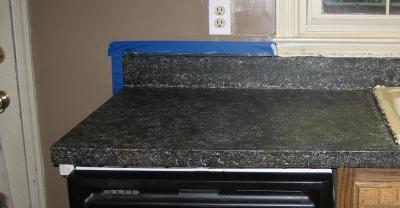 Painting Laminate Countertops
The base is solid black. There is a light layer of brown, a layer of dark grey, a heavy layer of off-white, a heavy layer of gold, another layer of brown, a layer of black, a light layer of gold, a light layer of brown and then a final layer of black. Whew.... The gold was a craft paint on clearance at Home Depot. The off-white is a craft paint from Michael's. I have an answer to the Craft (acrylic) vs. Latex paint question for everyone. I definitely recommend the latex if cost isn't an issue. It is much easier to work with. It doesn't dry quite as quickly, so you don't have to use as much on your sponge, and you can wipe it up. It also doesn't stick to you as much. It's more expensive to buy a quart of it, but I found that the color was more varied. They have a lot of colors in Craft paint, but then those end up being more money than the latex. If you want the exact paint names, I think you can use the "contact" button and send me an email. But the sponging is SO dependent on how much you do at one time, and what your taste is that it would be impossible for even me to recreate it! Here's my test piece, it looks nothing like the countertops! ;) That one was done with much bigger sponge splotches, then a couple really thin layers of black/brown on top. (09/02/2008)
By boesie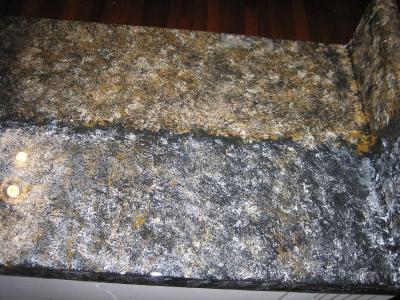 Painting Laminate Countertops
Boesie -- Holy colours! ha. Agonized yes, but it was well worth it. Again, they look amazing.
Here is a picture of our bathroom. We haven't taken a picture with the final layer of poly on them yet, hopefully tonight. We actually did another layer of dark brown and then a light layer of black on top of what you see here but this gives you the general idea.
We are going to try to "perfect" the technique before we tackle the kitchen. We want them to turn out like yours!
Thanks again.
Malcolm (09/02/2008)

By Malcs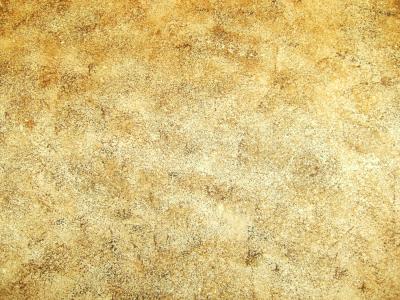 Painting Laminate Countertops
I just want to thank everyone for all the great information. I just recently painted my laminate countertops and cannot express enough how GREAT they look!! These pics below really don't do it justice but you can get the idea. Thanks for everyone's suggestions!! :) (09/05/2008)

By Tara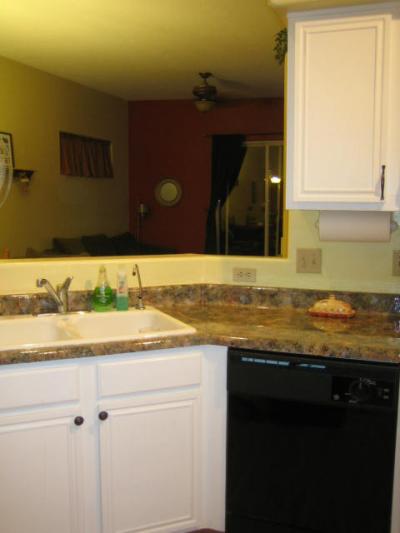 Painting Laminate Countertops
Here are some before pictures and some close ups (09/05/2008)

By Tara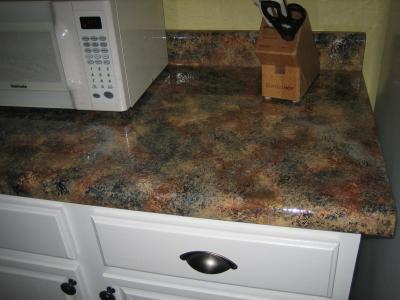 Painting Laminate Countertops
Here's the before (09/05/2008)

By Tara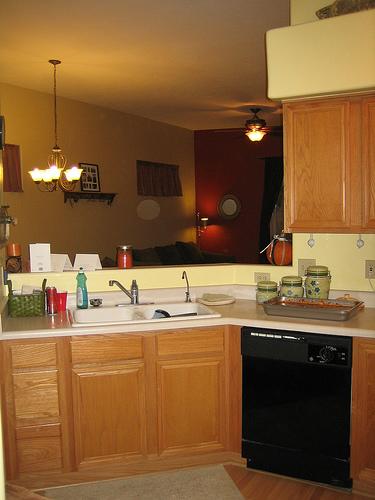 Painting Laminate Countertops
I sanded then used oil based Zinser primer. Then I used Valspar paint as the base in tan. I went to Lowes and got several returned paint samples that you can get for anywhere from $1-5. Then I used some natural sponges with Acrylic Paint from Michaels in various browns, bronzes, golds, and black. I used many different layers making sure to let dry completely between each application. Then once I was happy with it I use Envirotex Lite. The only issue that came up was there were some small air bubbles. I didn't have a torch and found they were hard to locate as it was drying. So the surface is not completely smooth to the touch but it looks even better in person!
Hope this helps, I'm glad I made the leap it's worth it! (09/06/2008)

By
Painting Laminate Countertops
Good Lord I'm almost done! I ran out of Envirotech and need to order another gallon, but it's coming along! I first had a tan base with my multi-colored sponging for the marble look but got frustrated so I re-did everything with black base and then sprayed Rustoleum black spray paint with white stone specks and it looks so much better, like a true granite look - here's a before (hunter green) and after pic (09/08/2008)

By gatorgirl89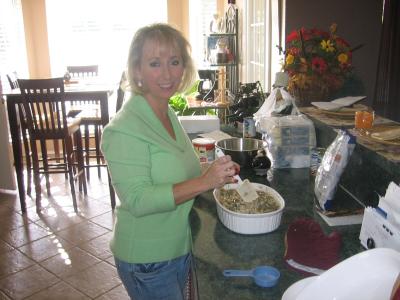 Painting Laminate Countertops
and here's my after (09/08/2008)

By gatorgirl89
Painting Laminate Countertops
one more after (09/08/2008)

By gatorgirl89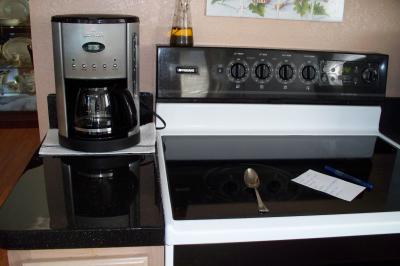 Painting Laminate Countertops
I did use Envirotex - it's a lot messier than I had hoped but the end product is really worth it - so clear and smooth and shiny and the torch worked wonders getting any bubbles out at all - just cover everything you don't want it to drip on and don't wipe your forehead when you're sweating - I had to cut a snip of hair that was Envirotexed! (09/09/2008)

By gatorgirl89
Painting Laminate Countertops
Well, I did it. It was scary to take the plunge, but like many of you, I'm so glad I did it. I followed the step-by-step instructions and it was really easy! I ended up going with with the Verathane Semi-Gloss top coat as I don't like high gloss things too much. I used some Kilz primer that I had on hand and my only advice is to use tinted primer if you have white countertops. I had missed a spot and didn't know until I put on the first coat of poly...the pattern just wiped right off. So I had to re-sand, re-prime and re-paint that little area. No biggie! Here is the before picture. (09/11/2008)

By Amy1082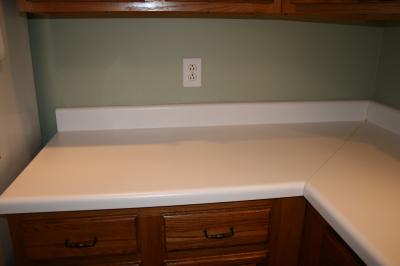 Painting Laminate Countertops
Here is the after. Thanks to everyone for all of their tips and encouragement to others! This picture is before the top coat but I was too excited to wait to put the final pics up! Thanks again! (09/11/2008)

By Amy1082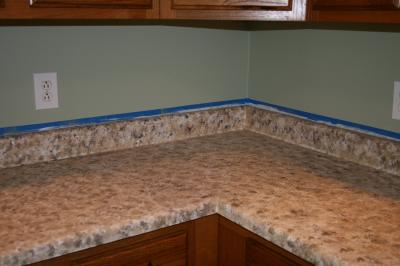 Painting Laminate Countertops
Has anyone tried this Armor granit? Below is the link. http://www.armorpoxy.com/mm5/merchant.mvc?Screen=CTGY&Store_Code=A&Category_Code=AGRAN (09/11/2008)

By LPC
Painting Laminate Countertops
WOOOOW! The last few posted pictures look AMAZING. Great job Gatorlgirl...sorry to hear you had some hair envirotexed though! Too funny! You should keep it as a memory of the job!
I wanted to post a few pictures of our finished product in the kitchen. We used the Varthane Diamond Clear Gloss finish. Unlike so many others on here we actually didn't want a really high shine because of the way our kitchen lighting is. We think it might like a bit too unnatural. This stuff worked well. It's a nice shine but not overwhelming for the space which is exactly what we were hoping for.
Here is a before. (09/11/2008)

By Malcs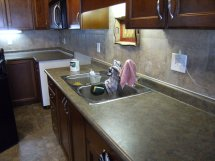 Painting Laminate Countertops
And here is an after.
Two points of note.
1) The pictures don't do it justice. Everyone says that. Now having it done, I TOTALLY agree.
2) I would absolutely look into the Rustoleum stuff. That sounds much less time consuming than dabbing with a 1 square inch sponge! Of course it will depend on what outcome your looking for but look at Gatorgirls pics...I think that looks wonderful.
Good luck to anyone who is going to try it. My advice? If you already dislike your counters, do it. What do you have to loose, $50? We figured that we didn't like the ones we had anyway, so let's do them. We surely won't like them any less than we do now...worst case scenario is that we have to replace them before we sell in a few years. (not everyone is in that position I realize...but that was our thought process...) (09/11/2008)

By Malcs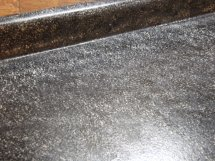 Painting Laminate Countertops
Oh...and here is the finished product in the bathroom...
(09/11/2008)

By Malcs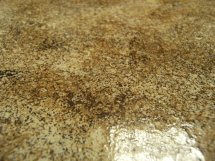 Painting Laminate Countertops
I would definitely try that Rustoleum - the stuff in the gallon paint can is expensive - you can probably get the same result with a painted base coat and the Rustoleum spray can that has the specks - you could even use 2 colors to get different colored specks if you wanted - and they're only $9.00 for a spray paint bottle. (09/11/2008)

By gatorgirl89
Painting Laminate Countertops
I fixed 2 boo-boos...the first was a smaller counter next to the stove that I guess I didn't put a thick enough coat of Envirotex on and it had dents/indentions like hail damage. I poured another coat on later and it's completely smooth now like it never happened. The other oops was when I started on the biggest part of the counter and ran out. The Enviro lava-ed itself and stopped in the middle of the counter. When I got my next shipment I poured a thick coat on top of that as well as the undone part and to the touch it's completely smooth, looking straight down onto it it's completely clear, but when I look sideways and there is light shining on it, I can see the outline of the wave where the first bit of lava stopped. So it may do that if you fix it, but I would go for it - you really have to look for the imperfection to notice it. (09/12/2008)

By gatorgirl89
Painting Laminate Countertops
Also, I've been reading this post for the last 2 days and keep hearing about following Bea's instructions. I've gone through this post over and over and cannot seem to locate them. Could someone please repost the instructions people are mentioning because my wife and I would love to get rid of our "wonderful" salmon pink countertops! :)
(b)Editor's Note:(/b) Here it is:
We painted a bathtub before and they sell a special kit for that at Home Depot or Lowes. The results are great. We will paint our ugly green kitchen sink very soon using the same product. The paint is high gloss shiny white and very durable! I am really happy to see everyone's fantastic results! Congratulations to all of you! We are currently painting our second project and will use the Envirotex. We tried oil based Poly and it changed to an ugly yellow color within a month, so we re-did the whole counter and used Benjamin Moore water based Poly. It's awesome and does not cloud, but the pictures here show even better results with the Envirotex, so we are trying this now. Attached is a picture of our kitchen in our Mobile home in Florida. I'll post a before picture once I find it in the deep abyss of my hard drive. lol Good Luck to everyone! Bea (06/03/2008)
(09/12/2008)

Painting Laminate Countertops
The one I used was called Rustoleum American Accents STONE, color is black granite. It does feel stony to the touch but once you put your sealant on top you won't feel it anymore. I'm such a fan of the Envirotex (yes, even though I Enviroed a big piece of my hair accidentally and had to cut it out) and it goes on nice and thick so you could put anything under there and never feel it - that's how restaurants place coins and pictures under the varnish of their tables or bars, the sealants smooths right over it. (09/12/2008)

By gatorgirl89
Painting Laminate Countertops
Becky - I just finished doing my counters last night and my backsplash is 7 inches tall, and I can tell you, it's never going to look as nice as the actual counter, simply because the envirotex levels out, and basically just oozes down the backsplash. The only thing you could do is yank it off the wall, lay it down flat, Enviro it and put it back up. Mine was pretty tight on the wall so I didn't try. You can still pour some down it and it will give it a slightly shiny look, but won't be thick and glassy like your counters. Maybe you could do a different backsplash afterwards, like the faux tin or even tiles? I feel like a pro at this point because I've been doing the counters for about 3 weeks (I ran out of Envirotex twice and had to wait for my order) but they are done and gorgeous. I just try not to look too long at the not-as-shiny backsplash! Let me know if you want my exact how-to and any tips I have. (09/15/2008)

By gatorgirl89
Painting Laminate Countertops
A lot of people were asking for instructions on how to do this so I looked up Bea's post and reposted it here for them.
I'll be happy to post step by step directions.

Step 1: Clean the old countertop. No sanding is necessary, just a good cleaning will do it.
Step 2: Apply a Primer with a Paint Roller. I used a brownish tinted primer from Walmart. I didn't like this color at all but it doesn't matter because after all the sponging you won't hardly see anything of the primer. You could also use white, but since I wanted brownish colors I asked them to tint it.
Step 3: The fun part: Take a sea sponge and dip it in several colors at the same time (I use a plastic paint tray to add paddles of Acrylic Craft Paint (from Michaels). The tray is big enough to have several colors in it at the same time and you can mix them together as you please.
I kept working on this counter for several days until I liked the result. If you mess up, just dip the sea sponge in black paint and sponge all over it again. The Glitter is also Acrylic Craft Paint (Folk Art Brand Brush on Glitter Paint from Michaels). I mixed this in a small cup with water, about 20% Glitter, 80% water and sponged it over everything else. This gives it a really cool look, just like real stone. Step 4: Let the counter dry for a day or so, (you won't believe this, but I actually had no time for TWO MONTHS to apply the final step and the counter was holding up fine,even without the finish. But I don't really recommend it....lol). So if you can, add the finish the next day.

The finish I used is called Envirotex Pour On Finish which I ordered here http://www.creative-wholesale.com/Envirotex%20Lite.htm I ordered the 1 Gallon Kit and still have half left over which I will use for the counters in the bathroom. Wow, I just noticed, they lowered their prices! The Gallon Kit is now $55 and worth every Penny!
Tip: Make sure your cover your floors with a drop cloth because the product will drip over the edge. I mixed 3 separate batches and applied the finish to 1/3 of the counter first, waited about 30 Minutes while frequently attending to the drips that run over the edge (Just wipe them off with a Clorox Wipe) until it stops dripping, then do the second part and then the third part. I used a wide foam brush to spread the product around and also applied a very thin coat to the backsplash. Again, attend to it frequently to make sure you won't have any runs. People mentioned the bubbles that will rise to the top of the finish and they are really very, very tiny, I tried the blow torch and almost burned the kitchen down, so be careful! I think a stick liter would be perfect, the blow torch is just overkill! Just hold the flame over the bubble and it will go away. The busier your design is, the better it is because you won't see tiny imperfections at the end. I think that's about it. The finish is hard as Glass and very, very shiny. I just love it :-))) Good Luck to you and have fun! Bea (06/18/2008)
By quizusa
(09/15/2008)

By mslisa202
Painting Laminate Countertops
Gatorgirl and everyone,
thanks for all your replies and help. I finally managed a small island and while the painting part turned out OK-I used textured kind of craft paint from Joann on top of the primer. I won't use it on the whole countertop, it was too much texture. The way I sponged made it look more like my fake ceramic tile floor, which I really do like!
Anyway, I finally used the envirotech, and while most of it looks great, I do have some spots where it almost seemed to puddle, and some where it didn't cover enough. Trial and error, I guess. I will try to post pics when I'm all done. But an FYI-I found the Envirotech lite at Michaels craft store. This week they have a 50% off coupon in the paper for those of you looking to buy it. They had a small kit and a larger one. The big one was $28 or so, before the 1/2 off.
thanks again for all of your ideas and help-
Becky (09/16/2008)

By
Painting Laminate Countertops
Here's a closer picture of the granite look I got from the Rustoleum. (09/16/2008)

By gatorgirl89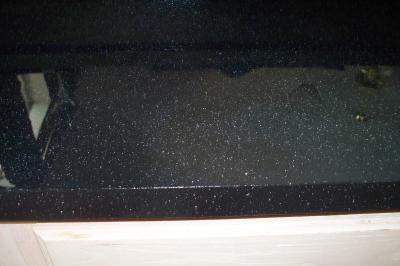 Painting Laminate Countertops
I'm finally finished with all my countertops. Here's the final product. I'm thinking of painting the dishwasher and fridge with stainless steel paint. Someone stop me before I'm addicted... (09/17/2008)

By gatorgirl89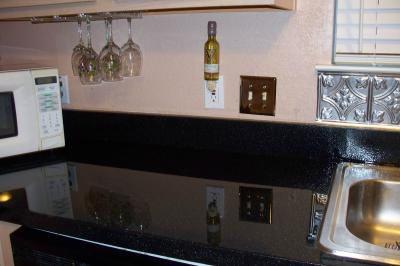 Painting Laminate Countertops
Just a little FYI that may help out on shipping time and costs! Hobby Lobby carries the Envirotex Lite! I bought mine there and a half gallon was $24.99. I was just going to post this because I was going to order mine too, but it's the same price as ordering and you don't have to wait or pay for shipping. (09/18/2008)

By Autumn
Painting Laminate Countertops
Hey everyone, I wanted to let you all know you can get Envirotech from Michael's. It is much cheaper. The only draw back is I could only find in half gallon size. You can use coupons from Sunday paper. Get it half off. It is still cheaper anyhow, no shipping and you get it today! Thanks everyone for helping out! I just started priming counters today! We will see what happens. (09/18/2008)

Painting Laminate Countertops
Yes, I painted actually 2 nice coats of shiny black glossy enamel paint onto the counters (over my Kilz primer) then I sparingly used the Rustoleum. It dropped the pretty white speckles onto the black then I sprinkled the whole thing with clear/white glitter - I can't stop looking at how pretty it is when it sparkles. For the idea about buying the 1/2 gallon at Michael's for $24 - that's a great deal - basically the same price from the website plus no waiting or shipping! Good idea... (09/19/2008)

By gatorgirl89
Painting Laminate Countertops
Here are a few pics of what's been done so far. There are a few posts that will follow with pics since I can't seem to post more than one at a time. The green is what they used to look like. Pretty, huh? The island has the Envirotech on it, but the long counter only has paint so far.
Gatorgirl, thanks again so much for all the help and tips. The one about the plastic paint thingy was great! I had one, used it and it worked wonderfully.
Thanks again,
Becky (09/21/2008)

By Becky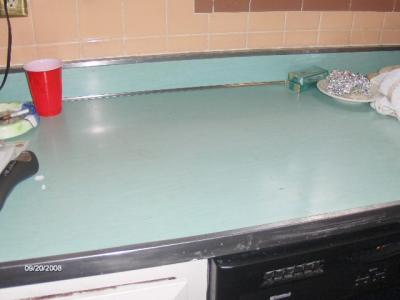 Painting Laminate Countertops
One of the island that is done. (09/21/2008)

By Becky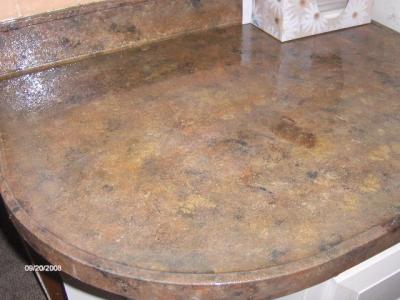 Painting Laminate Countertops
And one of the whole counter with just paint so far... (09/21/2008)

By Becky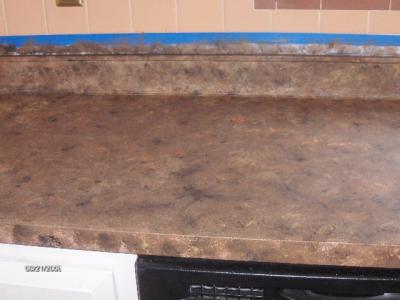 Painting Laminate Countertops
I used a mixture of textured paints I found at Joanns. I liked how it turned out, but the only bad thing was that you could actually feel the texture unless you pour enough of the envirotech to cover the bumps the textured parts of the paint left. But after a good coat, it's really smooth. I posted pics of the 2 colors of that paint, one is Terra Cotta Deep Canyon and the other is Fierro Gold, which is more metallic. The other paints I used were just the little bottles of acrylic you can find at any craft store-black, a very light brown and a little bit of a cream, almost light yellow. I just poured a little of each on a plate and went to town. Sponged, pounced, mixed, pounced and sponged some more. Hope this helps, and thank you all again for all the advice and ideas.
(09/22/2008)

By Becky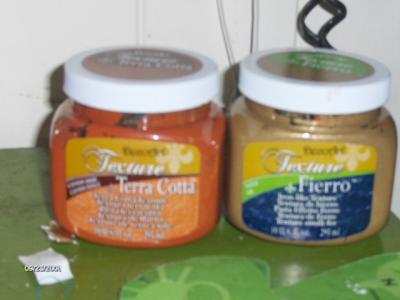 Painting Laminate Countertops
Here are 2 more pics of the finished parts-this one shows that I did manage to almost match my floor! (09/22/2008)

By Becky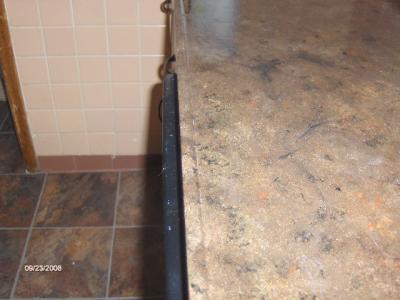 Painting Laminate Countertops
And this one is just with the envirotech on it. (Need to get a utility knife to get the tape off the backsplash there.) Sorry If I'm being soooo annoying with all these pics-I'm just so thrilled with this topic, and so happy with how everything turned out. Considering I'd been quoted almost $2500 for new countertops and I don't think I spent $100 total! Thanks for listening and looking!
Becky (09/22/2008)

By Becky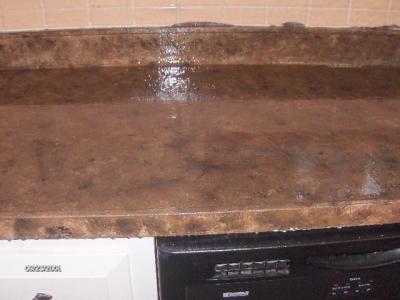 Painting Laminate Countertops
Becky - your counters look really good - I'm glad you went for it...I noticed you have a few dried "teardrops" under the edge - you can sand those off smooth with a Dremel drill. For your question about how many coats - I had one small counter next to the stove that I very first did and the layer was too thin because I saw the divots and indentions so I poured another layer and it came out perfect - now the bad part - On the huge island I ran out of the Enviro after I had started pouring and it had lava-ed itself only halfway down the counter. It looked like the ocean that had stopped on the shoreline. When I got some more, I poured it over the part I had already done plus the naked part, and it's now smooth, and looking down onto it I can't tell, but in the sunlight, looking from the side, I can see the "wave" of where the original had stopped - so I guess as long as you are adding more on top of old, it's fine... (09/23/2008)

By gatorgirl89
Painting Laminate Countertops
Well. I ended up putting 2 coats on because the first ended up bumpy. Didn't have the right torch. I got a bernzomatic hand torch and it did wonders. You definitely need one! It is really gorgeous! I am waiting for it to cure now. The only draw back is the waviness of the Envirotech. It is very hard to spread and keep is from waving. It does self level, however I am a perfectionist, so I would like it to be absolutely perfect!
This is a great alternative to replacing and spending thousands of dollars. Thanks for all your help gatorgirl. Will up load pix as soon as it cures. I took them through the whole process. One major suggestion to all whole are sponging. It is so much easier to spray paint if you want a stone granite look and boy does it turn out awesome! Adding glitter is even more beautiful.
My next project is the bathrooms. I am going to use the new Rustoleum hammered metal paints. I did refinish my kitchen chairs with that as well. Gotta love all the new and cheap things you can acquire on a dime! OH, one more suggestion. I used a sponge and a metal spatula, one to spread(metal) and one to sponge sides. That worked rather well and it cleaned nicely too. (09/23/2008)

Painting Laminate Countertops
yay Artsy is done! I agree with the torch method, not only does it remove hundreds of bubbles at a time but it also does a great job making it extra smooth - I tried a few spots with the straw but spit fell out onto my gorgeous counter and I couldnt get it up, now I have DNA for the next homebuyer on the counter...oh well only I know it's there! (09/24/2008)

By gatorgirl89
Painting Laminate Countertops
If you used the Enviro and some spots are still wet, I read on the directions of the Enviro it could be because it wasn't stirred long enough - the two components need to be completely mixed together to start the bonding process. Did you mix a little at a time or the whole amount? You may need to take it off and re-do it. sorry... (09/25/2008)

By gatorgirl89
Painting Laminate Countertops
Gatorgirl is right. If the enviotex is not dry then it was not mixed well. You really have to mix it completely. I actually did what the suggested and used the 2 step mixing method. And just when you think you have mixed it well enough....mix it some more. I am with gatorgirl if it is not dry you might have to remove it. I am actually considering putting another coat of evirotex on my counters and I have had them completed for a couple of months now. I will also use a torch on this last coat. (09/25/2008)

By mslisa202
Painting Laminate Countertops
I found my rustoleum at walmart! (09/26/2008)

By Sharee
Painting Laminate Countertops
The rustoleum paint I only used half a can. First I painted a primer. Then semi-gloss black slate color. Then I took rustoleum grey stone and did a lite spray and put on a lite sprinkle of silver glitter. I did use minwax oil base. Because I wasn't concerned of the yellow tint. All I wanted is a high gloss and I got it without a thick glass look. I put on 6 coats. Love it. I wont say it looks like granite but it does look a 100% better than the hunter green that I picked years ago that I thought country country country was the thing, now YUK. (09/27/2008)

By nattie
Painting Laminate Countertops
Here is just the rustoleum over cultured marble and primered sink... Please excuse the mess! (09/27/2008)

By Sharee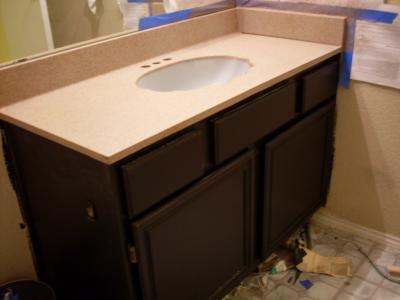 Painting Laminate Countertops
I still need to put the envirotex over all of it but here is a close up of the counter/sink combo (09/27/2008)

By Sharee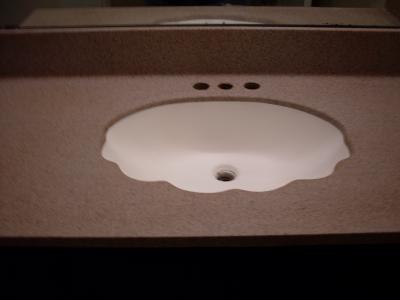 Painting Laminate Countertops
I forgot to do a before pic of the actual bathroom but here is a pic of my upstairs bathroom which looked exactly the same. yuck! (09/27/2008)

By Sharee
Painting Laminate Countertops
Instructions for painting a cultured marble sink or laminate countertop.
Here is the list of materials that I used:
Sand paper - I used a medium grit sand paper. The purpose is to get the sheen off and get the surface ready to accept the paint.
Primer - I used Glidden Gripper Grey Primer for Superior Deep color Result (per the label) For the counter and Kilz spray for the sink in white.
Spray stone - I used Rust-Oleum American Accents Stone in Sienna Stone. It is tan but looked a little pinkish on the cap but when you put it over grey its beautiful.
Envirotex - This is a name brand for a polymer resin. Which is like putting 50 coats of polyurethane on at once.. It give a great shine as you can see in gator girls work.
Paint roller - I have a small foam roller that I use for all my little projects that works great.
Paint brush - Any will do really. I used it to get the "nooks and crannys" when using the paint
Tape - Painters tape or masking tape to tape edges of counter and to make the line in the sink.
Disposable cups - use to pour the envirotex down the backsplash.
Putty knife - Having the large size helps with the overall spreading and a smaller one helps with difficult to reach areas
Foam brush - To use on the sink. It will absorb the excess enviro so you don't get a puddled look at the bottom of your sink
Now most of these can be purchased at home depot or lowes even walmart.(where I got most of my stuff). However the envirotex can usually be picked up at a craft store like Michaels, Joanns, and Hobby Lobby. Its realatively inexpensive ranging from 9-30 dollars depending on the amount you are getting.

Step 1. Clean your surface of any debris and sand well. If you own a belt sander its what I used for the flat surfaces and did the rest by hand.
Step 2. Wipe all the dust off from the sanding.
Step 3. With trial and error I have found that painting the sink white first is easiest and gives the best results.
Don't worry about taping the sink yet.. just spray the Kilz white spray paint evenly over the entire sink area getting an even coat.
To avoid drips dont get to close to the surface. If you do get drips.. wipe the excess and let it dry and sand and reapply if necessary. Let it dry.
Step 4. Tape the sink about a 1/4 the way down and tape paper to the bottom so the sink is completely covered with the exception of the "rim"
Step 5. Prime the entire counter top using your foam roller and brush with the Glidden Gripper. Let it dry. Follow Basic instructions on the Glidden can.
Step 6. Spray the Rust-Oleum over the entire counter to get the desired color/coverage. This is the point that you would add the glitter for the sparkle if you so desire. Let it dry
Step 7. Follow the instructions on the envirotex. Stir very well. If you don't you can end up with soft spots that won't dry.
Step 8. Start envirotexing your counter by working from the top down.. What I mean is start with the back splash and work your way down to the sink. Pour some envirotex into one of the disposable cups and slowly start pouring down the back splash. Use your paint spreader to "scoop" the puddles back up. Do this a few times to get the stuff to stick. Then pour some on the counter and start working it around saving the sink for last.

To get the envirotex down the sink use the same method as with the backsplash with the small putty knife at first then use the foam brush to smooth everything out. After about five minutes you can use the torch to get rid of any bubbles that start appearing. The torch will not work in the sink (when you turn it upside down it will extinguish) so get a straw and start a blowin 8o)
Let it all cure per the manufacturers label.

Oh, also I used paper cones in the sink holes on my bathroom counter to stop the enviro from oozing down into them
(09/27/2008)

By Sharee
Painting Laminate Countertops
Oh shoot! Sorry for the long post before, but in addition to the previous post don't forget to get a torch to get all the little bubbles out of the envirotex. Hope this helps and inspires creativity in everyone as I have been inspired by everyone on here. (09/27/2008)

By Sharee
Painting Laminate Countertops
I did just leave the white kilz for the sink. It was the color that I wanted and it turned out great. I didn't think I needed to put another coat of paint because I am putting the envirotex over it. This is the same stuff they use to put on bartops with the embedded photos and coins and stuff. Its so thick you could put a penny on the counter and envirotex it and not even feel the penny. If you are concerned ( i was too at first) put another coat of ultrawhite paint over the kilz. (09/28/2008)

By Sharee
Painting Laminate Countertops
Here is a pic with the envirotex on it. (09/28/2008)

By Sharee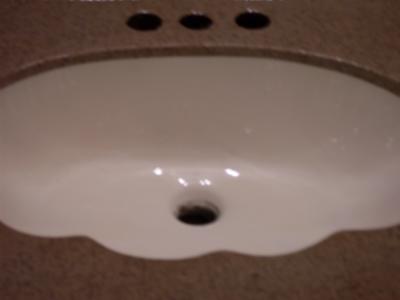 Painting Laminate Countertops
And just one more .. (09/28/2008)

By Sharee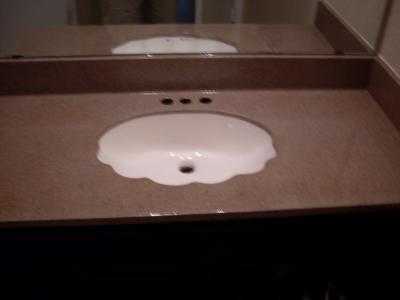 Painting Laminate Countertops
ok ok .. last one of my bathroom, I swear! But I wanted to show off my new faucet and drain. Believe it or not this was the least expensive one at home depot for 16 bucks. Eventually I will upgrade to brushed nickel but not just yet. (09/29/2008)

By Sharee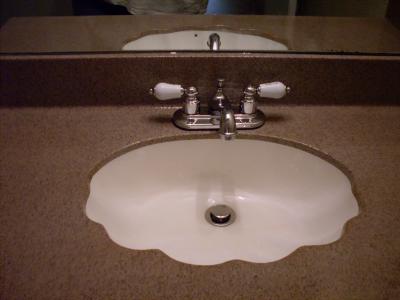 Painting Laminate Countertops
(09/29/2008)

By Sharee
Painting Laminate Countertops
By no means am I an expert but if I was in your situation I would definately put a coat of a good primer(latex or oil doesnt matter as long as you stay consistent with your primer and color) Then put a coat of whatever you want your base color to be. For me I wanted my base grey and I had my primer tinted grey and sprayed the stone on top. I don't recommend using glitter unless you put onto wet paint because if you sprinkle it on dry paint it could create problems with the next step by mixing into the finish and creating bumps. The next step is pouring envirotex over all of it. This is self leveling and give the best finish. I wouldnt say mine has a glass finish at all. It looks just like real granite.. no lies! Even the edges feel like semi polished granite (kinda like a rough cut granite)and the top feels like very polished granite. all because of using the spray stone and envirotex. If you don't like the high gloss finish. I read on the envirotex instructions that you can make a satin finish! I haven't tried it but I am going to try it on my sink. Hope this helps (09/29/2008)
By Sharee
Painting Laminate Countertops
First you need to move all the way to the bottom of this page and start reading each post up from there. Not only are there numerous ways to answer your question, there are tried and true examples and pictures from all of us here who have done what you're wanting to try. We have all been there and answered each other's questions. You won't be confused at all once you read. (09/30/2008)

By gatorgirl89
Painting Laminate Countertops
Believe me I know all of your fears about the envirotex. I actually went and bought oil based primer, paint and some poly before I decided that was not the look I was going for. So I took it all back and used the money to dive into my envirotex adventure. If you are really nervous they sell a small size for around 9 or 10 dollars and you could start out with a small craft like making your own tv tray with pictures embedded in it or keepsakes or a small side table top. At least this way you would get a feel for it. But honestly it wasn't that difficult. Just prepare in advance, make sure you tape up everything that you don't want enviro'ed( I actually used old christmas paper and taped that to the whole front of my cabinets because I had just painted them) and put a drop cloth on the floor. I think its easier to take out the sink but check out gatorgirls. She did not and hers looks great.(I was nervous so I took mine out. the plus side to this is that no one can run the faucet while your waiting for everything to cure 8o) and dont forget to get something like a putty knife. having two different sizes helps. (09/30/2008)

By Sharee
Painting Laminate Countertops
Envirotech is the best. I can't really say that because I haven't used any other sealant but I know how gorgeous mine came out. No, it's not totally easy. As some of you know, I envirotexed a piece of my hair that I had to cut out, I got drips on my hardwood floors, I ran out midway through my biggest counter and had to wait a week to continue...but that's the beauty of this site - we give each other advice!

My advice is Wear a headband and don't wipe your forehead while you're working. Problem fixed. Got a drip on your floor? Aim your blow dryer on it for 60 seconds, it gets gooey again, and wipe it up with a wet wipe. Fixed. Run out of Enviro? They sell it at Michael's! (you could have told me that earlier, haha) problem fixed!

If the main part you're worried about is that your counters will come out worse, that won't happen. Just look at the pictures on this site. They're really good work, and we aren't pros, we're just like you, trying to save a bunch of money. Go for it. We're here for you. (10/01/2008)

By gatorgirl89
Painting Laminate Countertops
Instead of Envritech I used Diamond Varthane Wood Floor Poly. I LOVE the way it looks and I was able to apply it very easily. This was someone's suggestion earlier this summer. It is easily washable and looks fabulous. (10/01/2008)

By beth h
Painting Laminate Countertops
Shannon - yeah, if you aren't as artsy as some of the others here that did a good job with the sponging I would definitely go the granite look and spray it on - after I painted my base color it took me all of 10 minutes and I promise you won't be disappointed in that Rustoleum American Accents Stone. The flecks that come out with the spray really look like granite once you get the sealer on top.

As for the soft spots, yes, if something heavy is on there, like a microwave, it does leave little intentions where the "feet" are, but they level back out after a few hours or a day. But how often are you moving your microwave or heavy coffee pot around, so you won't really notice. The feel is like smooth soft glass - the best way to describe it is if you've ever been to like Bennigans and you're sitting at the bar and you look down and you're thinking "how did they get that postcard/coin/picture under there?" and it's really smooth and thick and shiny on the top - but 1000's of people have put heavy plates and beer glasses down so it's more banged up than yours will be which is glass like - but the reason it leaves small indention is (so the directions say) because if it didn't give slightly, it would shatter if something hard fell on it...

As for the sink, definitely put something down into it like newspaper or drop cloth (although I got a few drops that hardened and I took a razor blade under it and it came right up). I didn't even tape the edge of the silver part of the sink because I read another poster say they left theirs on too long and it hardened and was hard to get up - so I was just really careful moving it around the edge, and kept wiping any off with a wet wipe - it really doesn't spill over too fast like liquid or anything. (10/01/2008)

By gatorgirl89
Painting Laminate Countertops
I read on another post similar to this one that she has had her enviro'ed counter tops and they are going strong for three years in a house with a family of four, not to mention all the neighborhood boys that come over. I think the greatness of enviro or any kind of a polyurethane finish is that you can always do another topcoat! (10/01/2008)

By Sharee
Painting Laminate Countertops
I have used my crock pot several times since finishing my counter tops and have had no issues at all. I do use a cork disk to set it on. (10/02/2008)

By mslisa202
Painting Laminate Countertops
I did use the waterbased poly and yes it will have a white ring or spot where anything wet is left but, it goes away in just minutes. I am very pleased with the poly and can say it looks very nice. (10/03/2008)

Painting Laminate Countertops
You can absolutely add more Enviro if your first coat seems too thin. I did a small counter next to my stove that was too thin and had divots/hail damage looking spots. I poured another thicker coat over it a few days later and it got rid of all the dings and it's completely smooth now. Definately try it. (10/06/2008)

By gatorgirl89
Painting Laminate Countertops
The Enviro is self leveling so if it looks bumpy or wavy it might be because you have it on too thin. I would do another coat, a little thicker. After about five minutes the bubbles start coming up, and I put the blow torch flame about 1/2 inch long, just enough to pop the bubbles - if you hold it still or put the flame too big, you will get indentions where it heated up too much. Now after I got all the bubble puddles out that I could see, I turned the flame up just a little higher and ran it along the whole counter, sort of quickly, like you're spray painting something - that got rid of bubbles that I never saw and also seemed to give it a more smooth appearance too. (10/06/2008)

By gatorgirl89
Painting Laminate Countertops
Jules - Its not the heat that helps the bubbles its the cO2 I believe. As for the waviness, you can put another coat on using a big putty knife this time and its always better to have to much enviro than too little. There are some really helpful instructions in the enviro package. (i.e. using the blow torch, creating a satin finish, cure times, and what steps you should take for a second layer)
Also I wanted to tell everyone when I was putting on my second coat on my bathroom counters( I did the second coat because I tried the satin finish on my sink and decided I like the shiney better) I was talking to my hubby and since I am very animated with my hands I put my fingers smack down in the enviro. I almost died! This was about 90 minutes after pouring. My hubby got the great idea of getting the torch to soften it up so it would redistribute the enviro. It worked. No more fingerprints! Just thought I would share that tip.

Also if you are doing a sink use the foam brush because it creates less bubbles, definitely use the large putty knife to spread as it creates a smoother surface, the torch will also get rid of any dust particles or hairs that might have dropped on the surface (when the surface is still wet),
if you are doing your bathroom its best to remove the drain, and one more thing use a straw to blow air on to the bubbles in the sink as the blow torch will not work when you turn it up side down. (10/06/2008)

By Sharee
Painting Laminate Countertops
HI All I've been reading all of your posts and I finally got the courage to tackle painting my countertops. We had just moved into our house and have plans of changing the whole configuration of the Kitchen in a little while, but I couldn't stand looking at the "teal" countertops. I needed a quick cheap fix. I'm so glad I did it. I primed the counter top, and then painted it with a chocolate brown paint, and then used the stone spray paint with brown, black and beige specks, then finally used the enviro. What seemed to work well for me with the enviro was using the flat edge of an oversized spackle knife to ensure an even layer. Overall I'm so excited I decided to do it. If your reading these posts and not sure GO FOR IT! Another quick tip I got the Enviro from AC Moore (this weeks Sunday paper and their website as well has a printable 55% off coupon) (10/07/2008)

By kburd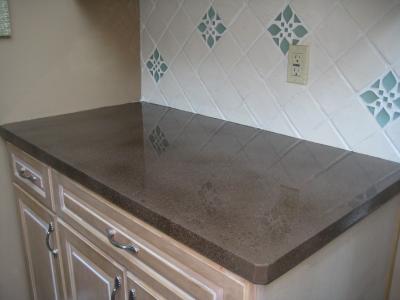 Painting Laminate Countertops
Meicher79 I used The Rustoleum American Accents Stone. It definitely has a texture to it, which smooths out with the enviro. Not sure how it would be with the poly. I was afraid to tackle the enviro, but it really wasn't that bad. The dripping was a bit of a mess, but as long as I made sure I covered the cabinets and the flooring it was okay. Good Luck next week. Let us know how it turns out :) (10/07/2008)

By kburd
Painting Laminate Countertops
***I used Glidden Gripper Primer (latex) and it worked great***
Oh and KBURD your countertops look fantastic! (10/07/2008)

By Sharee
Painting Laminate Countertops
Laurie
I also had a low spot in one of the corners of my section and I did an entire second coat. It seemed to fill it in. I would try the second coat only thing is you have to do the entire section. (10/08/2008)

By kburd
Painting Laminate Countertops
I did it! Don't mind the mess! The yellow walls, floor, ugly brass knobs and light are next! I am off to Home Depot! Thanks for all your help everyone! Then it's off to the next project! (10/09/2008)

By shannon430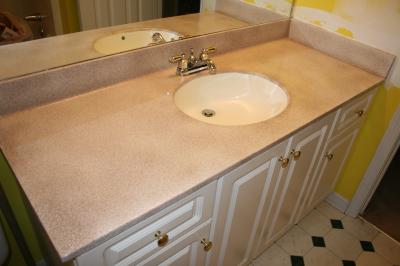 Painting Laminate Countertops
Here is the sink! (10/09/2008)

By shannon430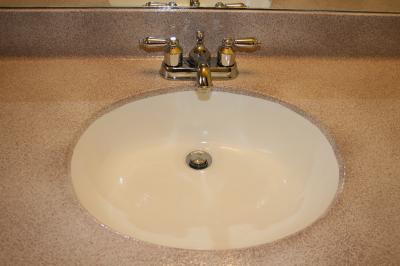 Painting Laminate Countertops
You said you were getting new knobs for your vanity! Well, an easy cheap fix is SPRAY PAINT! I am spraying my hinges oil rubbed bronze that I found at Lowe's. Or if you are interested in brand new, don't go to the store. Go on EBAY! I bought 19 knobs and pulls and only spend $31 shipping included! They are oil rubbed bronze and they are beautiful! Just thought I would let you know! (10/09/2008)

By meicher79
Painting Laminate Countertops
You are so right! I didn't even think about spray paint! That's what I am going to do then! Thanks!
I used spray paint and this is actually the polycrylic top, I am still working up the nerve to use the envirotex- but I am going to use that in the kitchen. Just wanted to start out small and see how I did! (10/09/2008)

By shannon430
Painting Laminate Countertops
I am using the polycyrlic too! So far I like it, but its only on a piece of trim I tested! How many coats did you use? I plan on about 6 or so. I used 3 on my trim and its nice and shiny. Im too nervous about the enviro too. Plus, Im doing this alone and I dont want a lot of mess. So Im with you! (10/09/2008)

By meicher79
Painting Laminate Countertops
I have enviro'ed just about every counter in my house, lol. The enviro box gives instructions for cleaning. Something about furniture polish I think, but I just use the Clorox wipes to clean my counters and sink and it has not damaged them. If it ends up doing so I will let everyone know, and if it does get damaged it wouldn't be the "oh crap" moment you would have with any other expensive counter because you can always rub some acetone or alcohol on it and do another coat. I am not sure about the poly because I haven't used that (yet.. lol) but I would think the same for that finish. Just don't use anything abrasive like comet that can scratch the finish. Here is my sink below.
(10/09/2008)
By Sharee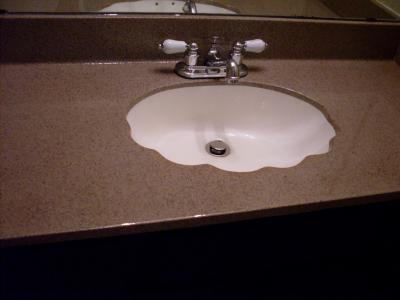 Painting Laminate Countertops
Here ya go, Gail - pictures of my black with white speckled granite kitchen counters... (10/10/2008)

By gatorgirl89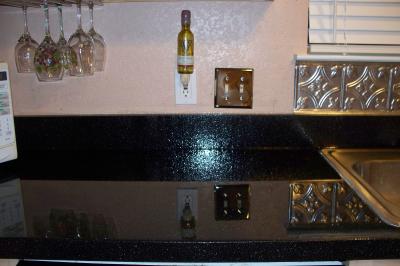 Painting Laminate Countertops
(10/10/2008)

By gatorgirl89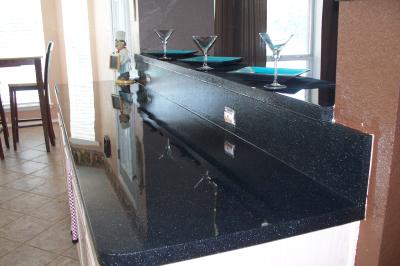 Painting Laminate Countertops
I gotta answer the one about the blow dryer - I tried it (when my hubby was taking his sweet time coming back from the Home Depot with my blow torch) and no, it doesnt work. The part that pops the bubbles isn't the heat, its the carbon dioxide. You could use a straw and breathe onto it, but you'll pass out if you have a large area like I did (tried that too and spit forms in the the straw, which dripped onto my beautiful counter - more cussing ensued!)

I said this before, I am the biggest baby when it comes to anything hard like changing a tire or anything, but I really surprised myself with the blowtorch thing. Just keep the flame low, take off your gloves when you light it (you dont want your hands to catch on fire) and keep moving it back and forth. And open windows and doors so the fumes dont make you sick. But the little one, it's smaller than a fire extinguisher, really works wonders in getting all the trillions of teeny bubbles out of your Enviro and gives it a final glass-like look. I promise! (10/10/2008)

By gatorgirl89
Painting Laminate Countertops
I just made sure that the paint was really dry first. Like I said, I had to use a lot of Kilz, you might not have to. When I spray painted, I let it dry about 6 hours and made sure it was not tacky at all, then I started with the poly.
It took me awhile, but I had a 3 year old and an 18 month old, so I had to do this during naps and bed time. But I love the way it looks! My hubby does too! Anything was better than what we had! I will probably do the poly in our master bath too, I really do like it. The kitchen I am hoping for the enviro, but I am a so nervous to use it because I won't have the extra pair of hands- but you never know. (10/10/2008)

By shannon430
Painting Laminate Countertops
I have used the enviro-lite with much success and yes it is the same thing as envirotech just a smaller size container I believe. The spray paint took about two hours to dry. And I started with the enviro right after.

You can definately do a seal coat (you will have bumpies though) until you can flood it.
But it depends on if you are talking about a seal coat of poly or enviro. If you are going to tackle enviro you might as well go all the way.
I have read on other sites where krylon make an acrylic spray clear coat made for spraying over stone. I think this would work on the short term and you could still put enviro over it if you so choose.

Flooding the enviro up to the sink is not a problem but you may have trouble if you ever want to remove it. That enviro is some sticky stuff it will bond to most anything. I caulked a small section of my corner before I painted just because the old caulk had come up. But if you don't need it you don't need it. Did I mention the stone spray gets into and pretty much fills any gaps?

Hope this helps,
Sharee (10/11/2008)

By Sharee
Painting Laminate Countertops
Here ya go girlies. Check out my kitchen counters (inspired by gator girl) I used a light grey base and covered with granite black and white flecks. (Turned out looking like a really dark grey). I have white cabinets and blue walls (color was called tinsel beam I believe) with oak engineered wood floors and now have been inspired to spray paint all my hinges in polished nickel like my pulls. Next project! (10/11/2008)

By Sharee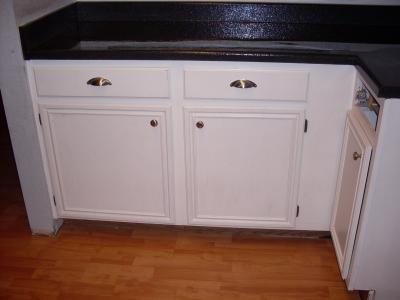 Painting Laminate Countertops
Thanks to everyone here after a year I finally took a chance and did my blue countertops. I did it a little differently and decided to do a marbled look instead. I am posting my pix of the finished look. (10/12/2008)

By GinaK68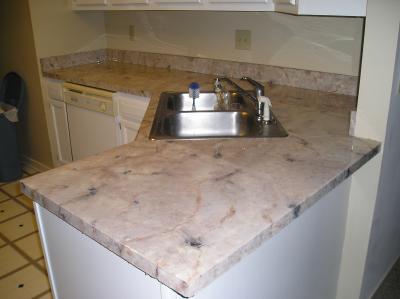 Painting Laminate Countertops
Here is one more closeup. (10/12/2008)

By GinaK68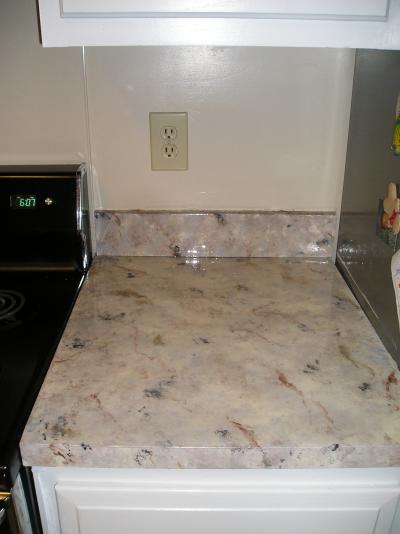 Painting Laminate Countertops
This technique is much easier than it looks. If you think about real granite/marble it is not perfect and extremely variable. I kilzed the countertop (CT) first. Next I painted a base coat of yellow. I have no idea what any of the colors are exactly because I used left over paint and mixed them together. The veins are cinnamon. I took the small piece of real granite I had and matched the colors from that by eyeballing it. I took a paint tray and put a blob of white on it and added 1/10 black or so. I mixed it up so it turned the gray that was in the sample. But around the edges I didn't mix very well so there were some black and white areas.

Next I took some yellow from the base coat and added some white to it. Again I matched the sample. (BTW, I used the white that I painted my cabinets with.) Finally I took a brown that matched the sample and added 50% glaze to it. I think the glazing adds depth. These colors were basically in a triangle almost touching each other. I also took a blob of cinnamon and put it on the tray too. Using a REAL sea sponge I got it wet and wrung it out well then started dipping it into all three paints in a row. So, all three colors were on the sponge but not right on top of each other. Then I just sponged it on all over the CT. I tried to make diagonal striations with the grey in some places. Occasionally I would dip a corner into the cinnamon too but sparsely. While I did the whole countertop I had to make more paint. I didn't have to match perfectly but it was close.
By the time I got done it was dry enough to start the veins. I used a small paint brush. I think the smaller the better. I dipped it in the cinnamon and kind of held the end of the brush so I didn't have great control over it. I tried to follow the "natural" striations I created. Sometimes I added a little water to the brush to make it easier to drag. I had to use my fingers sometimes to smudge the lines so they didn't look too perfect. Since the CT was still a little wet from the three colors being applied it was easy to smudge. I looked at the sample I had a followed the vein look there. If the veins got to thick or weird I used the sponge again with the three colors on it to dull it or reduce the look. The brown with the glaze is 50% translucent so when it dries it is a little see throughish. The black parts where done both from the original dabbing from the unmixed grey and later where I used pure black and sponged it on. Again the trick is to sort of blend it in. But it a few spots I didn't blend it. Again like the sample.

I used a little mother of pearl paint in some spots here and there and mixed a little glitter paint with water and painted the black areas with it. This is what the sample looked like. If I was a little more patient I might have looked around for crushed oyster shells or something to give it that look. That is the basics. I Googled "how the faux paint marble fireplaces"and found the instructions for the marbling. I do suggest practicing a little on a sample paper. Although if you practice on your countertop and don't like it just reapply the base coat and start over. I did pry my back plashes off the wall and paint them on the floor. I realized the REAL granite would never be cut so thin and wanted it to look better. So, I screwed a one by four to the wall and then glued the back splashes to them. I then sponged/painted the top of the wood to compliment the backsplash. I tried to make any veins follow to the top. ( I really used a variety of paint from latex wall paint to paint in the little bottles from Michaels to ceramic paints. I looked at the great variety of spray paint from Ace Hardware and I am confident any of them would work.)

I let it dry and then used Envirotex lite. I happened to have had a 12-16 inch propane torch and used that so get rid of the bubbles. Don't be scared. It appears you can blow them out with your breath but I would have passed out sooner than later. I found out MORE envirotex is BETTER. I had to pore more on my first try after it dried because it did not stay on the edge well and had a couple of holes. When I ripped some tape off the sink a little late it kind of pulled it back from the sink. I used the torch to warm it up and it flowed back to the edge of the sink. My picky custom builder friend said I should have raised the sink and put the E-Tex to the edge then put the sink back down. Whatever. But he was surprised how good it looked. I dont know if I forgot anything but you can email me at kellergm@musc.edu if you want or ask here. I live in Charleston, SC. (10/13/2008)

By GinaK68
Painting Laminate Countertops
GinaK68 - Your counters are beautiful! Great faux finishing. (wish i were that talented, mine would be just a big paint glob!)
mslisa202 - We are bathroom twinkies! (almost lol) you have a cooler sink with a beveled edge. Great job btw .. it looks wonderful!
Gatorgirl - I know what you mean about the back splash in my kitchen. I kinda like it. Kinda don't (depends on my mood 8o.) My hubby says he likes it like that (probably just trying to not say anything to get him trouble lol) but I definitely think if it is sanded down, rubbed with a little acetone it would be smooth as a baby's bottom! The paint idea is good since your backsplash doesn't get much wear at all but it may not hold up over the long run. Hmmm, Igot it! You could always paint it with the super shiny black paint and then do the spray on clear topcoat (about 9 bucks)! That way you wouldn't have to flood your entire counter with enviro again lol. And it would still look the same. You could also get a tooth brush and flick some little white specks on the black paint to get the same look.
One more thing,
Can I just say WOW! Pattyzone. Your kitchen is awesome. I dare anyone to say anything about your black cabinets now! You did a great job on your countertops they look so real and expensive! Can you imaging the cost of 36 sq. ft of real granite? (10/13/2008)

By Sharee
Painting Laminate Countertops
If you are planning ahead (I didn't) you could use the 40% off weekly coupon from Hobby Lobby and buy one 32 oz kit per wk for $10 off until you have your needed supply. The price is $25, so you get it for $15...Fantastic Deal. Our Michael's didn't carry it. (10/14/2008)

By pattyzone5
Painting Laminate Countertops
They were dry to the touch this morning...yeaaaa! They are NOT perfect but I can live with them until I get new cabinets. The backsplash is not smooth like the counter because of gravity even though I tried to smooth it several times with the wide sponge brush. (10/14/2008)

By pattyzone5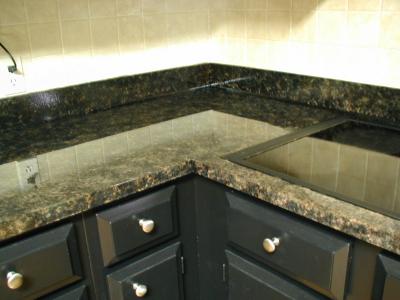 Painting Laminate Countertops
and another view..... (10/14/2008)

By pattyzone5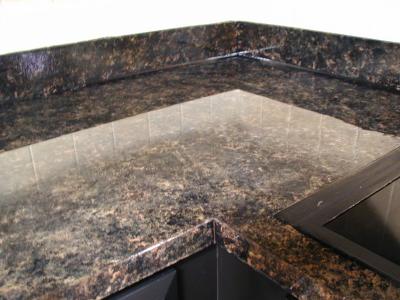 Painting Laminate Countertops
I used enviro and the spray granite (this left bumpies on the backsplash). I kinda like them kinda don't ( more than likely I will end up sanding the bumpies down and either doing another coat of enviro or using some kinda poly over the backsplash).

Good news is that if you are planning on sponging like pattyzone, you won't have to worry about bumpies because it is just paint not the granite rough feel. So if you are talented like patty and some of the other gals on here. that is one mark in the plus column for you and the enviro because it will just make it easier to get a smooth finish. Hope this helps
Sharee (10/14/2008)

By Sharee
Painting Laminate Countertops
I picked up 2 paint stir sticks for each kit and I bought (2)2-1/2 qt plastic paint pails but you could use anything that is large enough and you will throw away, ice cream pail or anything with smooth sides so you can mix it well. I mixed in one, then poured into 2nd one and mixed. Also used the same pails over and over. I will get the paint color names and post them shortly. Good Luck! (10/14/2008)

By pattyzone5
Painting Laminate Countertops
You sound so excited like I was yesterday - LOL! The colors just look different in the photo because of the light.

I used acrylic because it dries so fast. I had practiced on one small area a few times, then just painted over it when I put the black base on. I just squirted it on the counter and used a small foam roller to spread it.

I sponged with sea sponge these colors in this order: (Americana brand) light mocha, cocoa, khaki tan. Also bought Bleached Sand and Sable Brow but don"t think I put any on, can"t remember. Just try a color and if you don"t like it, wipe it off with a damp cloth and try another. I then used Folk Art Outdoor in "Licorice" as the last sponging and not much of it. I had tried a glaze but it takes a long time to dry so I wouldn't use it again. It will look dullish until you put the gloss on. Good luck little lady and don"t worry like I did!
(10/14/2008)

By pattyzone5
Painting Laminate Countertops
My backsplash was a separate piece but I didn't remove it. Because enviro slides downwards and won't pool in that upright area, it will not be smooth like the bottom part but I can live with it.

(10/14/2008)

By pattyzone5
Painting Laminate Countertops
I wanted to mention that I picked up a tea pitcher and plastic spoon from the dollar store and used that. It has a pour spout and only cost a dollar. It is not good to try to reuse the enviro container though... I tried to do one bathroom and then right after do the next (using two batches of enviro in the same containe) and I ended up getting some little dried bits of enviro in the mix. ughhh! I got the enviro out and put it in another container but ultimately I could see a tiny bit of white specks in my finish. ( I am the only one who notices though). (10/15/2008)

By Sharee
Kitchen area/Counters
Hey Ladies I finally uploaded pics of my open Kitchen counters. Let me know what you think about me painting them and what color.
Thanks
Gail
(10/15/2008)

By GMILES7854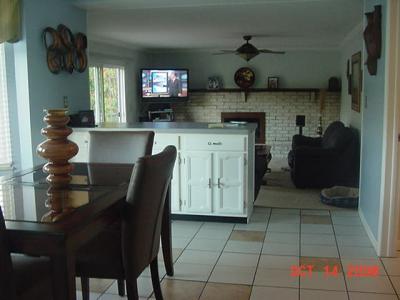 The other side of Kitchen
Hey this is the Sink/Stove area
Thanks for your suggestions
Gail (10/15/2008)

By GMILES7854