I want to paint my laminate counter tops. What kind of paint do I use and what are the steps?
Tina from Smiley, TX
Answers:
Painting Laminate Countertops
Wow! Look at all these older posts! Someone had asked me about "glazing" my cabinets (sorry I can't find the post now). The cabinets were painted off white which I liked but I really like a somewhat distressed look. I used brown paint glaze (you can get this several ways- mix your paint color of choice with faux finish glaze or buy the pre-made stuff), it's very easy to do. I used a foam brush to put in on then wiped it off with a rag. I am posting pics. (01/02/2009)
By craftygirlz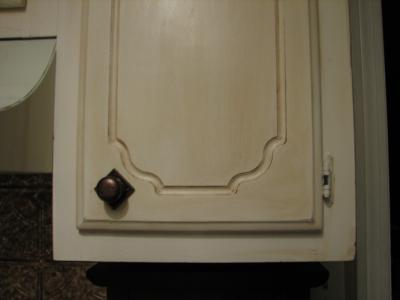 Painting Laminate Countertops
I didn't find any glitter that looked, well, not like glitter, at the craft store. But I did find this product instead. I used it sparingly on top of Rustoleum's Textured Desert Bisque. I threw it on the counters by the pinch while the paint was still wet. Be very careful and wear gloves, its finely ground-up glass. Only have two coats of gloss water-based poly down, but it looks like the real bits of quartz in stone.
They show up better with each coat of poly (I think as the surface becomes smoother, they show as glass crystals instead of just shiny bumps). I bet this would look fantastic on a black background, like that Galaxy Quartz they sell at the home improvement centers. I'll post pictures as soon as I get the final coats of poly down over the next couple of days.
Twinklets Diamond Dust
(01/04/2009)

By Architescher

Painting Laminate Countertops
Help. I have been reading this thread for about 4 months now and finally this past week got up enough nerve to do it! But I have big problems that I need some advice with. I followed all the instructions on how to do this, so I cleaned with TSP, sanded, primed with grey tinted BIN primer, spray painted with Rustoluem stone spray, then coated with Envirotex. This is where the problems begin, which are:
1) There are a few areas of the counter that I ran out of envirotex and had to run to the store to get more. I thought that the envirotex would self level, but it didn't and some areas of the counter are higher ( with a wave pattern) across it.
2) After getting under the sink and seeing what a job it would be to remove it.. I decided to leave it in and tape around it, BIG mistake. I know I read that taking off the tape was hard and I tried it both wet and dry as suggested but it ripped off terribly leaving sharp points and uneven edges around the sink. I thought I might try to sand it down a little, but all the sanding did was to scratch the envirotex up. So now it has a milky color.
3) I should have paid better attention to the post about keeping the cats away. I thought I was being good by locking them in the bathroom, but never thought my 6 year old would let them out! Needless to say they were curious about the whole thing and jumped up on the counters.
There are now areas where they have not only messed up the envirotex, but also taken off the stone spray. So all that you can see is the grey primer (of course once again, try and sand this and it turns a milky color)
Please help me fix my counters. My family is furious at me for messing things up, and the kicker is - where the counters are good. It's beautiful and I love it! But I don't know where to go from here. Should I just try and sand the whole counter and try again?
My fear is, if I do that then I am actually starting off with a worse beginning surface than I originally did. Or do I just try to touch up those areas with no paint then do a thick flood coat of enviro again? Other suggestions? Thanks so much. Hopefully mine will come out as nice as all of yours... eventually!
(01/09/2009)
By Chris
Painting Laminate Countertops
Hi Chris - Wow...sorry you have had so much trouble with this! The good news....everything is fixable. The bad...it may require starting all over:( It's hard to say without seeing the damage from the cats, but are you able to spray the stone where the paint came off? If so, then you may not have to completely start over.
Envirotex is self-leveling to a point. It will self-level if it is spread fairly evenly to begin with. If you have a lot less in one area and whole lot more in another, then you will get the "wave" look and the "pits". What did you use to spread it with? If it were me, and again I'm only going on what I think yours may look like, I would try and get the paint back on where it came off - be sure and wipe overage off the enviro'd area - and then I'd enviro again - really thick - and evenly.
Spread it with a plastic putty knife (very cheap at a hardware store) and then use a foam brush (also cheap) to do edges and tight spots. You must use a torch to ensure good leveling too. I used my torch periodically until the enviro started to get hard. As for the tape, I also taped my sink and used an exacto knife or razor blade to cut it off and the rough edges of enviro BEFORE it completely dried. It worked really well.
Others on here may have a better way for you to fix this, but this is how I would try. I think if you get enough enviro on, it will come out great. Good luck! Tricia
(01/09/2009)
By tpalm
Painting Laminate Countertops
To Tina from Smiley Texas,

If you go through the feedback to 9/2008, you can read lots of suggestions on how to paint your counter top. I did mine and have them online as well. I used regular latex paint. I have the instructions online as well. If you need any other ideas from me let me know online and I can respond. See picture by Jean/Robards or computer lady. Both are me.
(01/12/2009)
By reddogshunt
Painting Laminate Countertops
I love everything everyone has done on here, I have the paint and the Enviro. I attached pictures of the before on the bathroom. I will post pictures after I complete my sink. Thanks for all the suggestions & help! (01/17/2009)

By Tracie B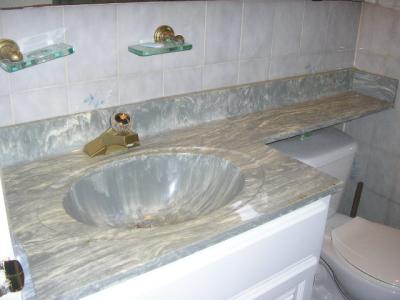 Painting Laminate Countertops
#3 of old bath. There is entirely too much drab blue in this bath! (01/17/2009)

By Tracie B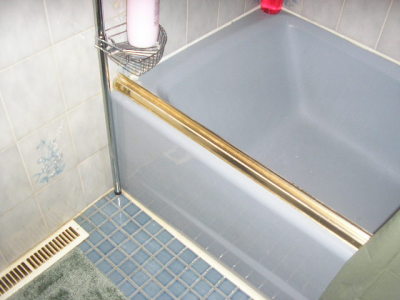 Painting Laminate Countertops
#2 of old bath (01/17/2009)

By Tracie B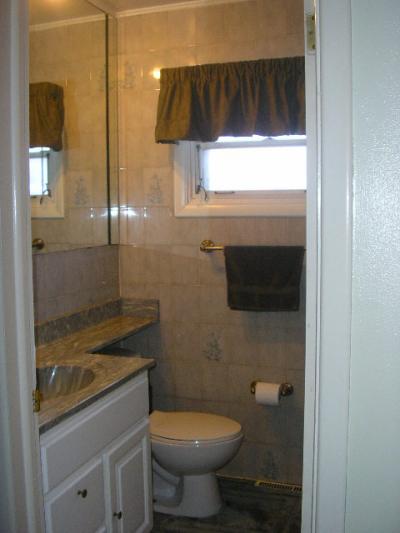 Painting Laminate Countertops
I have been looking at this website for the past couple of weeks and was a little weary of taking on a big project with a 2 year old and a 10 month old in the house, but I finally decided to try it and it turned out great! I just hope it lasts! (01/24/2009)

By Allison Jean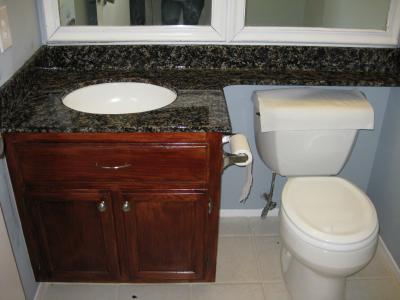 Painting Laminate Countertops
After reading all the great suggestions and seeing the beautiful jobs, I did my counters. I have 7 1/2' plus bath sink and used 1/2 gal of Enviro. Got a lot of pock marks and need to re coat. How much should I use to re coat and what kind of sandpaper to sand bumps? Can I add more paint on top of Enviro without sanding the whole thing if I want to change the look?
By Sharon (01/26/2009)

By Sharon1285
Painting Laminate Countertops
WOW. All of you are amazing and I am so inspired by your posts and pictures. I have decided to try this in my kitchen but I need your help please! Firstly, I decided on the Rustoleum black paint and I will use glitter for a touch of sparkle. Which color glitter do you recommend? Should I use more than one? Black? Silver? Clear?
Secondly, how do you spray paint the counters without getting spray paint all over the place? Do you spray paint like normal or do you use a brush to blend? I am so nervous about doing this but I am ready to take the plunge! Thanks again for your awesome thread! I will upload a picture of my before kitchen so you can let me know if you agree that black would be the best color with my green walls and white cabinets. THANK YOU! (01/28/2009)
By Tracy
Painting Laminate Countertops
Tracy,
These are the steps I used. I used the black granite spray and poly sealer. I lightly sanded the counters and cleaned them; taped all edges and covered cabinets with plastic; primed them with gray tinted primer (123 tintable primer @ Lowe's); I used the Black Granite Valspar stone spray paint (I only found this color at Home Depot) and Mineral Brown stone spray paint. The black was a solid coat then I did a light spray of the brown not quite all over. I let that dry overnight then sanded it to get the bumpiness off - not really smooth though.
After cleaning this up I sealed it with Varathane oil based floor sealer - let that dry. Then to give it some more flecks I used a toothbrush with a few different colors of acrylic craft paint to splatter (golds & browns) using my finger to spray the colors here and there. Sealed it again then sprinkled some glitter (a lot of black and a little iridescent) while the sealer was still wet. I found that a fine glitter worked best. I used the Martha Stewart brand from Micheal's - it was more like dust. Let that dry and light sanded again, clean up then seal, seal, seal! I probably ended up with 8 coats of the sealer. I had quite a bit of counter so I opted to use the roll-on sealer using a foam brush and roller. If you plan to use enviro there are others on here that can give you some great tips.
Just some tidbits:
Good prep is the biggest part - cover everything that spray will be all over if you aren't careful! All of this was very stinky in the house! If you live in a cold climate you may want to wait until it's warm so you can open doors. I started mine when we were still in the 60 degree range but that didn't last and it got a little rough! Use a practice board! I had a piece of wood I tried it on 1st and that helped get my technique down. If you have several sections start with a small, less obvious one. I used about 10 cans of paint for approx 85 square feet of counter. It took me over 2 weekends but a lot of wait time for layers to dry. When I was just sealing I could do a quick coat before work in the morning.
Good luck! I love my new counters. (01/28/2009)

By craftygirlz