We have 70's era dark paneling in the kitchen, a stainless steel back splash, sink, and stove top. The appliances are off white and the flooring and counter tops are an off-white to tan pattern.
The largest wall leads out into the living room which has walls that are a light cedar tongue in groove. I want to paint the kitchen paneling. Any suggestions for color? Thanks.

By Julie Milam from WV


Answers:
Painting Over Paneling
<title-green>Request:</title>

I have paneled rooms. I am thinking of painting the paneling. What suggestions can I get regarding paint and other tips for painting paneling. I am also a little worried because two of the rooms have paneling that "shines". What product would cover it best?

Linda

<title-green>Answers:</title>

Painting Over Paneling
We had the same problem and tackled each room in a different manner. One area, we filled in the cracks and painted over it. This was a lot of work, but you can't tell that it is paneling.
The other wall, we filled in the cracks and painted over, then put textured wall paper over it and painted again. This is a lot of arm work, also.
Then we did the same, except we put textured mix over the wall. Then in one area we just painted the wall board.
Last but not least, we put thin sheets of drywall over the paneling and mudded and taped. This was the easiest.

Charlene (Guest Post)

Painting Over Paneling
First, you want to hand wash each wall with TSP, available at your local home improvement store. This process goes quickly. You don't have to scrub, just sponge over it. This removes the grease, smoke, etc. residue to give you a clean start.

Then you have to prime the surface with BINZ or KILZ. Also available at your local home improvement store. Again, this process goes quickly.

Lastly, you paint. The biggest challenge I encountered was getting the paint into the grooves. I purchased an expensive foam roller specially made for rough surfaces such as stucco. I was very disappointed. I ended up using a foam corner roller which I got for about $3 and just went up and down each crevice once or twice.

It really does totally change the look of the room, more modern, less dated and brighter. It really looks like expensive painted bead-board, not cheap 70's paneling.

Guest Post

Painting Over Paneling
We recently painted all of the wood paneling in our home. We had lots of it. Use a primer first, then use a good quality of whatever color you desire. We used the Behr paints from Home Depot because our son, who does lots of renovations, said that would cover better. For the shiny paneling, lightly sand by hand or a sander before applying the primer. Our paneling was a medium brown. Darker paneling may need more than one coat. Hope this helps.

Dottie Rae (Guest Post)

Painting Over Paneling
Years ago I painted a paneled room, too. After the primer, I used textured paint. You could still see the grooves, but it looked great. The rough texture really added depth and dimension.

Ginnee (Guest Post)

Painting Over Paneling
We bought a house last year and are still in the process of remodeling.

We painted over paneling in the nursery, but did not use a high quality primer, big mistake. The paint peels off at the slightest snag. We painted over paneling in the living room with a higher quality primer, specifically made for paneling and that seems to have worked better. My biggest complaint is the seams have cracks in the paint now.

We discovered a wallpaper product called "PaperIllusion" earlier this year where you rip the paper in random sized pieces, dip it in water and hang on the primed wall. It works great over paneling, provided you prep the paneling correctly. I've hung the product on a door and it's super easy to install and the faux finish effect is quite stunning.

We have a large room in our finished basement covered in paneling which we want to convert to a home theater. I plan to try this Paper Illusions wallpaper down there next.
If you're interested, you can find out more about this product here.
I love it

By Carrie Wigal
Painting Over Paneling
I agree. Kilz is the best step, then a good paint. We have done almost every room in our old house and in my son's room we did a crackle process and it looks really cool over the old paneling. There was many steps to it, but the bedroom is small, so it was not too bad. Cleaned, then Kilzed, then the base color, then the top color, then the crackle. We did a yellow underneath and black over the top. The yellow shows though the crackle and you barely notice that it is paneling. (06/28/2005)

Gwen (Guest Post)

By ThriftyFun
Painting Over Paneling
My sister-in-law filled in all the grooves with spackle and she wallpapered over the paneling and it looked great. (03/02/2006)

By Paula
Painting Over Paneling
We painted over the paneling upstairs in both bedrooms. One bedroom we primed, painted the bottom 3rd of the wall in navy the rest in white. I then put baseball border around the room where the different colors meet. The other bedroom was about the same only we used a rust at the bottom and a different border. They look really good. Make sure you use a good primer or the paint won't stick very well. (03/02/2006)

By Janice
Painting Over Paneling
We painted the paneling in 4 rooms of our house about 8 years ago and it's still holding up fine. I decided to try a water based primer, Bullseye 1-2-3 instead of an oil base like Kilz and it worked great. We didn't fill in the grooves since the house sits on sandy soil and will continue to settle forever. I'm quite fond of the grooves. They add an interesting texture to the walls.

I've noticed magazine photos recently where decorators have installed paneling to paint over for the nice texture. I did use oil based primer to paint over garish wallpaper since it had to also hide a print as well as give the wall "tooth" for the paint to adhere to. I've also never messed with TSP on paneling, even the real shiny kind. Works fine. (03/03/2006)

By Miz Lou
Painting Over Paneling
I painted over all the paneling in my house. It looks so much better then it did before. Here is a photo of my living room. The top is Navajo white, the bottom is red, red, wine, and the middle stripe is just a flat black (cheaper then adding a chair rail.) (07/11/2007)

By Debbie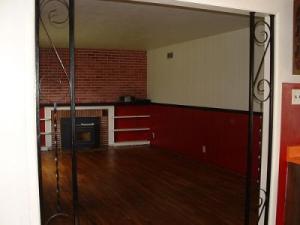 Painting Over Paneling
I used a good primer like Kilz; then I textured 2 walls and left 2 untextured. Actually, the untextured looked better. The lines in the smooth texture gave the room a cool look. However, I did lightly sand the paneling before the Kilz step. The room is a sport's room for my son, and he loved it. (07/29/2007)

By Dana
Painting Over Paneling
We used a liquid sander which we applied to the paneling first. It took off anything that would interfere with the paint and left a good surface to paint on. We bought a good brand paint and have never had a problem. If your paneling is a dark color, you may have to paint it twice. (11/27/2007)

By Sandy
Prep is the key
Make sure you get all the prep work done right. If you don't want to see the grooves in the paneling, be sure to either spackle or caulk over them before you prime.
Make sure to use a block-out primer, not a regular primer to stop that dark paneling from bleeding through your finish coat color. This site has step by step instructions on how to paint paneling: how2instructions.com (03/30/2008)

By Mike
Painting Over Paneling
I am in the process of painting my paneling and I read that spackling the seams and grooves will cause it to shrink and crack over time. So I am using drywall tape to the seams and grooves. So far it is working great. (01/18/2009)

By Diane