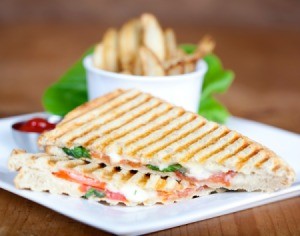 Ingredients:
2 slices thin sourdough bread
1 tsp. balsamic vinegar
4 thin slices mozzarella cheese
1 small tomato, sliced
salt to taste
4 fresh basil leaves, julienned
extra virgin olive oil
Directions:
Salt the tomato slices to taste, if desired.
Brush one side of each sourdough slice with balsamic vinegar. Layer one balsamic brushed side slice of bread with two slices of mozzarella cheese, tomato slices, basil leaves, then the remaining slices of mozzarella cheese and top with remaining balsamic vinegar brushed side down on remaining slice of bread.
Heat oil in a skillet and then place the sandwich in the skillet, turn over with a spatula so both sides are coated with olive oil. Weigh down with spatula or a heavy item such as a foil coated brick or a heavy skillet and cook until bread is toasted and golden, about 3 minutes, then flip sandwich, top again with heavy item and cook second side until toasted and golden, about 2 minutes.
By Deeli from Richland, WA