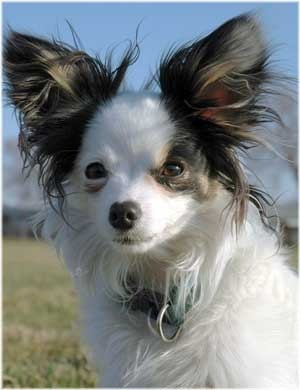 Breed Description:
Papillions are small, fine-boned dogs with a long flowing coat, lively, dainty gait and large, butterfly-like ears. This breed was a popular companion to aristocrats and has an elegant, dignified appearance. It is a meticulously clean, highly affectionate and makes an excellent house pet and traveling companion.
Group: Toy Group
Purpose of Breed: Companion
Country of Origin: France
Average Size: Ranges from 8 to11 inches and 3 to 9 pounds.
Color(s): Part-colored or white coats with patches of any other color.
Coat Type: Coats are long, fine, silky and flowing.
Grooming: The Papillion's soft, glossy coat is easy to maintain, but needs daily grooming to stay in top condition. This breed requires standard care for pads and nails. Eyes and ears should be examined regularly for problems. Ear fringe should groomed frequently and kept from matting.
Exercise Needs: The Papillion is a good choice for apartment living as long it gets a moderate amount of exercise and sufficient playtime. They do not always realize the limits of their small size, Papillions are good jumpers and should prevented from leaping off of tall objects-especially as puppies.
Temperament: The Papillion is an intelligent, easy to train breed that is affectionate and playful. This breed should be kept away from small children and large pets who may rough-house and cause it accidental harm. The Papillion gets along with all the family members and pets. They are not nervous or high strung, but can be a bit bossy. Their large ears serve to alert them of the faintest sound, making them good watchdogs.
Common Ailments: Susceptible to patella luxatiois (problems with the knees) and progressive retinal atrophy.
Life Expectancy: Averages 12-15 years.
Trivia: Papillion is French for "butterfly."
More Information: Papillion Club of America, Inc.