April 9, 2021
0

found this helpful
Paradise Galleries made a lot of different Native American Dolls but they overproduced most of their dolls and even the Native American dolls are generally low value dolls.
The market is flooded with all brands, styles, sizes of dolls and this makes it difficult to even sell a doll - no matter the kind or price.
You cannot determine value by a seller's asking price as anyone can ask any price they wish. Value can only be determined by sold prices as this shows what someone was willing to pay for that item.
You do not state the size of your doll but she does appear that her clothes and hair need attention but it looks like she is new?
A large majority of the dolls listed for sale will be new in a box with all papers so that is not anything special.
It appears that your doll is more or less just a regular Paradise Galleries Native American Doll which puts her in the lower level of the average price being paid for these dolls.
You can check out eBay's sold listings to see what similar dolls are selling for. Most dolls sell for under $25 and only a few will sell for more money. The next problem is we have no way to know how long any of these dolls were listed for sale before they actually sold as sellers leave dolls listed for sale for months/years and a lot never sell.
www.ebay.com/.../i.html?_from=R40&_nkw=Paradise+Galleries...
You may find some useful information from past answers:
www.thriftyfun.com/Value-of-Porcelain-Dolls-from-Paradise...
April 9, 2021
0

found this helpful
I've noticed that most of these dolls don't sell for much. I didn't find the exact doll that you have on ebay. On their website, brand new ones do sell for better but that's brand new and direct from the company.
April 10, 2021
0

found this helpful
Paradise Galleries has several Native American Doll collections. Prices range from $19.50 to $75 www.ebay.com/.../i.html?_from=R40&_nkw=Paradise+Galleries...
You didn't write the size of your doll. Therefore, it was a little difficult to understand which collection your doll belongs to. But I noticed that your doll has a pink label with white polka dots. I looked at labels on almost all Paradise Galleries Native American dolls. Mostly they have solid pink labels, some elongated. Only Treasury Collection Native American dolls had a label like your doll. The size of dolls in this collection is 24 inches.
You did not indicate whether your doll has a box and what condition it is in, whether there is a certificate. The price depends on it.
So, you have Treasury Collection Native American 24'' Doll by Paradise Galleries, the price is about $20-60. You can check the price here: www.ebay.com/.../324557192092?hash=item4b911dbb9c...,
www.ebay.com/.../273608276703?hash=item3fb452fadf..., www.ebay.com/.../283959104475, www.ebay.com/.../143054900068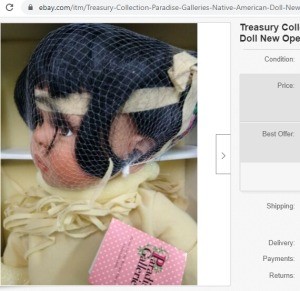 April 10, 2021
0

found this helpful
The Native Dolls are collectible , at this time the average sell is $25 to $40 depending on the doll. Here is a link to collecting dolls, and many other collectibles, they also can help with the current market value - www.justcollecting.com/dolls