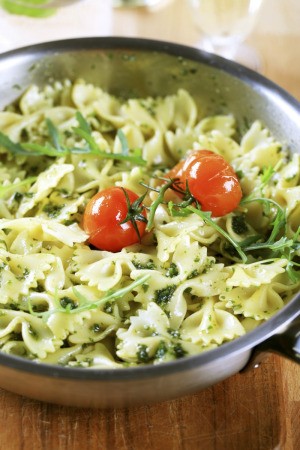 The nuts can be toasted in the microwave, uncovered, on high until fragrant, 1 to 2 minutes, stirred halfway through. Reduced-fat mayonnaise or a mixture of half mayonnaise and half sour cream can be used. This is a great dish for a pot-luck. If making for a Christmas pot-luck, use tri-colored pasta and add dried cranberries to make the dish look festive. Use a combination of green and red apples too.
Tip: If you don't want to measure out 8 oz of pasta, cook lots and freeze what you don't use for another meal.
Ingredients:
8 oz. short pasta, such as rotini
3 medium-size apples (about 3 cups chopped)
1 Tbsp. lemon juice
2 ribs celery (about 3/4 cup chopped)
1 cup already-cooked chicken chunks, defrosted if frozen
1/2 cup raisins or other dried fruit (optional)
1/2 cup walnut or pecan pieces (optional)
1 cup mayonnaise
1/2 tsp. onion powder
1/4 tsp. garlic powder
salt and black pepper to taste
Directions:
Bring 3 quarts lightly salted water to a boil in a large covered pot. When the water reaches a rapid boil, add the pasta and cook just until firm-tender. When the pasta is done, drain in a colander and throw in a couple of handfuls of ice cubes. Rinse the pasta under cold running tap water and toss with the ice cubes. Leave it to drain and cool.
Meanwhile, core the apples and cut them (unpeeled) into bite-size pieces. Place the apple pieces in a large serving bowl. Toss with the lemon juice. Cut the celery into bite-size pieces and add them to the same bowl. Add the chicken chunks. If using raisins and nuts, add them to the bowl.
Mix together the mayonnaise, onion powder, garlic powder, salt and pepper. Add to the bowl and stir. Add pasta (take any ice cubes that remain out) and mix until combined.
Serve at once, or refrigerate until ready to serve.
Servings:
6
Time:
15 Minutes Preparation Time
10 Minutes Cooking Time
Source: This is from one of my favorite cookbooks, Cheap. Fast. Good.
By sooz from Toronto, ON