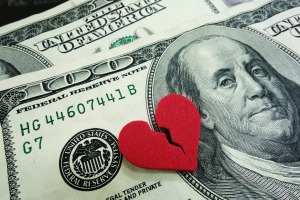 Win the war in the end! Pay your child support. Non custodial parents: when your children are grown they will respect you so much more if they know you paid your part to get them raised.
If you are married to someone that owes child support, make it your responsibility to see that your step children are taken care of financially. If you owe back child support that means the custodial parent has given you a loan, pay them back.
Of course, the custodial parent is not spending the money exactly like you would spend it and they might appear to have more than you but if you pay you can ultimately hold your head up and your place as their parent (notice this is non gender). If your circumstances have changed since your order, file the necessary paperwork and have your child support revised (you can do this without an attorney), but do you part!
By Meemaw
Read More

Comments

My son has paid court ordered child support payments every week for many years, without missing one payment. When it comes to filing his income tax yearly, why is it that he cannot claim his children, or deduct the Monterey payments from his taxes?
By dollyddg
Answers

January 6, 2012
0

found this helpful
It must be stated in the court papers on who gets what year to claim the children. If it doesn't the domicile parent gets the right. If he wants to claim the kids he will have to have a court and have a court decision on it.
As far as not claiming on taxes he paid in on child support no one can, yes its unfair. but at least some states are looking to change this and looking to enforce the parent that don't have the kids rights.

Free2B
Bronze Post Medal for All Time! 216 Posts
January 6, 2012
0

found this helpful
Custodial parents (cp) usually get the tax deduction. This is because, usually, the child support does not cover half of the expenses related to raising kids. Think about it - if you had to take the kids in today and cover all of their expenses, how much would it cost you?
The cp has to pay for renting/buying a bigger place, more bedrooms, than a single person. That costs a lot. Utilities go up, unless the kids don't watch TV, play video games, go on line, have lights in their rooms, etc. The food bill goes way up. In some cases, caring for the kids keeps the cp from taking a higher paying job that would take too much time from the kids, or would require that they move away from the NP.
Then there are school fees and supplies, activity costs, clothes, toys, medical costs not covered by insurance, entertainment, higher costs for eating out, movies and such, babysitters - the list goes on and on. Your son sounds like a good guy. If he feels that he is paying more than half of ALL the child-related expenses, he can try to change things. He can talk to the ex about it. He can go to a lawyer and see if the court might change it. But he should think long and hard before doing anything.
Divorce is hard enough without adding more issues to the mix. The ex is not going to be happy about it, and, no matter how you look at it, it will take money out of the kids household. Would changing this be worth it? Sometimes being mature means not fighting an issue, even if it is unfair.

Lilac
Silver Feedback Medal for All Time! 450 Feedbacks
January 8, 2012
1

found this helpful
Here are some word that you will never hear.
"I want to pay my ex spouse more child support but she won't take it."
It costs money to raise children. Whatever they get in child support is never enough. If you bring a child into this world you are obligated to support it.
Does anyone ever wonder what children think when they know the noncustodial parent is trying to shave off every dime they can from their children?

January 8, 2012
0

found this helpful
It is usually documented in the divorce papers as to who claims the children on their 1040. Each case is different. In my own, the stipulation was that he would claim the child unless he missed a payment. If he missed one payment for the whole year then I was able to claim my child.
As it turned out, he missed a payment early on and continued to miss from that point on. I then was able to claim my child at that point. So originally, it's not always the custodial parent who gets to claim the child as in my case. He had missed several payments before I claimed him. And the prior poster is correct: Unless the custodial parent gets a TON of child support the support received no where near covers the actual cost of raising a child.
Back in 1982, my support was $200 - My child's daycare while I worked was $40 a week - there's $160+ right there, That left me $40 to buy clothes, food, pay his portion of utilities (laundry, lights, etc.) also provide outside entertainment such as an occasional movie or even a car ride to the country. I couldn't even buy medical insurance with that.
I realize some children received more child support and some received none. And when it became clear that my ex-husband was refusing to pay at all, I had absolutely no qualms about garnishing his Social Security when he started receiving it. My son is now 30 and his child support was finally paid up only a few months ago.

Jana
Bronze Feedback Medal for All Time! 116 Feedbacks
January 8, 2012
0

found this helpful
Each state is a bit different. But generally a person must pay at least 51% of the child's living expenses in order to claim them & court ordered support is nowhere near that

Jana
Bronze Feedback Medal for All Time! 116 Feedbacks
January 8, 2012
0

found this helpful
Each state is a bit different. But generally a person must pay at least 51% of the child's living expenses in order to claim them & court ordered support is nowhere near that.

Linda L.
Bronze Tip Medal for All Time! 64 Tips
January 8, 2012
0

found this helpful
Best advice-tell your son to talk to his tax preparer. Different states/different laws . and a little OT, why are you asking-seems like your son needs to be responsible for this and for getting his own answers.
If you have a relationship with your grandchildren, you have a relationship with their mom, and you don't want to create a rift there.

Betty
Bronze Post Medal for All Time! 104 Posts
January 9, 2012
1

found this helpful
Child support payments are never enough to raise a child. Have some sympathy for the Mother of the child unless she's unfit and that's a whole different story.
Read More

Answers

My fiance has been paying child support for a child he's not sure is his. He also doesn't know where the mother is located. How does he go about finding out where the money is actually going?
By Machelle Smith from Atlanta, GA
Answers

Suntydt
Bronze Feedback Medal for All Time! 109 Feedbacks
April 23, 2010
0

found this helpful
Well, if he is not sure the child is his he can have that tested. It will cost him to have the test but it could be well worth it.
As for where the money goes that would depend on where he sends it. Is it going to a lawyer's office or to the mother?
If it's going to the mother and he wants to know how she is spending it there is nothing he can do for that unless the child is obviously in need from neglect. Meaning the money isn't going to the well being of the child which is mostly what it is for. It could also be used for the mother's rent or utilities because the child needs these as well. But if the mother is neglecting the child ( bad clothes, little or no food, no school supplies) then he could make an attempt to get custody of the child because of the neglect.

April 23, 2010
0

found this helpful
I am a retired Child Support agent for the State of Georgia. In Georgia, your fiance would have been served paperwork by the Sheriff's Department to appear in court regarding the paternity of the child in question. This was the procedure at the time of my retirement. If he had appeared in court, he would be given an opportunity to have paternity testing done at no cost to him unless the DNA testing proved he was, in fact, the father. Then he would have to pay the paternity test costs. If served and he failed to appear in court to dispute paternity, a default order would have been written and he would have been declared as Daddy. The address of the child and mother are confidential information and can't be given to the Father. Likewise, his address also can't be given to the Mother either. If his case is in another state, I can't speak for their regulations. Any support payments go through the Child Support Registry and are sent directly to the Mother either into a banking account if she has one or an electronic payment on a card. I hope that this helps you in some way.

(Guest)
Gold Post Medal for All Time! 846 Posts
April 23, 2010
0

found this helpful
Where does he send the money? It must be an agency if he's not sending it directly to the mother. The agency indeed makes sure the money gets to the mother for the child. Unless he goes to family court for child visitation it really isn't any of his business what the actual address of the mother is (and maybe not even then depending on the circumstances). And it's really not any of his business how every penny is spent because the child is living with her and not him and children are expensive! Perhaps if he goes to family court he could demand a paternity test (and she would have to comply) to put any questions to rest about whether the child is actually his or not. No offense meant but he doesn't sound like he really cares about the child but rather his money :-(

susan
Silver Feedback Medal for All Time! 472 Feedbacks
April 24, 2010
0

found this helpful
OK, I'm having a problem. Legally, if he is current on his child support and has no other issues (like being an abuser, pedophile, etc), he has rights to the child, including visitation. Where was your fiancee when all these decisions were being made? Was he disinterested then? As for the money, it is going to the mother, to spend on the child as she sees fit, whether it be for clothing, food, a savings account, rent to keep a roof over the child's head, school supplies--just whatever. If your fiancee has legitimate questions, he needs to attain legal counsel.
Answer

this Question
I am a single father; I have 4 children in my life. One of my children is disabled and lives with me. Another one lives with his mom. Then I have twins and they live with their mother as well. OK, here is my question. I pay child support for my 3 kids and I was sent info from the child support office that I need to raise my payments for my twins. OK, I know it's 25% for the 2 kids, and I pay a certain percentage for my other child.
Now 3 years ago I got my oldest child and she no longer resides with me. My oldest is handicapped and due to that the mother gave her to me cause she couldn't handle the expenses, ie. medication, therapy appointments, and 5 to 6 medical appointments a month because of her medical condition.
What are my options as far as me getting shafted with tons of money being dished out when I have to spend a lot just to keep my oldest child alive? What will the percentage be instead of 25% plus with my other child that I pay child support for as well?
By Bryan C.
Read More

Answers