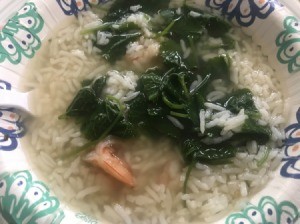 Pennywort is also known as centella asiatica or in Vietnamese "rau ma", an edible herb that is common in Asian culture. We actually grow rau ma in our backyard and it grows very easily, literally like weeds! Pennywort is versatile, it can be juiced or blended for a refreshing drink or cooked.
When we make rice, we sometimes have extra. Instead of keeping the rice "warm" all day and plugged in the rice cooker, we will store the rice in the fridge. A quick way to have a new meal while reheating the rice is to prepare this soup.
Note: Recipe varies depending on how much rice and ingredients you have. Add more or less depending on your preference, this recipe is very flexible to your liking.
Prep Time: 15 minutes
Cook Time: 10 minutes
Total Time: 25 minutes
Yield: 2-3 people
Ingredients:
1.5 cup water
2 cups pennywort
8 jumbo shrimp
Dash of salt and pepper
1/2 Tbsp fish sauce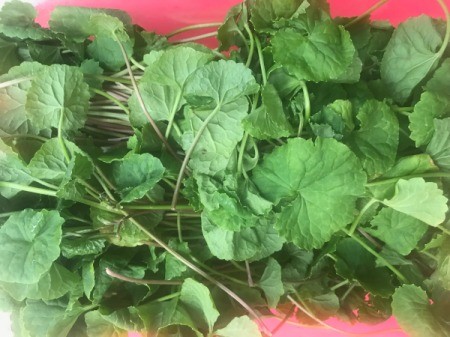 Steps:
Wash and trim pennywort.
Wash shrimp and sprinkle dash of salt and pepper.
Heat oil in a skillet over medium heat. Sauté shrimp for 3-4 minutes.
In a small pot, boil water. Add pennywort and fish sauce stir for 3 minutes.
Reduce heat and add shrimp. Ready to serve immediately hot. Scoop into a bowl of rice. *My fiancé already ate a bowl before I snapped a picture, he was too hungry!

July 15, 2018
0

found this helpful
That sure looks like a very yummy healthy soup! :)
I actually take the herb in a capsule, (Gotu Kola), which is the centella asiatica/(Pennywort) because of it's extremely high in minerals value.
Looking at the fresh Pennywort in your pictures, which I've never seen it fresh, (and that's nice you're growing it in your own yard), it looks like cilantro sort of, or a type of parsley.
Does it have a "cilantro" taste? I love cilantro, and parsley too.
I guess in my mind I'm trying to "taste it" :)
Thank you for the recipe, I want to this sometime. :)

July 15, 2018
0

found this helpful
Ooops, in my post, I meant, (I want to try this sometime)
...and that's a - *for sure* :)
Thank you.

15mhhm15
Diamond Post Medal for All Time! 1,298 Posts
July 16, 2018
0

found this helpful
To me its a little bitter but its really healthy and said to have a lot of health benefits. If you can get your hands on some, they grow very easily that way youll have a lifetime supply hehe :)

July 17, 2018
0

found this helpful
Oh it is a bit bitter, that is interesting.
And you're right, the Pennywort is super loaded with "healthy" stuff.
I'd like to get my hands on some, :) like you said, it grows like weeds.
Can I ask where you got yours? Thanks.