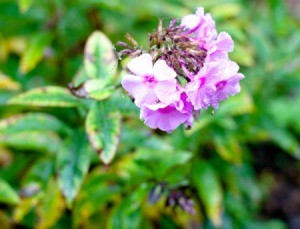 Question:
I transplanted some phlox 3 years ago to a northeasterly location. They get lots of hot afternoon sun from the south. They start out each year green and healthy and then start to turn brown at the ground level, eventually continuing up the entire stalk. The leaves turn yellow first, like they are being drained of life. Is this location too hot for them? Do they prefer shady spaces?
Hardiness Zone: 4a
Ginny from New London, MN
Answer:
Ginny,
Yellowing and dieback on the lower leaves of tall garden phlox can usually be attributed to one of three things: drought stress, powdery mildew, plant density, or lack of soil nutrients.
Drought stress typically causes lower leaf loss, but most of the state has experienced normal rainfall this year, so I doubt this is your problem. That is, unless your phlox are planted in a position (e.g. under eaves) where they are prevented from receiving adequate water from rainfall.
Powdery mildew is prevalent on many varieties of garden phlox, especially during summers with ample rainfall. Symptoms are leaves that appear coated with white powdery spots. When these spots merge, they can nearly obliterate any remaining green tissue as well as the flowers. Maintaining good air circulation will help reduce powdery mildew problems.
If your phlox are growing in dense clumps, it may be that the lower leaves are not receiving enough sunlight. You can divide the clump and see if this makes a difference. Some varieties seem more prone to lower leaf loss than others when they are planted close together.
Your description of the plants being "drained of life" leads me to believe you may be looking at a pest problem. Check first for spider mites. These tend to be more of a problem during hot, dry summers. You may see tiny red or pink spider-looking mites buzzing around the undersides of leaves and on the stems. You should also see evidence of fine webbing. With their sucking mouthparts, these little guys literally drain the life right out of the plants they feed on. If caught in the early stages, insecticidal soaps, or citrus oils can be an effective treatment. Mild infestations can be controlled with a stiff spray of water from the garden hose. Plants watered and fertilized adequately will stand up to infestations the best.
Good luck!
Ellen

July 11, 2008
0

found this helpful
Too hot would just cause wilt and leaf edge browning. You might have dirt that is the wrong pH, so that the dirt is like pickle juice or bleach for them to grow in.
Simple test kits in the garden department can tell you right quick. Also, losing leaves from the bottom up is classic overwatering.