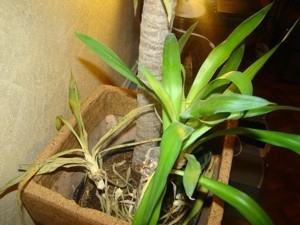 My plant is dying. I bought this plant in July and it was doing very well. Three months later (winter) its leaves started turning yellow and then drying out. I don't know it's name or how to treat it. I get no sunlight, so I provide it with artificial lighting. I began spraying it with water two weeks ago, but I see no change. Please help. The only plants that do well here so far are bamboo shoots.
Hardiness Zone: 7a
Loyda from New York City
Answers

January 8, 2009
0

found this helpful
It looks like a plant I received last July, a Corn plant and on mine to the leaves were turning yellow. I posted questions and was told not to over water it, also it did not like chlorine water.
It does not need direct light, good for office or indoors with out much light. Mine is looking a little better but did lose many leaves. Burn

January 8, 2009
0

found this helpful
It's a corn plant. Doesn't need much water. No sun needed either. Keep it in a shady place out of the sunny window if you have it in the house. Yellowing leaves on plants usually mean too much water. Brown leaves on plants usually means not enough water and the leaves dry out, turn brown and fall off. You can look up "corn plant" on the internet and find out how to care for it.

(Guest)
Gold Post Medal for All Time! 846 Posts
January 8, 2009
0

found this helpful
Seeing your photo it looks like the plant needs to be repotted into a larger pot with new soil and especially since it's obvious there is a large and elderly portion of this plant sharing the space of the smaller soil level leaves. It's simply in a very small pot just sitting inside a larger pot. The size of the existing larger pot would be perfect so just get enough new soil that will go up to the line you see inside that pot ...
It's most likely root bound and crying for more room now in the small pot and needs new soil that has some fresh nutrients. When you repot be sure to gently spread the existing root in the ball out a bit so the roots can easily spread/grow and breathe. Make sure the new soil is very moist (not flooded) when you first repot. Potted plants should be repotted at least every other year.
Answer

this Question

We have had a lot of rain recently and now my vegetable garden including my corn is getting light green to yellow. Is there something I should add to the soil?
By MaryS from IN
Answers

June 21, 2010
0

found this helpful
I would use Ironite or blood meal, you can get it at the garden center. We have the same problem and have tried it. It seems to be working.

Grandma J
Silver Feedback Medal for All Time! 270 Feedbacks
July 2, 2010
0

found this helpful
Yes, check garden center for liquid iron or some other brand for it. You have washed nutrients out of the soil. You see this a lot with container planting.
Answer

this Question
Does Epsom salt affect plant growth?
By Madison from Sumter, USA

Answers
December 4, 2012
0

found this helpful
Epsom Salt is the same thing as magnesium sulfate. If you have yellowing between the veins of leaves from the bottom up on your plants or your plants lack vigor, adding this element may help. Mix one tablespoon per gallon of water into the soil. But don't over do it because it can tie up trace minerals by reducing the absorption of Calcium and Potassium.
If you have alkaline soil also add one tablespoon of vinegar to the water. Tomatoes will do great if you add this when you plant them... just sprinkle some in the hole before planting.
Answer

this Question