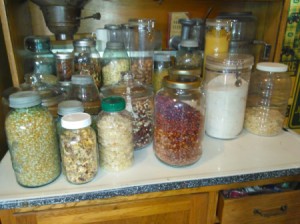 In the last two years, I have managed to break two or three Tupperware canisters. They are so old, that Tupperware no longer makes them, so they could not replace them.
I wanted clear glass canisters and found them rather pricey as I try to avoid plastics. As I was emptying a pickle jar, it dawned on me that would be the perfect canister. I have now put three to work, and will use more as we eat more pickles. Since they are clear, I can see how much we have left.
We farm, and as most farms, we get mice due to the grain and such that is in the barn. If the mice get cold in the barn, they tend to move into the house.
These jars are perfect for storing beans, pasta and popcorn and keeping the mice at bay until a cat catches up with them. We grow a good part of our food, and I can, dehydrate or freeze it. The large jars are perfect for the dehydrated food.
Just a tidbit of info you will probably never need to know, but a child's wagon full of onions from the garden, will dehydrate down to a 1 gallon jar when chopped and dried.