I am looking for uses for pickle jars. How can I make kitchen canisters out of them? I need some ideas please.
By shannon hidalgo from Maceo, KY

Answers

May 1, 2009
1

found this helpful
Are you speaking of large jars or small?

May 1, 2009
1

found this helpful
These are not pickle jars, but green olive from the Dollar Tree. They hold up my microwave with Dollar Tree rocks and water inside, but could be filled with 16 bean soup, or just about any thing attractive.
The other two are spices. I love that they are all uniform. Pickle jars, if gallon size for canisters, can be filled with just about anything. Pretty glass one on the counters, sturdy frosted plastic ones in the cupboards. Good Luck!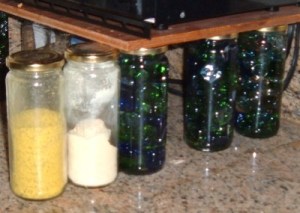 May 1, 2009
1

found this helpful
I use my large pickle relish jars to hold beans in. I first wash the jar, let air dry to remove some of the smell, then the next day I make a sort of baking soda paste and smear it around - don't forget the lid.
After it sets awhile, I rinse it off and when dry, there is no more smell. You can then paint them, decopage them with paper or with fabric and have your own unique set of cannisters

May 1, 2009
1

found this helpful
The easiest method for making them into canisters, whether they are the big ones, or the little ones, is to simply spray-paint the lids. Scrub 'em with a good scouring pad and regular dish soap (Ajax or Crystal Octagon work well) to fully clean them, and then thoroughly dry. Place the lids on newspaper, and spray paint them. My favorite color for this is red, as this is what my grandmother used for hers- she started this little family tradition in the 1920's, and stocked the family's cabin with "canisters" in the '50's.
I was lucky enough to inherit a couple of those "canisters"- the reproductions of the same interestingly-patterned jars turned up at Williams-Sonoma and (chuckle) Walmart the same year that my mom gave me the real ones! The trick is to use as interesting of a glass jar as you can find (ie- neat patterns in the glass itself), but color the lids the same- you get a "matching" set, but with textural interest, in the glass itself. (I lucked out- I also inherited the canning jars, circa 1908-1975- you can't beat the old Atlas jars for visual interest!) Good luck, and remember- if your paint job fails the first time, just remove the paint, and start again! :o)

May 2, 2009
1

found this helpful
I found some large sunflower stickers at the dollar store. (I think they were meant to be some sort of wall stickers.) I painted my pickle jar lids and then added the stickers. I use mine for different pasta shapes, beans, rice, grits, etc.
Tracey in Jacksonville FL

May 3, 2009
0

found this helpful
If the jars are the same width at the top as at the bottom, get some sticky backed wallpaper border and stick it all round the jar, or use paper glue and plain border paper. There are so many designs out there I'm sure you could find one to suit your kitchen decor.
Another idea - embroider or cross stitch a simple kitchen theme design onto fabric sized to fit all round the jar, and glue that on with pva glue. make a matching piece of the lid and trim with zig zag scissors before gluing.
May 5, 2009
0

found this helpful
This is not a kitchen tip but a bathroom tip.
For the bathroom, you could use the large jars and put a toilet brush in. You cover the jar with fabric and put elastic around top edge and bottom. The bottom you draw up to a small circle on the bottom of jar.
The top edge you leave about an inch or inch and half. Decorate top edge with lace and put pearls, little rosebuds, more lace around top part and turns out really pretty.

May 5, 2009
1

found this helpful
I try to use glass jars of all sizes for storage. I used to have problems with getting rid of odors from the lids. This is my method for getting rid of the odors.
After washing the lids, I put the lids unwrapped in the freezer for a few days. Sometimes longer because I forget about them. It doesn't leave an odor in the freezer. After taking them out, I let them defrost/air dry. If this doesn't work, I place the lids in the hot sun for a day or two.
I have soaked them in bleach and water and this has worked but I don't always have the time to go through this for every lid I save. The other method may not be faster but it is more convenient for me.

May 5, 2009
0

found this helpful
My Aunt got me started canning in them. She used the jars at least twice for Jams, Jellies, pickles. The rubber is strong, but unless you have canned, and have the experience I wouldn't advise it.

May 5, 2009
0

found this helpful
Paint the jars or decorate them to match your kitchen add beads or ribbon or decoupage them with tissue paper or pics from magazines.

May 9, 2009
0

found this helpful
How about collecting coins in them? Or maybe buttons? If you really want to use them in your kitchen, I think keeping different kinds of pasta in them would look really pretty. If you want to keep flour, sugar, etc. in them, I like the other posters' ideas about decoupaging or painting them. Painting the inside may not be a good idea, though. Or, you could put something like colored marbles, rocks, shells, etc. and display them on a shelf or near a window. How does that sound?
March 4, 2016
1

found this helpful
a cotton ball with a small amount of vanilla extract on it and Seal it up for a few days.

March 17, 2019
0

found this helpful
They are great for storing left over paint. Easy to identify the color. Great for touch ups when needed. Avoids going through stacked cans to find a color and if lid was not secure on can, paint may be dried out. Easy to screw lid off and on and keep paint fresh.
Can write details on the lid of color name and how much was used for what room or project.
Answer

this Question