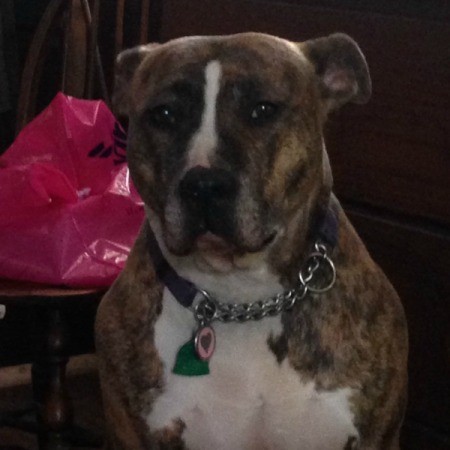 Your Pet's Age
3 beautiful years old
Your Pet's Breed
Plott Hound
How and when did you get your pet?
Morgen is a very unique dog. My husband was driving home last August and saw a dog running down the road nearby. Being the ultimate animal lover, he stopped and called her. She immediately came to him, jumped in his truck, and in a panic began hugging him. As if she was thanking him for rescuing her. After a trip to the local vet to see if she was chipped (she wasn't), and being told she was about two years old, he brought her home and we posted online and other places to see if anyone was missing her. No one answered. Two things in particular, besides her incredible devotion to my husband and her instant blending with our dog, Daisy, was that Morgen was lactating heavily, and she had some trouble eating. A day or two after she came to live with us she put her chubby feet on my lap and opened her mouth to show me, she had no tongue! It had been removed! My heart, broken for her obvious missing of her puppies, wherever they were, broke even further for her tongue having been removed. We know not why that happened, but this beautiful girl has adapted to drink water and eat well. When she's reached the last few bites of her food my husband feeds her with a spoon. If you've ever seen how a horse uses its bottom lip, that's how Morgen has adapted her bottom lip and chin like a tongue. We've had her a year, and every day with her is one of the greatest blessings anyone could have. I'm writing a book about her and how we can all overcome tremendous tragedies. I personally have, and God must have sent us Morgen to give me strength to survive.
What does your pet like to do for fun?
Morgen has all the best qualities of a Plott Hound. Her agility is beyond any I've ever seen, even in the competitions on TV. She's made her own agility course in our fenced-in dog yard. She changes the pattern of running in, under, around and through the very complicated area where there is a doggie tree house with picnic tables and deck areas. It's a sight to behold.
Do you have anything else to share about your pet?
My husband says she's the fastest, most agile dog he's ever had and he's had several, all of whom have lived to be very, very old. Morgen is about 55 pounds, a beautiful brindle color, solid muscle but gentle, and she makes facial expressions that are so expressive. She also "talks" a lot. An incredible girl for sure.