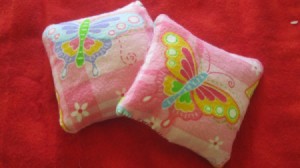 I saw this idea on Pinterest and thought it was such a nice way to have a little warmth on those days you have to go out in the cold. You can make a pair very quickly. I just made basic squares. But, I've seen hearts, owls, ladybugs, you name it. These would make a nice gift for those in cold climates.
Total Time: 15 minutes for both
Yield: 2 or as many as you would like to make
Source: Seen all over pinterest and etsy.
Supplies:
fabric
rice
sewing machine
funnel
Steps:
For your fabric, choose one with natural fibers such as cotton or flannel. Synthetic materials could melt in your microwave. No one wants that!
Take 2 layers of fabric a little bigger than the size you want your warmers to be. I used a book as a guide. Trace around your template. Make sure that your fabric is facing the right way. The side that you want to see in the finished product will be facing inwards on both sides. (Hope that makes sense!) My squares ended up being 4 inches all around.
Cut out your fabric squares.
Start sewing from the top of one side. Go around and sew 3 sides. For the last side, sew about halfway, leaving enough room to add the rice later. Reinforce the stitch where you stop.
Trim around the edges. I cut the corners a little so that it's not too bulky when you turn it. Leave a little more fabric at the opening. You will turn this over and sew it closed. You want a little extra.
Turn inside out. Use your finger to push out the corners.
Insert your funnel in the opening. I used the top of a soda bottle to get the job done. If you have a nice-sized funnel, you could use that. Add your rice. Fill it up about 3/4 of the way. I used about 1/2 a cup.
Fold your opening closed. Hand sew it closed. Make the stitches close enough, so that rice doesn't leak out.
To use: put in the microwave for about 30 seconds. Don't heat it too long or you could burn the fabric or the rice. These stay warm for about 30 minutes or so.
Add your voice! Click below to comment. ThriftyFun is powered by your wisdom!
January 28, 2015
0

found this helpful
I think my kids would love these! Thumbs up on a great project.:)
Add your voice! Click below to comment. ThriftyFun is powered by your wisdom!