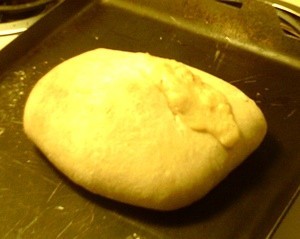 It's a simple Jewish dish, easy to make. I fell in love with it the first time I had it at a kosher deli.
Ingredients:
Dough:
1/2 cup butter
2 cup flour
about 7 Tbsp. water
Filling:
1/2 tsp. garlic
1 cup cheese, grated
1/4 cup onion, chopped
1/2 tsp. salt
1 cup potato, precooked and mashed
1/2 cup milk
2 Tbsp. flour
Directions:
In a large bowl, mix garlic, cheese, onion, salt, and potato. In a saucepan, mix the milk and flour and bring to a boil, stirring constantly. Turn it down to low heat once it has boiled (it just needed to boil to thicken it). Add the rest of the filling mixture, mix and set aside.
Preheat oven to 350 degrees F. Cut the butter for the dough into the flour, making it look crumbly. Then, add water a little at a time, kneading and adding water until it forms a dough ball. Knead the dough well, then divide into two balls. Roll out the balls onto a floured surface into a long rectangle, about 5 inches by 11 inches, at about 1/8 inch thick.
Take the filling and put half of it into each rectangle, being sure to leave space around all four edges to seal it. Take the end of the rectangle, and roll it up (to get layers of pastry, filling, pastry, etc). Fold up the two sides to the same side as the end is, and put it on an ungreased pan, fold sides down. Bake about 45 minutes, using the broil setting at the end to brown the top.
You can vary this recipe from this traditional one, to leftover sauces (like humus) with potato, all the way to a rolled-up pot pie.
Servings:
2
Time:
20 Minutes Preparation Time
45 Minutes Cooking Time
Source: Couldn't find a good knish recipe, and finally sat down to write down how I made mine
By Bonnie from Spokane, WA
Comments

March 5, 2019
0

found this helpful
the photo shows 6 balls, the directions say 2 balls of dough, I am confused?

April 10, 2020
0

found this helpful
Just cut each roll in to six and cook in the oven until brown, 30 to 40 mins in a 180deg C, preheated oven,potato side down, which will give a crispy potato bottom, bon appertite