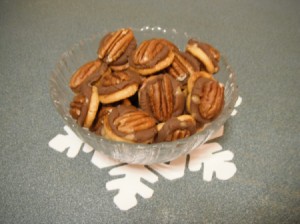 Several years ago, our daughter made these for me, gluten free, and brought them when she came for Christmas. They were delicious and I have been wanting to try to make them ever since but never seemed to get around to doing it until today. I try not to eat a lot of sweets but when it's Christmas, I go wild. Oh, gosh! These are so good and so quick and easy to make.
I needed a little gift so this is what I made to give to a friend, like myself, who has a gluten allergy. Christmas will be here in just a few more days and this is something you can easily prepare for that little gift you would like to give to someone.
I want to share this recipe, especially for those that have a gluten allergy, however, it can be made with regular pretzels which are probably much better than gluten free although the gluten free pretzels are good.