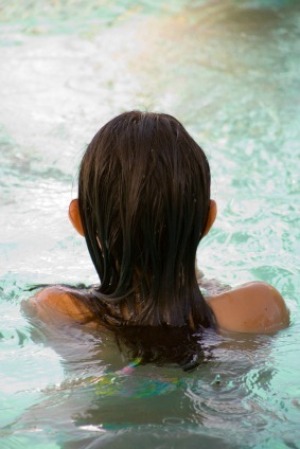 I have blonde hair and it's also pretty long. To keep the chlorine in the swimming pool from turning my hair green, my hair dresser told me to thoroughly rinse my hair in plain water before getting into the pool. Your hair can only hold a certain amount of liquid and if you saturate it first, the chlorinated water won't be absorbed. She says she's been doing this since she was a kid, and it really works.
By Jaye N. from Orlando, FL
Editor's Note: Many ThriftyFun members have recently commented that it is copper in the water, not chlorine, that turns hair green after swimming.
Read More

Comments

Cyinda
Bronze Post Medal for All Time! 213 Posts
If you swim daily in a pool for physical therapy or recreation you'll want to remove that nasty chlorine from your hair without drying it out with excess washings. I simply buy conditioner from the dollar store. Then when showering, I simply brush the conditioner through my hair with a large tooth comb. I make sure to also massage it into my scalp, then rinse well. This conditioner cleans my hair and removes the chlorine without drying it out.
By Cyinda from near Seattle
Answers

May 13, 2009
0

found this helpful
i don't know about you, but conditioner, no matter what kind, makes my hair lank, a lot and it gets dirty faster, cause there is a residue left on my hair. The things in them r not good for your body, they get taken into the body, especially when you leave it on the skin. Your skin is the biggest organ in your body and is very porous. For getting rid of chlorine, go to the fish pet store and get the cheapest de-chlorinizer.
The main ingredient is sodium-thiosulfate. The liquid is poured over the hair, rubbed in a bit, then rinsed. This gets rid of chlorine, hands down the best for this problem. It will work on your skin, too, after swimming in a chlorinated pool. This you do not leave in your hair and on your scalp, it gets rinsed away. I have the crystallized chemical and mix it with water to dissolve it, it's rather cheap and works amazing.

May 13, 2009
0

found this helpful
As a hair stylist, I have used Tide to remove the green from blonde hair caused from chlorine for years. By the time it is green, it is in terrible condition, sometimes looking glassy. So ater removing the green, use an intensive conditioner as ofter as needed.
These are not just bottled conditioners, but professional and can be purchased at Sally's. After applying to the hair, using a plastic bag to cover the hair, then applying heat with a dryer or sitting in the sun will make it absorb into the hair deeper.

Cyinda
Bronze Post Medal for All Time! 213 Posts
May 13, 2009
0

found this helpful
When I posted the above tip, I wasn't talking about removing GREEN coloring from hair (for that , see below). I was talking about people who swim daily & don't want to destroy their hair with daily shampoo. Baby shampoo is another suggestion for those who get "lank" hair. But because I have hair that is naturally curly & tends towards frizz, the conditioner method mentioned above works extremely well for me when every day shampooing would only dry my hair out.
---> If you dye your hair, the conditioner cleaning method has an added benefit of keeping your hair dye looking fresh much longer than daily shampooing too!

Green Hair:
* For "Green" hair from chlorine: Take several tablespoons of baking soda & stir this into a glass of warm water then add a squirt of shampoo. Stir together, then wash your hair with it as usual. The baking soda opens the hairs cuticle so the green coloring from chlorine can get out. For stubborn green stains leave this concoction on the hair for an extra 5 minutes.
* Always finish by closing the cuticle with a rinse consisting of a large glass of warm water mixed with a tablespoon of either lemon juice or any type of vinegar. The acid from these will close the hairs cuticle making the hair smooth & shiny again. Always follow the baking soda (above) with lemon juice or vinegar or your hair might look damaged & "fly-away".

Sally
Bronze Feedback Medal for All Time! 116 Feedbacks
May 14, 2009
0

found this helpful
(Posted via email)
When I saw the tip about the removal of chlorine from hair by using a conditioner after swimming, it reminded me of what I did for my family's hair. Living in south FL there are lots of pools, thus lots of swimming. The chlorine can turn blond hair green, so before swimming I would apply an inexpensive conditioner to our hair. I always put a little extra on the ends, as that is where the chlorine is absorbed. Afterward, we just washed and conditioned our hair as usual.
pdg from Davie, FL
Answer

this Question

Does anyone have a home recipe to remove the "green" tint out of hair as a result of swimming?

lizkemp from festus, MO

Answers
By Vicka (Guest Post)
June 6, 2006
0

found this helpful
I've heard that rinsing with beer works well too.

June 7, 2006
0

found this helpful
I have made the baking soda/shampoo paste for my daughters hair, and that seems to work well, but it is hard on her hair to use it frequently. I will try diluting the baking soda with water. I will also have to try tomato and lemon juice..... Thanks

May 4, 2008
0

found this helpful
Years ago, we lived in a community with a pool. They always put too much chlorine in it. So all the little blonds were all the little greens! Needless to say, I had a houseful of blondes, but I didn't let them go cos I didn't know there was a remedy out there!
Wish I knew then what I just learned in here! Apparently no one did cos we had green heads all summer long into the fall cos it just had to wear off. I was the "bad mommy" cos I didn't want a bunch of Martians living with me!
By wereamess (Guest Post)
June 2, 2008
0

found this helpful
I will try all of these, and let you know.

January 5, 2009
0

found this helpful
I just rear some where to crush 9/15 Aspirin Tablets in a container(lg. pitcher) of warm water and pour through hair...work it through then rinse. It may need to be repeated if it's really green but shouldn't damage hair.
By (Guest Post)
February 1, 2009
0

found this helpful
I was told to try Morning Fresh dish washing liquid. Leave it on for 5 minute then wash and condition well.

May 31, 2012
0

found this helpful
While I do not doubt many of the remedies, it is not chlorine that turns hair green, but copper in the water (from different algecides and other sources). The way to get it out is to apply a mild acid (such as lemon juice or tomato) and rinse, rinse, rinse.
If it was chlorine that turned your hair green, it would be irreparable, think about what bleach does to colored fabric, can it be fixed with baking soda, etc.? I don't think so!
Answer

this Question
How do I fix my hair, it turned green from a hot tub. it is frosted.

Susie from VT

Answers
By (Guest Post)
December 18, 2006
0

found this helpful
It's probably from the chlorine. My cousins were blonde and their hair always turned green in the summer from the pool. Wash your hair with tomato juice. You may have to repeat a few times, maybe even let it sit a while but it will work.
By guest (Guest Post)
December 18, 2006
0

found this helpful
Citrus juice, grapefruit or lemon, has worked for me in the past. Also vinegar.
By Grandma Margie . (Guest Post)
December 18, 2006
0

found this helpful
I was curious so did a search on google. It seems you can buy "swimmers shampoo" or a chelating shampoo. They also said dissolving aspirin tablets in warm water and rinsing your hair with that should help. Good Luck!
By Girleo (Guest Post)
July 19, 2007
0

found this helpful
Make sure to wash your hair after every swim because clorine buildup will turn blonde hair green after i had been in the pool for a while. I used to have the most natural bleached hair when I was a toddler and my hair looked like I had dyed it green. i still hae darker blonde hair and I am on the swim team so I invested in declorifying shampoo.
By (Guest Post)
May 27, 2008
0

found this helpful
Interesting help. Thanks for all info.
Answer

this Question