Prioritize Organic Produce Purchases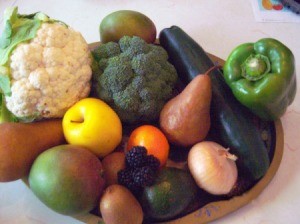 Organic produce is always more costly or unavailable locally where I live so I can't always buy organic.
The EWG (Environmental Working Group) creates a Dirty Dozen and Clean 15 list every year based on USDA data regarding the 12 most pesticide-ridden fruits and vegetables and 15 containing the least pesticide residues.
To save yourself some money, use this list to choose/prioritize your organic produce purchases.
The Dirty Dozen (in order) are:
strawberries
spinach
nectarines
apples
peaches
celery
grapes
pears
cherries
tomatoes
sweet bell peppers
potatoes
The Clean 15 are:
sweet corn
avocados
pineapples
cabbage
onions
frozen sweet peas
papayas
asparagus
mangoes
eggplant
honeydew melon
kiwifruit
cantaloupe
cauliflower
grapefruit
Link: EGW Dirty Dozen for 2017, updated every year.
Add your voice! Click below to comment. ThriftyFun is powered by your wisdom!
Related Content