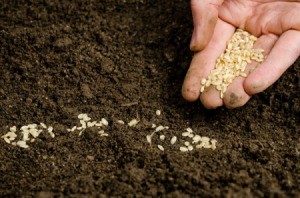 Question:
I am trying to grow seeds and am having no luck. Any suggestions? Ican't even get herb seeds to start in potting soil in egg cartons.Thank you.
Hardiness Zone: 9a
MrsJim from Lakeland, Florida
Answer:
Mrs. Jim,
Don't be so hard on yourself. Despite rumors to the contrary, starting seeds in egg cartons is not easy, nor is it practical. Egg cartons are not really deep enough or wide enough to get most seedlings off to a decent start. To make some cheap and easy (biodegradable) pots, try this method using newspaper:
As for the simplest way to start seeds indoors, once you have your starter pots, fill them to within 1 inch of the top with a commercially available seed starting mix (it's a good idea to dampen the mix with water before filling your pots with it). This type of mix is not like regular potting soil or topsoil, which is considered too heavy for starting seeds indoors. Instead, seed-starting mix usually contains a mixture of peat moss and vermiculite (sometimes sand, lime, or plant food is mixed in). In general, the finer the seeds, the lighter the growing medium needs to be to get them started.
Place 2 to 3 seeds per pot, cover them with a thin layer of mix and water thoroughly. (If necessary, use a hand-held spray bottle to avoid washing away the seeds). In general, keep the growing medium moist, but not wet.
Some seeds need to be under bright light to germinate. Others prefer to germinate in darkness and then be moved to bright light in order to grow. It all depends on what seeds you're trying to germinate. Usually the seed packets themselves will tell you everything you need to know. Just about all seeds need temperatures of at least 65 to 70ºF to germinate indoors.
Once seedlings germinate and develop a true set of leaves (usually the second set of leaves to develop) thin pots to one to two plants per pot. (Use a scissors to remove the weaker plants to avoid disturbing the roots of the remaining plants).
Happy planting!
Ellen