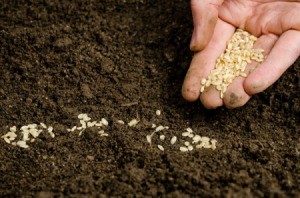 Question:
I am trying to grow seeds and am having no luck. Any suggestions? Ican't even get herb seeds to start in potting soil in egg cartons.Thank you.
Hardiness Zone: 9a
MrsJim from Lakeland, Florida
Answer:
Mrs. Jim,
Don't be so hard on yourself. Despite rumors to the contrary, starting seeds in egg cartons is not easy, nor is it practical. Egg cartons are not really deep enough or wide enough to get most seedlings off to a decent start. To make some cheap and easy (biodegradable) pots, try this method using newspaper:
As for the simplest way to start seeds indoors, once you have your starter pots, fill them to within 1 inch of the top with a commercially available seed starting mix (it's a good idea to dampen the mix with water before filling your pots with it). This type of mix is not like regular potting soil or topsoil, which is considered too heavy for starting seeds indoors. Instead, seed-starting mix usually contains a mixture of peat moss and vermiculite (sometimes sand, lime, or plant food is mixed in). In general, the finer the seeds, the lighter the growing medium needs to be to get them started.
Place 2 to 3 seeds per pot, cover them with a thin layer of mix and water thoroughly. (If necessary, use a hand-held spray bottle to avoid washing away the seeds). In general, keep the growing medium moist, but not wet.
Some seeds need to be under bright light to germinate. Others prefer to germinate in darkness and then be moved to bright light in order to grow. It all depends on what seeds you're trying to germinate. Usually the seed packets themselves will tell you everything you need to know. Just about all seeds need temperatures of at least 65 to 70ºF to germinate indoors.
Once seedlings germinate and develop a true set of leaves (usually the second set of leaves to develop) thin pots to one to two plants per pot. (Use a scissors to remove the weaker plants to avoid disturbing the roots of the remaining plants).
Happy planting!
Ellen
Comments

June 18, 2008
0

found this helpful
Make sure they are this year's seeds. If seeds get too old they will not germinate well. Also you can try one of those Jiffy pot containers, where you add seeds and water and put the lid on to hold the moisture in. Then I would put it in a location to get some sun, make sure not too hot or cold (near an A/C vent).

Judi
Bronze Feedback Medal for All Time! 239 Feedbacks
June 18, 2008
0

found this helpful
I didn't have any luck with the egg carton thing either. What has always worked for me is to use a styrofoam cup filled with damp potting soil. I plant my seed, mist the top very good with water, and put the whole thing in a plastic bag.
I've read that the hardest thing about growing from seeds is keeping them moist enough. When I see leaves I remove the bag. Sometimes I have to mist again before they sprout. Also I didn't put them in the sun until I saw leaves.
By Elaine (Guest Post)
June 20, 2008
0

found this helpful
First of all, do you have a grow light? That really helps. If you are starting them outside, of course you won't need one but you will have to be very diligent about watering. Look in the "search" for a post entitled "Making Seed-Starting pots from newspaper, I think was posted by Ellen Brown. It is the best suggestion I have ever seen to start plants, because the newspaper is biodegradable. You fold the newspaper in such a way to make a very sturdy container. Also, set your seedlings in a tray that you can water from the bottom. If starting indoors, it helps to have a small fan set on low blowing over the area as it prevents "damping off".
I started several this year using the newspaper method. I found it very useful.

August 4, 2008
0

found this helpful
~Some Tips~
They need to have a ton of light while they are seeds. The plant will grow towards the light, and if they don't got any or much light they won't grow at all. They need room to grow and sprout.
Give them sometime, some seeds take longer to grow then others. It only took my Lychee Tree a week to sprout; where on the other hand, it took my Sea Grape tree three weeks to sprout.
Make sure you have big enough holes on the bottoms so water will pass through, but small enough to hold the dirt in. Maybe the climate in your area is holding them back.
Sometimes cheap soil will not sufficiently hold or drain enough water as needed causing them not to grow. Don't over water, but make sure you water often. Sometimes things like egg cartons, peat pots, and other biodegradable subjects will dry out faster and need to be water more than usual.
Read More

Comments