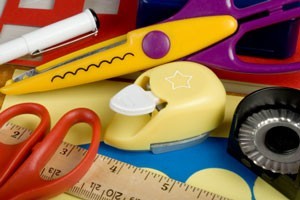 With all the recalls on toys and with the toy companies now trying to scramble to fill the shelves of stores with lead free toys, maybe this is the time to re-think what you want Santa to bring your kids. Also with this being a year that is certainly going to be hard on all of us financially with the cost of gasoline going through the roof and people wondering how they are going to heat their homes, the thought of Christmas can be daunting.
As some of you know I work in a school cafeteria and also as a crossing guard for my local school district. I hear what the children talk about, and I believe that most of their creative energies are not being focused. They talk about things they would like to make or things they would like to build. Why not make this a creative Christmas?
So what kind of things can you buy this Christmas that will be safe? Things like artist sets and board games never go out of style. Books and puzzles have not yet been put on the recall list yet so these are a safe bet. Balls of all kinds, sporting equipment, computer games and electronics are a safe bet. But be careful with the ipod, I heard on CNN that the earplugs for the Ipod are made with a plastic that can be toxic, who would of thunk?
Here are some suggestions on common sense things we can do to make this a safe Christmas for our kids. Here on Thrifty Fun, we have posted a lot of the recalls of toys. Why not make a list and take it with you when you are shopping? Stores, as hard as they may try, are having a terrible time keeping up with all of the recalls and this will just make it safer for everyone.
You can also try not to buy anything with the "Made in China" label but that may or may not keep your kids safe because the authorities estimate that 80% of all toys sold here in the United States are made in China.
It might be safer to think of alternatives for the store bought toys that we buy for our kids every Christmas. This time of year there will be a lot of Craft Fairs where you can shop and at least here in Colorado we have stores that sell locally made toys and gifts. Handmade wooden puzzles and blocks and other wooden toys can be found here, Hand-made dolls and games also. Check this out you may find just the right toy for your child and gifts for others on your list.
Here is a list for some of the things that you could put together for your kids. Put into a fancy basket or great tin and these would make a great gift.
Kits
Art Kit: Clipboard with storage or without, crayons, watercolors, paste, scissors and assorted papers.

Dress- up: You can make some of the ideas that you would use for Halloween and expand on them. Add all of the accessories that they can use to play out their fantasies. Sweat suits are cheap and can be made into lots of costumes. Maybe start with their favorite animals.

Doll Quilt Kit: Get a yard of couple of different colored or patterned fabric and cut into squares. Lay the fabric squares out to see how big it will be and then add a piece of fabric cut to that size for backing. Add a piece of batting and you have the makings for a fine do it your self kit for a doll blanket. Squares are sewn together with a running stitch then the backing and the batting are sewn together with the top to finish. Complete instructions can be printed off the internet for making a quilt.

Kite Building Kit: The internet has many kite building sites that give complete instructions with pictures and supply lists. This would be great for an older boy.

Sewing Kit (for a younger child): There are many paper dolls that are printable online with clothes that can be colored. Print out the dolls and the clothes and then mount them on to cardboard, cutting off the tabs that usually fold over and instead punch a small hold through the doll and the clothes both. Include a small shoelace for weaving in and out so they can sew on the clothes. You can even number the holes on the doll and the clothes to make it easier. Include crayons for coloring the clothes and the dolls.

Scrapbook: Binder, binder pages, specialty scissors, stickers, stamps and pictures to fill it with. If you include pictures that can be scrap booked, this could also be a gift for a younger child. Stick with a theme like sport or camp and then it will make your choices what to buy easier. It is so easy to get side tracked by all the great stuff the craft store has in their scrapbooking sections.

Embroidery Kit: This was one of the best gifts my daughters received from thier grandmother. She took a tin and filled with all colors of embroidery floss and added a small hoop and a package of needles and some iron on transfers. You can make your own iron transfers by printing out a black and white coloring page from the internet and then turning it over and, with a heat transfer pen, going over each line. Mom also added a couple pieces of muslin for them to use for thier pictures. Mom hand wrote out the instructions for the different stitches but these could easily be found on the internet and printed out. Soon they were embroidering their jeans and shirts.

Crochet or Knitting Kit: A hook or needles, a skein of yarn and a simple pattern for a scarf. Again instructions with pictures can be printed off the internet.

Beading Kit: Buy a great selection of beads, add some beading elastic and beading wire and a pair of needle nose pliers. Store all supplies for this in a fly fishing container and you have a gift they will play with for hours.
Toys You Can Make Yourself
Barbie, Barbie, Barbie: Now is the time to start crocheting a complete wardrobe for Barbie. There are some patterns here on ThriftyFun for clothes and a wardrobe case can be made out of an old suitcase or train case. On ThriftyFun, there are also instructions for crocheted Barbie Furniture and for Barbie Furniture and accessories that you can make from recycled items. A wonderful Barbie "Dream House" can be made by taking a old bookcase and taking out the shelves. Measuring the inside dimensions and then putting one of the shelves back in and using the other shelves cut in half to be the dividers between the rooms. You can even put casters on the bottom of the bookcase and it can be rolled out of the way when need be. With a little bit of paint and some old carpet for the rooms, she will have hours of fun playing. If you need something more portable, take a rattan rug and divide it into rooms with tape or by painting lines on the rug. This can also be done with a piece of canvas or tarp.

Wooden Blocks: Odd scrapes of wood can be sanded and painted or varnished to make blocks for building.

Super Hero Scene: This is a great way to use an old coffee or end table. Try if you can find an old end table with doors and storage in it, it would work even better. First stand the base or legs of the table and paint with red and white and blue paint. Measure the top of the table and with chalk, design roads and green areas for your city-scape. Now using craft foam, cut and glue to the table top your roads and green areas. When you are designing this, leave areas for your high rise buildings (Spiderman has to have something to swing from). Now collect all the square boxes you can find (some suggestions: Half gallon milk cartons, Valetta boxes, two Mac and cheese boxes glued together). Cover these with grey or brown craft foam, using spray mount. You can cut holes in the foam before attaching the foam to the boxes and back the holes with black craft foam for windows or, using a paint pen, draw them on. Put windows on all sides of the buildings. Now you can glue these to the table top with construction adhesive or you can leave them as is for a ever changing land scape. Trees and bushes can be made with silk flower greenery. Just pull the greenery apart and cut them and use them for trees and bushes. Glue them in place using construction adhesive. On your computer, make labels for signs to name your buildings. Some suggestions might be Gotham Bank, New Time News, The Daily Planet, Macy's, What ever comes to mind. You can also take a small lid, spray paint it silver and cut out a bat and glue to the inside for the Bat signal. Make sure that you glue this to the top of one of the buildings. (Spiderman isn't the only superhero). Make your city is accessible from all four sides so that more than one kid can play. This works great with the smaller superhero figures but if you wanted to go all out and make a huge city for the 12-18 inch superhero, go for it.

Baby toys: These can be made with fabric or crocheted. They can be as simple as two granny squares sewn together. You could also crochet circles or triangles. (half granny squares) You could also make stuffed animals or dolls this way too.

Card Games and Flash Cards: These are easy to make using your computer. There are many sites on the Internet with games that you can print out and assemble. Flash cards also can be found. There are all kinds and some that might be fun would be the sign language ones. As a child, my friends and I learned sign language so we could speak to each other without others knowing what we were saying. Anything that is secret catches a child's imagination.
Please all of you have a wonderful and magical Christmas!
Read More

Comments