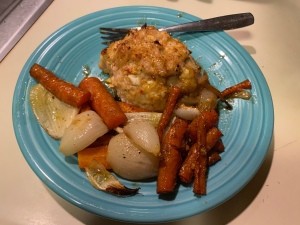 Recently, I tried a meal delivery service, Dinnerly. My teen daughter has been more interested in cooking lately and I thought it would be a good way to teach her some techniques and recipes that are different than my usual meals. Here's how it went:
I signed up to receive 3 meals a week for 4 people. I could have signed up to receive up to 6 meals a week. Smaller families can opt for a 2 person box instead, with 3 meals a week being the minimum. You can also add more protein for an extra charge. This would come in handy for families with teens or heavy eaters.
It costs $22.36 for each meal. The total for each week was $67.08, plus $8.99 for shipping. I received a discount on the first box so it was only $37.50. I also had the opportunity to send my interested friends and family a free box.
You have the option to choose from a large variety of recipes. The categories are: Healthy, Vegetarian, Family Friendly, Fast, and Special (snacks, breakfast and dinner). There is an app you can download to get the step by step recipes and choose your next week's selection. I enjoyed picking the meals with my daughter but you have to be on top of it as they are locked 6 days before your delivery day (Tuesday or Wednesday).
The recipes come with most of what you needed but some kitchen staples were provided by us; eggs, vinegar, oil, etc. This is all listed in the recipe but it would be a hassle if you were not prepared. The ingredients were generally high quality, especially the meats. I did get one potato that was bruised inside but that can happen even from the grocery store. They are delivered in a sturdy box with freezer packs that look very useful for coolers later. It was all individually wrapped and measured out, which is great for the beginning cook but felt wasteful to me.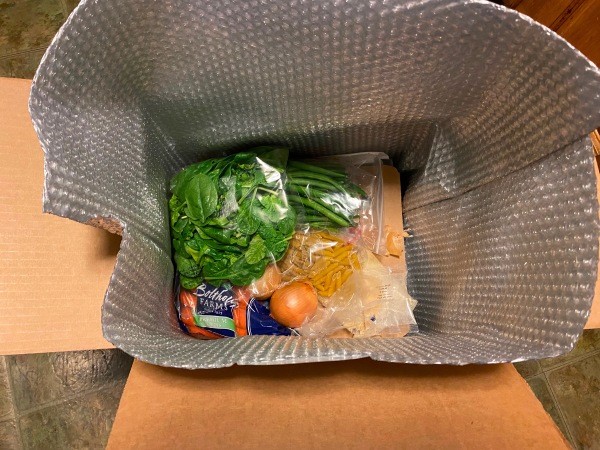 We really enjoyed all the recipes the first week. We received: Low-Carb Mediterranean Turkey Meatloaf, Low-Carb Honey Dijon Glazed Steak, and Creamy Pesto Chicken Pasta with Spinach. All the servings were a decent size but you don't get any leftovers. I'm planning on making the first two recipes again as they were very delicious.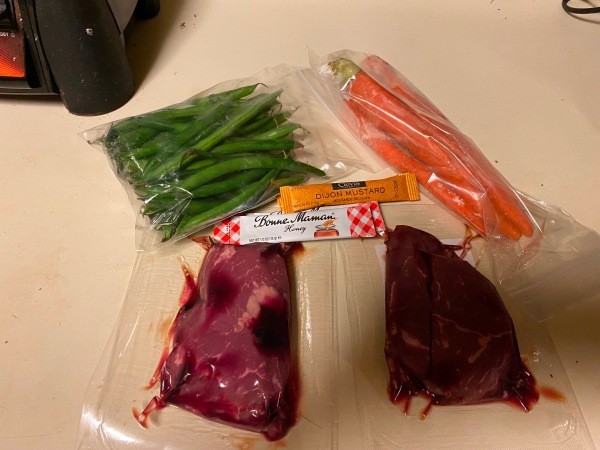 We didn't love every single recipe we have received and it took some planning to make sure we used up all three meals in a week. Some weeks went better than others. I wound up throwing out shrimp that didn't get used up in a timely manner and using the other ingredients for a recipe of my own. The pasta recipes didn't feel like they were as good a deal and many of the "low-carb" meals would have benefitted with some extra starch.
The recipes are not written by the same people and there is a great variety on how much food is provided. For example, one recipe called for 2 potatoes and another called for 4, both to make mashed potatoes. We always received very small yellow onions, even if red onions were shown in the pictures. There was never a direction to take your meat out of the fridge before cooking, which resulted in some longer cooking times or underdone meats. And never enough garlic (is there really such a thing?)
The one recipe that irritated me the most was one I was particularly excited about. It was a ramen recipe that used ground turkey and shredded Brussels sprouts. It was all combined together, which made it very difficult to portion out as the noodles rose to the top and the meat sank to the bottom of the soup pot. Most ramen recipes cook the noodles separately and assemble each bowl so that the ingredients are divided evenly. This was a rare one which had quite a bit left over but no one wanted to eat it a second time.
Here is a breakdown of the ingredients provided in my first box and how much it would have cost from the grocery store. It was hard to find the smaller amounts so I did some estimating. It would be more expensive if you bought the sizes available at the store but you would also have the leftovers to use for another meal.
Mediterranean Meatloaf:
1/4 oz granulated garlic - $.25
2 oz. panko - $.50
20 oz. ground turkey - $5.00
2.8 oz. feta cheese - $1.50
2 medium onions - $1.20
1 lb. carrots - $1.00
2 oz. sun-dried tomatoes - $2.50
Total: $11.95
Honey Dijon Steak:
1 lb. ranch steaks - $5.00
2 Tbsp. Dijon mustard - $.25
1 oz. honey - $.25
1/2 lb carrots - $.50
1/2 lb. green beans - $.85
Total: $6.85
Pesto Chicken Pasta:
4 oz. sun-dried tomatoes - $5.00
4 oz. cream cheese - $.80
4 oz. basil pesto - $2.50
1 lb. chicken breast - $8.00
12 oz. penne - $1.25
5 oz. baby spinach - $3.00
Total: $20.55
The week's total comes to $39.35, which is pretty close to what I paid for the first week but feels like a rip off if you compare it to the non discounted weeks at $76.07. This doesn't even take into account sale or bulk prices and the savings if you make extra for leftovers to eat for lunch the next day.
In general, I would only recommend a service like this for beginning cooks or people who are trying to avoid eating out. For an experienced cook with a larger family, it is not a frugal choice. Recipes are easy to find online and cooking with your own ingredients allows you to use up extras. I enjoyed it much more before I penciled out the costs and I won't be continuing this service but I did learn a few techniques, like pan frying ravioli and my daughter has a better understanding of cooking meats and making pan sauces, which is a great way to level up a simple meal. I'll certainly be incorporating a few recipes and techniques into my regular meal planning.