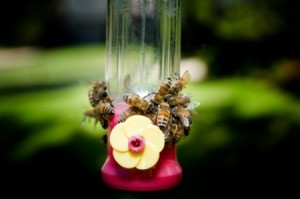 I have been reading about a variety of ideas for keeping ants, etc., out of hummingbird feeders. I have cared for hummingbirds for over 30 years and I've tried just about everything out there.
I have two of the very largest Perky Pet Hummingbird feeders made. Each year we end up with between 20 to 30 hummingbirds. The best things we've done is to hang the feeders from the eaves of the house with a pully that allows me to raise and lower the feeders to change their feed, which is at least once a day in each. To get to the wire that the feeders hang from, first the ants have to climb across our brick wall and up the drain spout to get to the point from which the feeders hang. From there, they can climb down. But I beat them to the punch by dusting the wall and the drain spout with Sevin Dust. I don't like killing the ants, but they seem to get the point after a while and don't bother the feeders anymore after that.
Flying insects, especially wasps, are a different matter. Since one of my feeders hangs in front of my kitchen window, I have a good view of them. As soon as I see one buzzing around the feeder, I go outside with a flyswatter.
Keep all sorts of poisons, and other deterents, like oils, etc., away from the feeders and their hangers. My birds perch on the lines, as well as the cord the hangers hang from while waiting their turn to the feeders. Anything they pick up on their little feet can easly wind up in their beaks, or be carried back to the little ones in the nests.