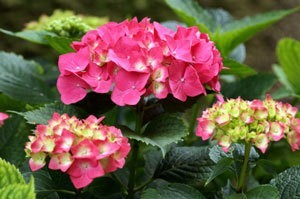 Advice on how and when to prune hydrangeas from the ThriftyFun community.
Don't Prune, Protect Instead
I'm wondering why you have to prune them at all? The late freeze got just about everyone's mops this year, mine included. As for pruning, no pruning after about the first week or so of summer (depending on your growing area). After that, the plant is setting the buds for the next spring's flowers UNLESS you have an Endless Summer type that will bloom on old or new wood. Protection from winter cold is key, this site has lots of really great info on protection and all other stuff about hydrangeas! Good folks there!
When the leaves fall off in winter, and the bare sticks are left over, those are what we call 'Old Wood' and is where the blooms are! Those are the branches that must be protected! I gather mine together and tie them so that I can get a cage of chicken wire around them, then fill the 'cage' with dry leaves, then wrap the whole thing with burlap and stake it down so it cannot blow over and that stays until I KNOW FOR SURE there will be no more freezes! HA! With the kind of spring we had it's very hard to keep them under cover but I didn't go back and cover them again when the weather turned cold, so it's my own durned fault!
To get the REALLY dead wood, wait until the plant is fully leafed out to look for branches that didn't make it. Best of luck to you this year!
By Linde
Move The Hydrangea Instead Of Pruning
The truth is, if you have to prune it because it's getting too big, you need to move the whole plant. This isn't as hard to do as it sounds! Cut a trench all around the bush at the dripline, and then slide your shovel under it to free it up, then slide the bush onto a tarp to drag it over to the new hole you have waiting. God bless you!
Protection May Not Be Needed
I prune all the dead wood out of mine every spring. It's easy to tell that branches have live buds on them and what will not. As for covering them, we get ice storms here and it is often well below freezing, and I have never 'protected' mine. It is extremely rare that mine does not bloom. My grandmother never covered hers (northeastern Ohio) and she always had large full heads to her blooms. Sometimes she'd cut it all back almost to the ground, and she still got blooms by the second year.
By susan
Read More

Comments
A friend of my husband gave him a start of a hydrangea last year. Do you cut it down and if so when?
Hardiness Zone: 5b
By ga from Wheatfield, IN
Answers
April 11, 2011
0

found this helpful
I wait until spring and the plant begins to bud. Then I cut off what ever is above the highest green, and, of course, the old flower heads which I leave on for winter interest. If you cut the plant back to the ground, it will have to grow new stems before it can flower.
April 11, 2011
0

found this helpful
If you don't cut them back, they will grow bigger every year.
I don't cut mine, except for the woody stems that stick up from the green in the Spring. That way my Hydrangeas
are big and healthy.
Answer

this Question