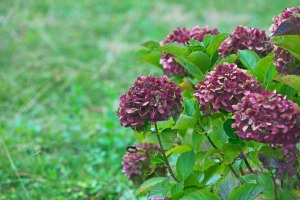 Question:
I got a hydrangea last summer. I have worked with the soil so that it changed to blue. The leaves are turning brown. Am I watering it too much or not enough?
Hardiness Zone: 6a
Brenda from South Bend, IN
Answer:
You're probably watering too little. Hydrangeas like a lot of water (the prefix hydro is Greek for water). Sometimes the tips or sides of a hydrangea's leaves will appear brown. This usually happens after it has suffered a dry spell or when it goes through a period where, for whatever reason, the roots were not absorbing moisture well and then the plant suddenly gets a good watering. When cells in the leave's tips suddenly take on water, they literally swell up and burst. What you're seeing with the brown tips is actually dead plant tissue where the cells burst.
This kind of browning can also happen to plants when they are initially transplanted and are suddenly given a heavy dose of water. Keeping your hydrangea consistently watered will prevent this from happening.
In general, over watering is usually followed by yellowing leaves that turn black at the edges. When under watered, leaves will droop and then turn brown.
Ellen