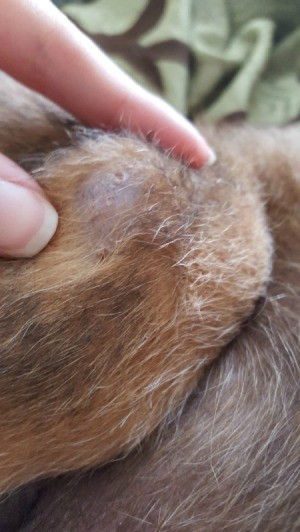 My friend and I went to go see about a Craigslist ad for free puppies about a week ago. I had no intention of getting one; I just wanted to go along for the ride. However, upon my arrival, my eye was caught by this beautiful, lazy dark colored puppy sleeping under the front porch rocking chair of the ad placers' home.
I claim to dislike dogs, but my only legitimate reason is the licking and slobbering. I thought, a lazy dog won't lick and slobber! So I picked the puppy right up and immediately fell in love. See, he was the only dark one in the litter; the rest were white and yellow. The mom is a Great Pyrenees and the dad is a mystery. (Maybe German Shepherd, seeing as Maxx's coloring seems identical to GSD coloring.)
Anyway, we rode in the back seat for an hour back to my town, and I noticed a mat on his leg. When we reached my best friend's house, she and I bathed our puppies and dried them off, giving them each their own bowl of puppy food. We had gone to Walmart and gotten collars and some flea prevention stuff to put on the backs of their necks. I went home, and my mom also fell in love with Maxxavier. She took me to Petco to get all the basics. Later, we went to the vet because we figured with his big potbelly he must have had worms. Which he did. The vet gave him some shots and gave us a complimentary deworming kit, and the next day I could tell Maxx was feeling so much better.
He kept chewing at the mat on his leg, and I figured he was just grooming himself. He eventually chewed all the hair right off, revealing a scab and a little bump under his skin. He won't let me touch it for very long. (By the way, he is 10 weeks old.) Over a few days the bump has grown a little bigger, and he keeps licking at it. My mom said we will take him to the vet when she gets the money for it, but I'm driving myself crazy trying to figure it out. Like I said, there is a scab, so I'm thinking it might just be an infection? It's not a very hard bump, but it moves around under the skin instead of just squishing down when I poke it. Should I try to drain it? Should I call my vet and ask about payment methods? I don't want to let money be the only thing keeping my baby from being comfortable and healthy. Any suggestions would be greatly appreciated.