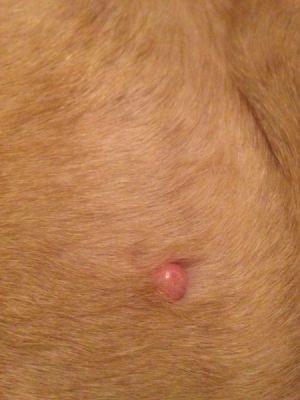 My dog has 2 strange lumps on his side. They cause him no discomfort or anything. They are about the size of a pencil eraser and a light pink color. He has a smaller one lower on his side, the same color and shape, just smaller. There are also these really weird patches on his torso everywhere and they are like dry skin patches. I think the patches turn into the bumps, but I am not sure. It is really scary not knowing what they are or how to get rid of them.

Answers

Myrna
Bronze Feedback Medal for All Time! 168 Feedbacks
August 14, 2015
3

found this helpful
Best Answer
As some dogs age they can develop skin tags, fatty tumors, warts, and lipomas. It is best to notice any changes in color and growth and after doing online research as much as possible about each of these mentioned and you feel uncomfortable still, then take your dog to the vet and have it checked out. I do not believe the other problem your dog has is related to any of the above lump issues and for this reason, I'd take the dog to the vet promptly and have both looked at while there.
Cocker Spaniels which we own get fatty tumors and warts when they are six years and above. They've all been benign. When you see tiny clusters or pinkish color warts forming in one area around legs and leg pits, that's when I'd take great concern as one of my dog's had cancer and it was removed only to reappear w/i a year and we had to have the dog put down as he was experiencing pain and a second surgery was out of the question as cancer had advanced internally.
I believe it's always better to be safe than sorry and get a professional's diagnosis more than an opinion in regards to a pet's skin changes and you get peace of mind to a degree.
Answer

this Question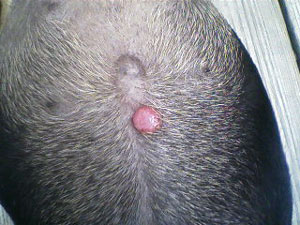 I have a 4 year old dachshund. For about 2 weeks (or more) she has had this funny looking bump/growth on her belly above her navel. Do you know what it could be and if there is anything I can do for it? It is not draining and is not sore. It started out as a red rashy kind of skin, like she had scratched there. She had a herniated navel at birth just below the bump. Please help!
Lori from Spring Hope, NC
Answers

May 27, 2008
1

found this helpful
Best Answer
Could be just a benign mass. Get your vet to aspirate the mass and look at it under the microscope. It might just be a histiocytoma or a mole-like growth.
But noone can tell by looking at a picture. Get her examined.
By Kathy (Guest Post)
May 28, 2008
0

found this helpful
Best Answer
My little fat beagle has something that looks just like this. It did not get any larger. They told us it was just a fatty tumor. They had tested it to see what was inside of it. They said as she gets older she may get more, but they are harmless.

May 28, 2008
2

found this helpful
Best Answer
My dog a little Chihuahua had a place on her back leg look like that looks,took her to Va Tech Vet School and it was CANCER HIGHLY AGGRESSIVE please take your dog to a good Vet. We had Daisy's removed been about a year and as of yet nothing has returned but if I had waited it would have spread fast. Only the VET can test it and know for sure what it is.
Lois
By Linda Smith (Guest Post)
June 11, 2008
1

found this helpful
Best Answer
One of our dogs had a similar spot. It burst. There was puss inside. After it burst, we cleaned it and let it drain and put an antiseptic the vet had given us for another treatment and it cleared up. I would advise you to take your dog to the vet. This could be caused from a cat bite known as cat scratch fever and can be fatal if untreated. Maybe an insect bit your dog and it is infected. Either way, the vet is your best and safest if you really care about your pet. Your dog could have a fever which is another indication of an infection. It is red which leads me to believe it is "active" and not a dead growth.
Answer

this Question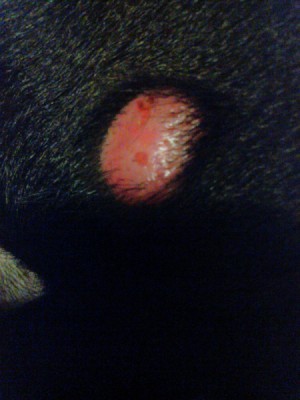 It started 3 wks ago and it was the size of a nickel and white, but solid, and now its the size of a quarter and very red. At first my 7 1/2 month old puppy didn't show any signs of discomfort and it was assumed and suggested that it was a bug bite and would go away within a week.
I'm extremely worried now because it has not and he is always whining and licking at it. A friend suggest that it may just be a cyst and to keep warm compress on it, but as soon as I run warm water for a bath on the spot he starts crying. I feel horrible and don't have a lot of money and can't really afford a couple hundred spent on vet visit and testing for it to be something that needs to pass on its own. I'm looking for suggestions on what it may be.
By MaRita A
Answers

July 23, 2014
0

found this helpful
Best Answer
My dog had a lump that looked like that on her ear. Check out the listing for "histocytoma" on wikipedia. If that's what it is, it should go away in a few weeks. The dog may be crying because you are irritating it when you try to treat it. Of course, you should take her to the vet if you can. A histocytoma is a benign tumor fairly common in young dogs that goes away on its own. A friend who is a vet student says that they always take them off right away because they will be gone if they wait!

Lizzyanny
Bronze Feedback Medal for All Time! 226 Feedbacks
July 25, 2014
1

found this helpful
Best Answer
There is no way for most of us who post here to know what your puppies lump is. But in not finding out you put his life at risk. Assuming the correctness of the opinion of someone who really is just guessing is putting his life at risk. If you really dont have the money for a trip to the Vet, ask your local Vets if they have a fund for animals of folks who cant pay.
Most all of them do. Or perhaps you could take a second look at you budget and make some changes. Many Vets allow time payments. You need to make a decision. It is not OK to just hope something turns out OK, when you need to be doing a lot more to make it turn out OK.
Answer

this Question
My fur baby has a lump down there ever since she gave birth a couple years ago. I noticed it since, but didn't think nothing of it cause it didn't seem to bother her. But then she recently felt distressed and when I examined her, I felt it tighten and it was making her cry. It lasted for a few minutes cause I started to massage her softly to calm her right near the spot as if it could have been a pulled muscle or something. The tightness seemed to have gone away, but the lump is still there.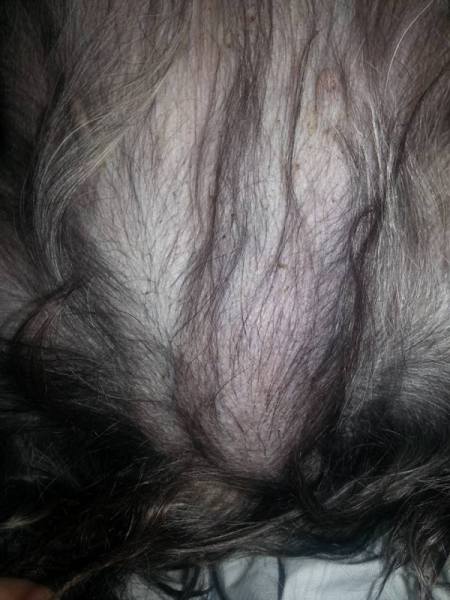 Any idea what this may be just from describing the issue? Thank you in advance. I will be taking her to the vet for tests, but in the mean time, I just wanted some info of possibilities. Other than that, she is eating good, loves to play, and is full of energy. My little Pepper.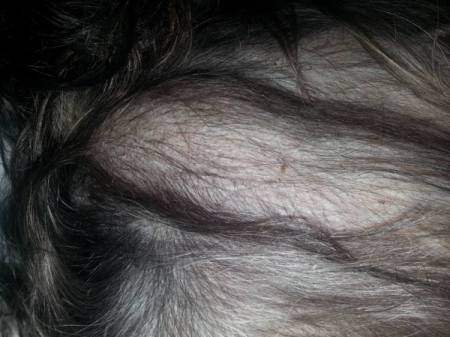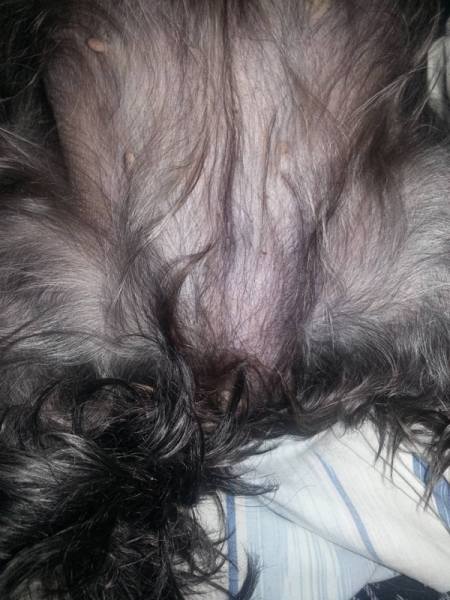 Answers
February 1, 2017
0

found this helpful
Best Answer
This could be a mammary tumor. they are more common in dogs that have not been spayed. They can be malignant. Time is of the essence. You need to get your dog to the Vet right away.
February 2, 2017
0

found this helpful
Best Answer
My dog had the same thing and it was a hernia. If she has been spade it's a common issue. She has surgery, wasn't a big deal and she's just fine. Wishing you the best with your fur baby. They are family!

February 3, 2017
0

found this helpful
Best Answer
I would think it is probably a hernia, but if she is having noticeable pain, her intestines could be pinched or trapped cutting off blood supply, and she would need emergency surgery to keep her bowel from dying. Hope she is ok!
Answer

this Question

I saw this thing on my dog and I can't decide if it's a mole or something more serious, does anyone have any insight?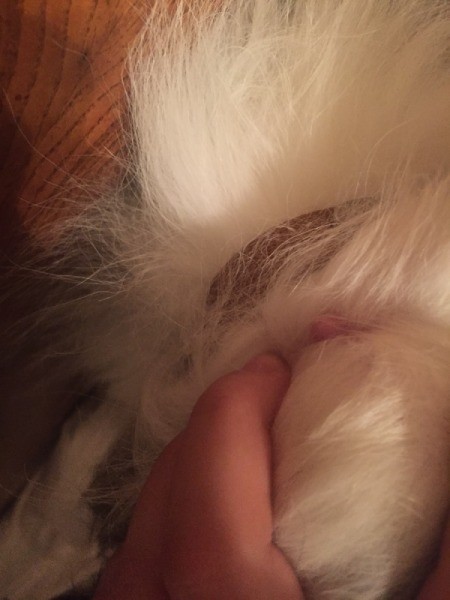 Answers

Hello
Bronze Post Medal for All Time! 107 Posts
February 27, 2017
0

found this helpful
Best Answer
Obviously it is best to get it checked out with the vet. It looks like it could be some sort of growth or a skin tag
here's a useful article: "Many dogs and cats have lumps and bumps, and not all of these masses are malignant (cancerous) tumors. In fact, most tumors are benign (not cancer). So if you find a lump while petting your dog, or your vet finds one during a physical exam, don't just monitor it."
Answer

this Question