Red Lump on Puppy?
It started 3 wks ago and it was the size of a nickel and white, but solid, and now its the size of a quarter and very red. At first my 7 1/2 month old puppy didn't show any signs of discomfort and it was assumed and suggested that it was a bug bite and would go away within a week.
I'm extremely worried now because it has not and he is always whining and licking at it. A friend suggest that it may just be a cyst and to keep warm compress on it, but as soon as I run warm water for a bath on the spot he starts crying. I feel horrible and don't have a lot of money and can't really afford a couple hundred spent on vet visit and testing for it to be something that needs to pass on its own. I'm looking for suggestions on what it may be.
By MaRita A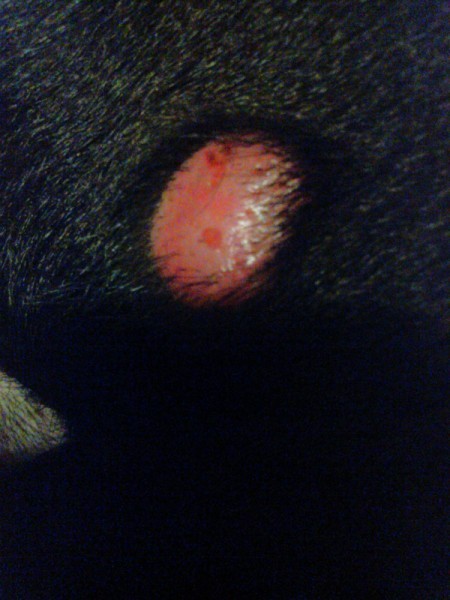 Add your voice! Click below to answer. ThriftyFun is powered by your wisdom!
July 23, 2014
0

found this helpful
Best Answer
My dog had a lump that looked like that on her ear. Check out the listing for "histocytoma" on wikipedia. If that's what it is, it should go away in a few weeks. The dog may be crying because you are irritating it when you try to treat it.
Of course, you should take her to the vet if you can. A histocytoma is a benign tumor fairly common in young dogs that goes away on its own. A friend who is a vet student says that they always take them off right away because they will be gone if they wait!
July 25, 2014
1

found this helpful
Best Answer
There is no way for most of us who post here to know what your puppies lump is. But in not finding out you put his life at risk. Assuming the correctness of the opinion of someone who really is just guessing is putting his life at risk. If you really dont have the money for a trip to the Vet, ask your local Vets if they have a fund for animals of folks who cant pay. Most all of them do. Or perhaps you could take a second look at you budget and make some changes. Many Vets allow time payments. You need to make a decision. It is not OK to just hope something turns out OK, when you need to be doing a lot more to make it turn out OK.
July 23, 2014
0

found this helpful
Please take your dog to a vet. This looks very painful and it could be something very serious.
If you can't afford to properly care for your dog, find someone who can. This is not fair to you puppy.
July 23, 2014
0

found this helpful
You must always put your pet first. This is what a loving & caring animal lover should do. Please take him to the vets for help - your wee dog is suffering. Maybe the vet can let you pay the account off in installments. Please help this dog.
July 24, 2014
0

found this helpful
With no disrespect but you just can't assume that "anything" affecting your Dog will simply "disappear" and need to consult your animals best friend called a "veterinarian" these choices are called responsible animal ownership and need serious thought before taking on the status of care.
September 11, 2016
0

found this helpful
Did you ever find out what it was, my dog had the same bump on his paw and I cant get him to the vet for 3 weeks.
Thanks
Add your voice! Click below to answer. ThriftyFun is powered by your wisdom!
Advertisement
Published by ThriftyFun.
© 1997-2020 by Cumuli, Inc. All Rights Reserved.
https://www.thriftyfun.com/Red-Lump-on-Puppy.html