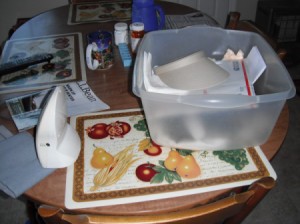 At our house, it only takes a few days for things to get out of place. I have figured out an easy and quick way to get things back in order.
I take my big plastic dish pan and starting with the dining room table, as that is where most of the clutter begins, I put everything that's out of place into the pan.
I walk around the room and place what stays in that room where it belongs and anything else that does not belong in that room, I put it into the pan.
I go from room to room and in just a few minutes, I have everything back where it belongs and have saved myself lots of steps.