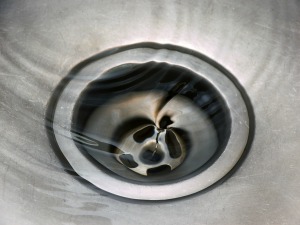 My sink has a moldy, mildew smell that I cannot figure out. It smells like a dishrag that has soured. I do not have a disposal or anything, it is just a plain sink. I have looked under my sink and there is a small dried puddle but it does not stink under there at all and it does not seem to be leaking anymore for whatever reason.
I have used bleach and I did the baking soda and vinegar thing. It works for a day or two and then that smell is back. I can walk by and get a whiff of that smell and it makes me furious! What can I do? Is there a service for this?
By Paula Scott from GA
Answers
Best Answer
You are probably getting small whifs of sewer gas which means your sink drain is most likely in the pre-stages of getting clogged.
Since the sink is still draining, you can't use a plunger. You can try drain cleaner, but those never work for me. You can go to a store such as Home Depot and buy the smallest snake they have. A snake is a flexible metal strip used to remove clogs from drain pipes. Stick the snake through the sink drain, then push it far enough to get past the trap. The trap is the U-shaped area of the drain pipe under your sink. You will hopefully push some of the clog past the trap, and break up the rest enough that it can be flushed down the drain.
Now remove the snake. If sludge comes up with it, do not let it go back down the drain. You can repeat with the snake once or twice.
Clean the sludge out of the sink, then run both faucets full blast for a minute or so. If the smell is gone from that point on, you're all set. If the smell remains or returns, the trap will have to be removed, cleaned and replaced. It is not a complicated job, but if you can't do it yourself, a friend or relative might agree to do it for you. Otherwise you'll have to call in a plumber.

April 10, 2009
1

found this helpful
Best Answer
Do you live in the country? It may be your sewer backing up, if so call a plumber or have your septic tank pumped out. The smell can be very harmful, so get it checked out.

April 10, 2009
0

found this helpful
Best Answer
Some kitchen sink drains have a vent device that is located right under the sink. It's a lousy design & I've only seen it installed in rural areas where building codes are not enforced very effectively. It is also sometimes installed on sinks located in an "island" counter. All house waste drains need to be vented to prevent the "glub-glub" sound that also can cause back-ups due to too much air in the waste pipes.
Normally, waste water drains are connected to vent pipes hidden in the walls that go up through the roof.
If you have this undersink vent, it can get wet on occassion & mildew forms in it. Have someone who knows a little about plumbing to see if this is the case. They are easy to spot. A plumber can remedy the situation.

Grandma J
Silver Feedback Medal for All Time! 270 Feedbacks
April 13, 2009
1

found this helpful
Best Answer
You can purchase the stuff for bacteria in the pipes. Certain times of the year I find this issue. Maybe we don't use one bathroom more than the kitchen, etc. Running daily water is important.
Under your kitchen sink, replace the pipes. And note, the poly plastic ones do come loose at the rings much faster. I have a dishwasher (portable) which dumps water down the sink, then I have no problems. In the heat of the year, you can get fruit flies setting up shop in the drains too. Nasty, pesky things, that like the residue left in the pipes. Take a large kettle, boil water, pour down drains daily.
Answer

this Question

I am in need of some help with my kitchen sink. It has a mildew/mold smell coming out of it, it has the slots in it so i can't stick anything down it and I don't have a garbage disposal. I have tried lemon juice, bleach, baking soda and don't know what else to try. Does anyone have any ideas?
Thanks,
Jen from Eau Claire, WI
Answers
By bonnie. (Guest Post)
May 18, 2007
2

found this helpful
Best Answer
I worked for an old school and no one ever cleaned the drain, this is what I did:
Step 1
I put a 1/2 quart of white vinegar and a small box of baking soda in the drain at the same time it will bubble like crazy.
Step 2
Then run hot water after it sits about 15 mins.
Step 3
Do this once a week or so till it opens real good.
Step 4
Then just do it about once a month or so.
I hope this helps.
Bonnie
By Barbie (Guest Post)
May 18, 2007
1

found this helpful
Best Answer
I do not have a disposal either, my plumber recommended using a drain cleaner with enzymes, Bio Clean is the kind I bought but there are others. You put the recommended amount in lukewarm water and just dump it in, do not use the sink so the enzymes get a chance to work its way through and eat up all the residue which is causing the odor. It will also flow more freely after. I used it in my floor drain in my basement and it was amazing how much quicker the water flows out, now that the build-up is gone. Good Luck.
By LYnne (Guest Post)
May 19, 2007
0

found this helpful
Best Answer
I have been told to try to things. One is Tang (yes, the drink stuff). It works on getting the smell out of the dishwasher as well. The other is that lemon juice you get at the supermarket. The one in the fake lemon. I was told to use the whole thing.
First, run really hot water for about a minute straight. Then add either of these products and let sit for about ten. Then rinse with cool water.
Answer

this Question

What can I do to get rid of a musty smell coming from the sink drain?

Stephen from Penns Creek, PA

Answers

Louise B.
Silver Feedback Medal for All Time! 337 Feedbacks
October 16, 2008
1

found this helpful
Best Answer
Baking soda is recommended to freshen drains. Put water in with it,as vguy says. Don't bother with vinegar -- it will neutralize the baking soda, so it wont' do its job. If you use bleach, do not use it with the baking soda, as they may combine and cause a poisonous gas. Don't mix bleach with anything except detergent. Nothing else is safe.
Answer

this Question

How can you get rid of smells coming from the sink drain?

Karen from MI

Answers

March 4, 2009
1

found this helpful
Best Answer
Step 1
Use 1/2 cup of salt (I like a more coarse salt, but regular salt works fine), pour this down the drain.
Step 2
Next, pour 1/2 cup of baking soda down the drain.
Step 3
Now get ready to cap the drain quickly, pour 1 cup of white vinegar down the drain and cap it until the bubbles stop, about 1 minute. Kids love watching that part.
Step 4
Next, follow with a kettle full of boiling water. Use hot tap water to clean up any spilled salt or soda in the sink.
The salt acts as a corrosive to clean the drain walls, the baking soda is an odor absorber and acts with the vinegar to "shake-up" the salt when it bubbles and the vinegar is acidic for cleaning and an odor eliminator. The boiling water helps dissolve the salt and washes away any leftover gunk in the drain. Clean your drains once a month and it prevents clogs too.
This was taught to me by the clean water council as an alternative to the dangerous and caustic chemical drain cleaners. It's thrifty and efficient and best of all won't burn your skin or lungs like commercial cleaners.
Answer

this Question

I have an odor coming from the overflow drain in my bathroom sink. What is causes it and how do I get rid of it?
By Lynda

Answers

March 31, 2010
1

found this helpful
Best Answer
If it's the drain that stinks, use a flashlight & look down the pipe to see if you see anything in there. We had that problem a couple of times & it was from someone (a kid) dropping something down the sink & not telling us. Once it was a toothbrush & once a paintbrush. They can't go down the drain, so they sit there & gather slime & bacteria & get really gross! Once we took the elbow pipe off & cleaned it out, the smell was gone.
Answer

this Question
My kitchen still has a "sour smell" emanating from the kitchen drain. I cleaned the garbage disposal with lots of ice cubes and lots of running water. I have a septic tank which was pumped 3 months ago and I was told I should never use bleach because it deteriorates the seals? A while back I tried baking soda and vinegar, but it didn't help long. I also have a dishwasher. Jeez. Someone please tell me what else I can do.
By Maryann
Answers

DCA
Bronze Answer Medal for All Time! 220 Answers
March 2, 2015
0

found this helpful
A plumber might be able to find and remove or repair the problem.

Marty Dick
Bronze Post Medal for All Time! 169 Posts
March 2, 2015
1

found this helpful
I will assume it isn't beyond the disposal unit. I used to put citrus peelings through my disposal. just the peelings ... no pulp, seeds or stringy stuff. It makes it smell really fresh and clean. Another thing I remember my Mama doing when I was a little kid was to pour boiling water down the kitchen sink. We had no disposal so she had to keep things super clean.
Answer

this Question

How to remove odor that comes up from the tub drain when taking a shower or doing laundry?
By C. F.

Answers

July 14, 2016
0

found this helpful
Odor is what results from organic material breaking down. Somewhere in those lines you have either a soap buildup, or grease, hair, food or something that is decaying, possibly even tree roots. I would start with a draino like product, used according to bottle directions, followed by several gallons of boiling water. If you are on a septic tank, that is often an indication your tank needs to be cleaned out.
Answer

this Question