April 19, 2007
0

found this helpful
According to the Surgeon General, radon is the second leading cause of lung cancer in the United States-second only to smoking. For non-smokers it ranks number one. You may not realize it, but you and your family are likely to get your greatest exposure to radon at home. In fact, the EPA estimates that 1 out of every 15 homes in the U.S has elevated levels of radon. Is yours one of them?
What Is Radon?
Radon is a radioactive gas that is produced naturally when minerals like uranium and radium break down in the soil. As these minerals continuously break down in the environment, they release radiation. Outside air easily dilutes concentrations of radon gas. The danger occurs when radon levels build up indoors and people become exposed to these concentrated levels for extended periods of time.
Where Is Radon?
In nature, radon is everywhere-in soil, rocks, water, and in the air we breathe. Because radon gas occurs naturally as minerals decay, radon concentrations for any given geographic region are primarily dependant on the geologic makeup of the soil. Certain places, like mines, caves and water treatment plants, are more prone to seeing high levels of radon. How homes are built and operated can also affect radon levels. For example, people living in homes with basements that are used as living areas run a greater risk of exposure to elevated levels of radon than people living in homes without basements. Although concentrations vary from place to place, radon can be found everywhere in the United States and in just about every country around the world.
How Radon Gets Into Your Home
You can't see it, smell it or taste it, but that doesn't stop radon from entering your home and silently harming the health of your family. Because it's a gas, it moves easily through spaces in the soil or fill material around a home's foundation. Essentially, radon can enter your anywhere there is an opening between your home and the surrounding soil:
Concrete slabs
Pores and cracks in concrete blocks
Floor-wall joints and wall cavities
Crawl spaces
Drain tiles
Mortar joints
Loose fitting pipe penetrations
Rock, brick or concrete building materials
Well water
The highest levels of radon tend to be found in the lower levels of your home and can vary according to the season. This is because in certain climates, the lowest parts of the home tend to operate under negative pressure-especially during the heating season.
This negative pressure creates a vacuum that acts to draw radon into the home. This vacuum can be caused by heated air rising; fireplaces, woodstoves and furnaces; air vented to the outside (clothes dryers, exhaust fans); or downwind drafts created as wind blows past your house. Upper levels of the home also tend to have a greater volume of diluted air due to open windows and doors, especially in warmer seasons.
How Radon Effects Your Health
Simply put, long-term exposure to elevated levels of radon can cause cancer. It causes an estimated 15,000 to 22,000 lung cancer deaths each year in the United States. Radon is a source of ionizing radiation, a known cancer-causing agent. Long-term exposure to high levels of radon harms the cells that make up our body's tissues and organs-often resulting in cancer.
How You Can Protect Your Family
The only way to measure your family's risk of exposure to radon is to have you home tested. The tests are simple to perform, inexpensive and can be done in the privacy of your own home. Once you find out what the levels of radon are in your home, you can decide what level of exposure is acceptable to you and take steps to lower your exposure if necessary. Radon mitigation doesn't have to be expensive; it may be as simple as repairing cracks in your foundation, or making small adjustments to your heating or cooling systems.
Even if your neighbors have tested their homes, it's not a good idea to rely on their results. Everyone's home is different in local soil, construction techniques and maintenance. Also keep in mind that testing radon levels once doesn't mean you're protected from high radon level in the future. Radon levels may change over time due to things like remodeling or changes that are made to your home's heating, air-conditioning or ventilation systems. If you're building a new home, make sure to ask your builder about including radon-resistant construction features. Because radon is not regulated in many states, it's up to individual homeowners to reduce the risks to their families.
Getting More Information
Remember, what you don't know can hurt you-maybe even kill you. That is certainly true when it comes to Radon gas. To find out more about radon and how to get radon levels tested in your home, visit the EPA's radon information pages at
http://www.epa.gov/radon/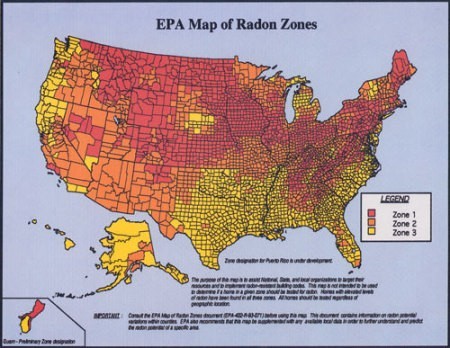 May 1, 2005
0

found this helpful
Radon (Rn) is a colorless, odorless, radioactive gas. Radon is produced when trace amounts of uranium and radium in the soil or rocks decay. The radon gas will then also decay into radioactive solid particles, called radon daughters or radon progenitors. Some of the short-lived radon daughters attach themselves to small particles in the air, which can be inhaled deep into the lungs. The radon daughters may then damage dividing lung cells, possibly resulting in lung cancer. Radon gas is thought to be responsible for 5,000 to 20,000 lung cancer deaths per year in the United States.
The major sources of radon are: soil that contains radon-releasing material; water and natural gas that has passed through underground areas containing radon; solar-heating systems that use radon-emitting rocks to store heat; granite rock; and uranium or phosphate mine tailings.
Out-of-doors, radon poses little threat to our health because it is in such a low concentration. Indoors, however, radon can become more concentrated because of the lack of ventilation in homes combined with exhaust fans that draw air. Radon gas can seep into a house through dirt floors, cracks in concrete floors and walls, floor drains, sump pumps, and joints. Radon gas can also accumulate in private wells and be released into the home when water is used. This is normally not a problem for large community water supplies. The level of radon that can build up indoors depends upon the amount of radon in the source material and the rate at which it is removed from the home by ventilation. Homes tested throughout the U.S. show a wide range of radon concentrations.
These quick, inexpensive steps advised by the EPA can be taken to help lower your risks from radon exposure:
Stop smoking and discourage smoking in your home; it may increase the risk of radon exposure.
Spend less time in areas with higher concentrations of radon, such as the basement.
Whenever practical, increase the airflow into and through your house, especially in the basement.
If you home has a crawl space beneath, keep the vents on all sides of the house fully open all year.
There are two commercially-available radon detectors, the charcoal canister and the alpha-track detector. Both of these are exposed to the air in your home for a specific time period and sent to a laboratory for analysis. For additional information about radon, contact the American Lung Association.
This information comes from the Guide to Hazardous Products Around the Home, part of the HouseHold Hazardous Waste Project in Missouri.
Source: MSU Extension