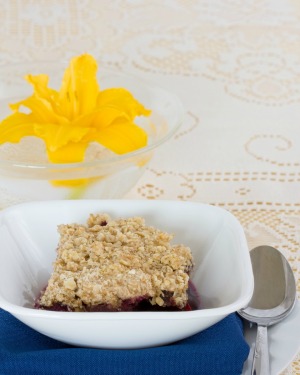 This is an Easter favorite.
Ingredients:
1 1/2 cup graham crackers, crushed
3 Tbsp. sugar
1/3 cup margarine, melted
1 lb. marshmallows
1 cup milk
1/2 tsp. salt
1 lg. carton Cool Whip
1 tsp. vanilla
1 can blueberry pie filling
Directions:
Combine graham crackers, sugar and margarine. Mix well and press into bottom of 9x13 inchpan, saving enough to sprinkle on top later. Bake in 375 degree F oven for 8 minutes. Let cool. In double boiler melt marshmallows, milk and salt.
Remove from heat and cool until very thick. Fold in Cool Whip and vanilla. Spread half of mixture over cracker crumbs, then spread blueberry pie filling over this mixture. Spread remaining marshmallow mixture over blueberry filling and top with remaining cracker crumbs.
Chill well, 2 hours or longer. Serves 12.
By Robin from Washington, IA