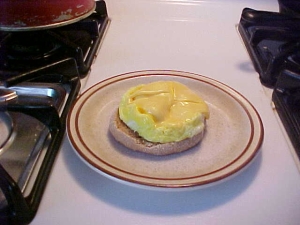 This is much like the McDonald's sandwich, but you don't have to go through the drive thru. Just fix it in your microwave with the help of the toaster in less than 5 minutes. Fast, healthy breakfast for the kids before they rush off to school.
Ingredients:
whole grain English muffin
one large egg
1 slice of American or Velveeta cheese
1 slice precooked Canadian bacon (optional)
Directions:
Use a small glass bowl with straight sides that is just a bit larger than the muffin. I use a ramekin. Slice the muffin and place it in the toaster. Don't turn it on quite yet. Grease the bowl with a little olive or canola oil. Break the egg into the bowl and whisk it as you would to scramble it. Add salt and pepper to taste, and pour it into the bowl.
Push the muffin down into the toaster and place the egg in the microwave and set the timer for 30 seconds. Meanwhile, unwrap the cheese slice, and fold each corner in toward the center. When the microwave stops, pop up the muffin if it has not popped up yet. Remove the egg from the bowl with a spoon and place on half the muffin.
If you are using the Canadian bacon place it on top of the egg, and top it off with the folded cheese slice. Place this back in the microwave for about 15 seconds to "soften" the cheese. If you melt the cheese if will make a messy sandwich. Remove from the microwave and place the other half of the muffin on top. Enjoy!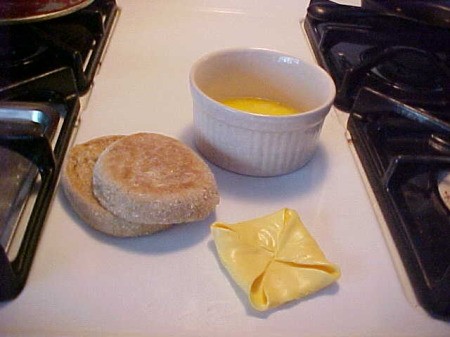 Prep Time:
about 4 minutes
Cooking Time:
about a minute
Source: I like Egg McMuffins, and McDonald's is 5 miles away, so I just made my own version. Very healthy with the whole grain for fiber, the protein in the egg, and the calcium in the cheese slice.
By Harlean from Hot Springs, AR