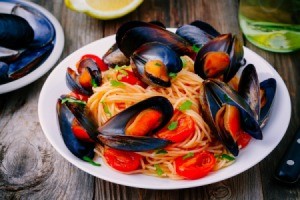 Mussels have a lot going for them: they are inexpensive, versatile, flavorful and easy to prepare. Additionally, by buying Maine cultivated mussels you are supporting the revitalization of Maine's fishing ports which have declined with the loss of the herring fishery which supplied sardine factories and was a major employer down the coast of Maine. A simple Google search lists Maine's mussel farms and the following site details Lubec's efforts to revive its port through aquaculture:
http://www.ruraledu.org/projects/project_lubec0301.html
If your fish market is selling imported mussels, ask them why they do not carry New England farmed shellfish. Price should not be an issue because mussels are among the least expensive seafood.
Farm raised mussels are clean because they are raised on ropes and usually do not come in contact with the ocean bottom. When fresh, they should smell of the sea with no strong odor. Live mussels are closed; if a mussel stays open when tapped discard it. Simply wash mussels in cold water and pull of the beard (dark, fibrous material which the mussel uses to stay attached to the rope). I find most cultured mussels have little or no beard. Once washed, mussels are ready to cook; they do not require soaking as required by steamers and other clams.
Preparation is quick and easy and begins with steaming in a small amount of liquid. The variation of the liquid results in very different dishes. Feel free to use your own ideas, making these preparations your own. The cooking time remains the same; serve them as a first course or increase the amount of mussels for a low calorie, healthy main course when served with a salad. If you use wine in preparation, serve the same wine with the meal (a dry sauvignon blanc goes well)
Classic steamed mussels, four main courses:
4 pounds mussels, washed
3/4 cup white wine or water
3 tablespoons finely chopped garlic or 1 medium onionchopped
1/2 cup chopped celery, including leaves (optional)
1 teaspoon whole pepper corns or 1 teaspoon red pepper
flakes (optional)
1 tablespoon olive oil
In a heavy bottomed pot large enough to easily hold the mussels, heat the oil over high heat. Add chopped ingredients and stir briefly until aromatic (careful not to burn garlic). After a few seconds, add the mussels and wine. Cover pot tightly and cook, shaking the pot occasionally for 5 minutes or until all the mussels are open. Discard any that are unopened. Divide mussels among four bowls, pour the liquid into the bowls and serve immediately with bread to soak up the juices. The mussels add a fair amount of very flavorful liquid to the pot. If you wish, you can add a tablespoon of butter to the liquid.
Portuguese Steamed Mussels:
4 pounds mussels, washed
1/2 pound linguica (Portuguese sausage), thinly sliced
1 medium onion, chopped
1 green or red pepper, chopped
2 cups chopped canned tomatoes, preferably home canned
2 tablespoons garlic, chopped
1 cup chopped fresh parsley
1 cup dry white wine
1/4 cup olive oil
Freshly ground pepper
In a large heavy pot, heat olive oil over medium heat and add garlic, onion, pepper and linguica, stirring until vegetables are soft and aromatic. Add tomatoes and wine, turn heat to high and bring to a boil. Add mussels, cover and steam for 5 minutes or until mussels are open. Toss with parsley and ground pepper, divide among 4 bowls and serve immediately. Served with a green salad and crusty bread, this makes a great meal for four.
Broiled mussel appetizer for four:
A simple, make - ahead appetizer or first course. Vary the topping as you wish, adding your favorite herbs or crisped bacon, even chopped linguica. The mussel broth is not used, so freeze it for use as a fish soup base.
2 pounds mussels, washed and prepared using the steamedmussel recipe above
1 cup fresh bread crumbs
Olive oil or butter sufficient to moisten bread crumbs
2 cloves garlic, finely chopped
4 tablespoon fresh parsley, finely chopped or 2teaspoon dried oregano
Dijon mustard to taste
Cayenne to taste (optional)
Prepare mussels as above, but remove them as they open so that they are barely cooked. When cool enough to handle, remove top shells and discard. (mussel and clam shells add micronutrients to your compost pile). Place mussels into shallow individual oven proof casseroles or into a single larger one. Mix bread crumbs with other ingredients, adding more oil or butter if crumbs are dry. Place crumb mixture over mussels. This can prepared to this step a day ahead, covered and refrigerated.
To finish, place under preheated broiler until hot and crumbs are brown (only a few minutes, so watch closely) Serve with lemon wedges.
Once you prepare mussels this way, experiment with other herbs and ingredients. It's fun to develop your own recipes for enjoying this under utilized, locally grown product, and at the same time you will be supporting the hard working growers of Maine mussels.