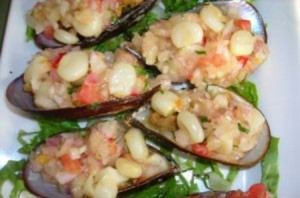 This is my absolute favorite dish when we go to Peru! Of course there are many ways to prepare mussels, but Peruanos have a truly special (and tasty) one: the mussels are cooked a little and then they're served with a mix of lime juice, corn kernels, yellow chili/pepper, rocoto. This recipe is for 3 to 4 people.
Ingredients
12 fresh mussels - make sure they are closed!
2 medium onions, chopped
Juice of 3 - 4 limes
1 Tbsp. of yellow chili/pepper paste
1/2 rocoto chili/pepper, cleaned, without seeds and chopped
1 1/2 tsp. of chopped parsley
3/4 cup of corn kernels
1/2 cup of peeled tomatoes without seeds
1 Tbsp. of vegetable oil
1 lime cut in 4 pieces (for serving)
Salt
Pepper
Directions
Clean the mussels. Wash and clean them with a brush. Cook the mussels in boiling water and remove them from the flame while they're getting opened - you don't want them to become overcooked. If some mussel don't open, remove them. Let them cool down. Open the mussels and put them in a dish.
In a bowl, mix the onion, rocoto, tomato, parsley, kernels, lime juice, yellow chili/pepper, oil, salt and pepper. Let it sit for about five minutes. Pour approx one tablespoon from this mixture over each mussel, and serve with a piece of lime.
I guarantee you, this will be the most amazing dish you ever tried - it has everything - sweet, crunchy, savory, salty. Life and cuisine just doesn't get any better!
By Julianna from Princeton, NJ
Comments
Read More

Comments