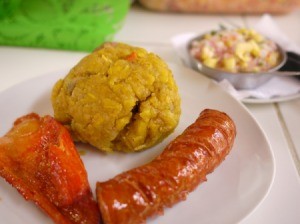 I am doing a project for Spanish class and I need a recipe from Peru. Please Help!

beachbabe

Answers
September 28, 2005
0

found this helpful
I just printed out some Hispanic recipes from AOL--I clicked on a link to get there from my AOL homepage, so I'm not sure of the exact link, but the pages I printed are from AOL Latino: Tu Vida: Specials: Hispanic Heritage Month: Recipes. If all else fails, you could probably just go to AOL and search for "Peru recipe". I'm almost positive they had at least one Peruvian recipe; they had a lot of S. American countries listed. Hope this helps!
By Connie A. (Guest Post)
September 28, 2005
0

found this helpful
Papas a la Huancaína (8 servings)
You can make it with cheese from Mayobamba, which is similar to romano but much more pungent. White Mexican cheese or feta also works.
10 medium potatoes (new potatoes are best)
1 pound of cheese (see above)
2 small hot peppers
1 cup evaporated milk
1/2 cup vegetable oil
2 cloves garlic
8 saltine crackers
1 tsp prepared mustard
salt and pepper
lettuce
3 hard cooked eggs
black olives
Cook and peel potatoes and allow to cool.
In a blender, blend the cheese, peppers, milk, oil, garlic, crackers, mustard, salt and pepper. The sauce should be fairly thick; add crackers if not thick enough, add milk if too thick.
Lay a bed of lettuce in a serving dish and place the potatoes on top. Cover with the sauce. Cut the hard boiled eggs in half and place on top of the potatoes. Add black olives if desired.
This dish can be served slightly cold.
September 28, 2005
0

found this helpful
Go to recipezaar.com, on the left hand side click on South America. When you get the next page, go back to the left hand side and find Peruvian. You'll find many Peruvian recipes.
By Linda (Guest Post)
September 29, 2005
0

found this helpful
G0 to RecipeGoldmine.com, then go to page 5, click on South American recipes, there are 4 listed from Peru.
September 29, 2005
0

found this helpful
When in doubt -- Google !
For "Peruvian recipes" I got tinyurl.com/bhvkv
Enjoy.
By georgia peach (Guest Post)
September 30, 2005
0

found this helpful
BACK
Peruvian Grilled Chicken Thighs with Tomato-Cilantro Sauce Rating :
rate this recipe
Makes 4 servings
Ingredients:
8 chicken thighs, bone in (with or without skin), about 2-1/2 pounds
1 teaspoon ground coriander
1/4 teaspoon cayenne pepper
1/2 teaspoon salt
1 ripe avocado, peeled and sliced to garnish
2 cups white rice (optional), cooked
Sour Cream, about 4 tablespoons
2 ripe tomatoes, coarsely chopped
1 small red onion, coarsely chopped
1 clove garlic, coarsely chopped
1 7-ounce jar roasted red peppers, drained
1/4 cup fresh cilantro leaves
Salt and pepper to taste
Answer

this Question
This is a page about using aji amarillo. These chili peppers are typically used in preparing Peruvian dishes. They have a mild to medium heat level, a fruity flavor, and a citrusy aroma.