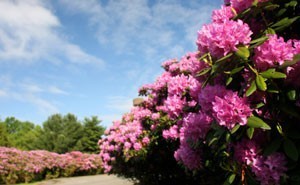 Question:
Can anyone suggest a good tree and bush to go up our 280 foot driveway. We had some and had to yank them out to do a sewer. I would like a tree about 20+ feet tall for privacy, fast growing, small roots as we have a about a 5 foot wide area between driveways. I would like a bush to do for the first 100 feet about 5-6 ft tall.
Cher from Provo, UT
Answer:
Cher,
Is your driveway paved? Are you trying to avoid sewer problems again? As a tree matures, its far-reaching roots can actually buckle the pavement, so it is not usually advisable to plant shallow root or fast growing trees near streets, driveways, or sidewalks. With shallow root trees, the roots tend to grow out laterally instead of down. As a rule, small trees should be kept 5 ft away from a paved surface, and medium trees at least 10 feet away.
If your driveway is not paved, here are some small to medium trees (under 30 ft) that may work, although they are not necessarily considered shallow root trees:
Eastern redbud (flowering)
European mountain ash (flowering)
flowering crab (flowering)
For shrubs you might consider:
William Bafin rose bush
rhododendron
spirea - Vanhoulter'
burning bush
forsythia
dwarf lilac
Here's a link that will provide you more ideas.
Good luck!
Ellen