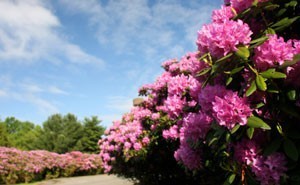 Question:
Can anyone suggest a good tree and bush to go up our 280 foot driveway. We had some and had to yank them out to do a sewer. I would like a tree about 20+ feet tall for privacy, fast growing, small roots as we have a about a 5 foot wide area between driveways. I would like a bush to do for the first 100 feet about 5-6 ft tall.
Cher from Provo, UT
Answer:
Cher,
Is your driveway paved? Are you trying to avoid sewer problems again? As a tree matures, its far-reaching roots can actually buckle the pavement, so it is not usually advisable to plant shallow root or fast growing trees near streets, driveways, or sidewalks. With shallow root trees, the roots tend to grow out laterally instead of down.
As a rule, small trees should be kept 5 ft away from a paved surface, and medium trees at least 10 feet away.
If your driveway is not paved, here are some small to medium trees (under 30 ft) that may work, although they are not necessarily considered shallow root trees:
Eastern redbud (flowering)
European mountain ash (flowering)
flowering crab (flowering)
For shrubs you might consider:
William Bafin rose bush
rhododendron
spirea - Vanhoulter'
burning bush
forsythia
dwarf lilac
Here's a link that will provide you more ideas.
Good luck!
Ellen
Comments
April 30, 2008
0

found this helpful
Poplars are fast growing and there are several varities.
May 1, 2008
0

found this helpful
My current favorite bush is forsythia. Gorgeous in the spring when they are blooming yellow, but still pretty once the blooms are gone.
Easily grows several feet tall pretty quickly. Cathy
May 3, 2008
0

found this helpful
I've seen driveways lined with blueberry bushes. They look really nice, and you get berries every year--a really nice perk, especially with rising grocery prices. Different varieties grow to different heights, so you can choose to stagger the varieties that grow best in your area.
June 24, 2008
0

found this helpful
I would recommend English Laurel as it's SUPER fast growing (2 feet per year if fertilized) is super hardy, grows in full sun or shade, is evergreen & also grows to over 30 feet tall (unless you want to trim it into a shape). You can either take cuttings & plant a totally FREE English Laurel hedge (like I am) by propagating them yourself (all you need are several bags of sand & some rooting hormone, besides that there's no cost!) or you can buy from these wonderful discount growers in Oregon:
ROOTED ENGLISH LAUREL CUTTINGS:
www.hoffertsnursery.com/.../English-Laurel-Cuttings.htm
ENGLISH LAUREL PLANTS 1 YEAR OLD:
www.hoffertsnursery.com/.../First-Year-English-Laurel.htm
MANY KINDS OF ROOTED CUTTINGS:
www.hoffertsnursery.com/.../Rooted-Cuttings.htm
For more info about propagating from cuttings, you can send me mail at ThriftyFun. Think carefully before you plant because when I moved into my place, I was so happy to see that I had great privacy, but, later on when the fall came I noticed the leaves all dying. The previous owners had planted lovely Lilac bushes all along my driveway, & I have great privacy during the Summer, but during the rest of the year the bushes are bare & ugly & there's absolutely no privacy. But, boy-oh-boy do those lilacs smell wonderful in the spring! (I'm now planting English Laurel in between the Lilac bushes.
If you have time to spare, then think about those tall, thin (slower growing) evergreen bushes (wish I knew their name). They never need to be trimmed like a hedge most likely would. Of course, you live in Utah & I live in Seattle... so we have a different climate. If I were you, I'd call the folks from the above web site & ask them. But stay away from Poplars or Berry Bushes unless you want a bare hedge for half the year! Go EVERGREEN!