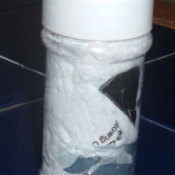 Ever open the plastic bag cabinet or drawer and have them all "spring" out at you? I was condensing some today when I thought "I wonder how small they can get?" So, I rolled one from the bottom up so the air would leave, and when it was done, it was the shape of a long cigar. I then folded it in 1/2 and 1/2 again, and stuffed it in a spice jar.
I actually got 3 in there! Now, I am not saying you have to put them in spice or medicine bottles, but you can fit a lot in ziplock snack bags, old coffee cans, pringles tubes, or just about any container that keeps them "corralled"! I hope this helps.
If you are like me, you come home from stores with two or three items in a plastic bag and so many plastic bags, there aren't enough cabinets or drawers to put them in. I came across a handy dandy way to store them until you need them. On the sides of each gallon milk jug is a nice round circle just right to cut around. Cut one of them out, making the hole large enough to get your hand in or out. Then, as you collect those pesky bags, just stuff them one by one into the jug. They will come back out easily, one by one just as you put them in. A bottle holds dozens of bags. Hopes this gives you a way to free yourself from that mess of bags.
By Signaler from Bellefontaine, Ohio

Answers:
Milk Jug for Organizing Plastic Bags
This is a great suggestion. I'll have to make some to keep under our kitchen and bathroom sinks. I just wanted to add that there are good places to get rid of extras- if you have so many that you'd never be able to use them all. Around here the doggy parks and many neighborhoods have "doggy poop stations" with bags for cleaning up after the dogs. Many of the bag holders at the stations are "refillable", so you are helping out your neighbors and cleaning out your cupboards at the same time! (05/22/2007)

By Clara Huster
Milk Jug for Organizing Plastic Bags
YES, I AM A TREE-HUGGER! OK? Now: To avoid dealing with all those hateful plastic bags, use cloth bags. If you don't have any, get them at yard sales and flea markets - they cost about a dollar or so. Or just go retro and ask for paper bags. Cloth bags are great because they are washable as well as reusable. On the other hand, the old-fashioned paper bags are completely biodegradable - unlike the plastic ones - and some have handles, too. If you think the paper ones aren't strong enough, ask for double bagging. They can be re-used many times for all kinds of shopping (keep them in your trunk).
I recycle magazines and newspapers and office paper in the beat up paper bags. These bags and paper are re-made into other products, including more paper sacks and food packages. Plastic bags are made with petroleum which we are paying outrageous prices for now and they do not "disappear" for generations!

I hope you will at least try my methods for awhile. Maybe you will want to become a tree-hugger, too. (05/22/2007)

By Hope
Milk Jug for Organizing Plastic Bags
Thank you for this idea. I have so many of these and refused to buy that cute little cloth holder at Walmart that cost a fortune ( I thought anyway). We tried cloth bags and they got dirty and had to be washed or could never be found. My hubby refused paper bags because he believes bugs come into the house on them. These sound wonderful and would fit right under the sink. Thanks so much. (05/23/2007)
Milk Jug for Organizing Plastic Bags
I store all my plastic bags in an old blue tin trunk my mother rescued from her parents' farm many years ago. This is a way of just putting what I have to good use. (05/23/2007)

Milk Jug for Organizing Plastic Bags
I
I use my own bags (cloth, back pack and whatnot) when I go grocery shopping. The only time I ever have plastic bags is when I buy more than what will fit in my bags and then I store them under my sink in a paper bag and use them for garbage bags Oh yeah, and I get $0.05 per bag I use in savings at the store. (06/03/2007)
By Jennifer(the Java Junkie)
Milk Jug for Organizing Plastic Bags
I have been told that cockroaches love the glue that is used to make paper bags. I don't know if it's true, I've never seen one of these bugs, but I'm not taking any chances. Just recycle the plastic bags at the store they came from. (09/13/2008)

By Sandy
HERE'S ANOTHER IDEA - Milk Jug for Organizing Plastic Bags
I organize plastic bags in an empty "Kleenex Boutique" tissue box which is much less bulky and takes less space than a big milk jug. They hold about 100 plastic grocery bags and the boxes are much prettier than a milk jug and you are recycling a paper product, too! They pull out just like a tissue! Isn't that convenient!

I also reuse "Kleenex Boutique" tissue boxes - the really pretty ones, and recycle as gift boxes. They hold socks, underwear, coffee mugs, food products, and so much more! I've been doing this for years and my friends and family love the idea and have now adapted the idea in their own lifestyle. I'm sure that there are other things these pretty & sturdy boxes could be used for. What ideas can you come up with?

Remember: Revive, reuse, recycle!
(09/13/2008)

By Pat M